Island's rocket-pad up in air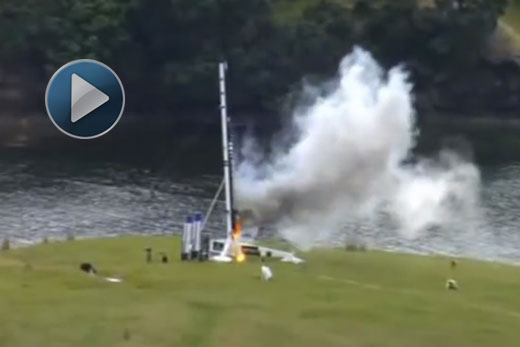 Great Mercury Island's future as the launch site for Rocket Lab's new rocket designs is up in the air following this week's announcement on the company's new 10-tonne Electron rocket.
Rocket Lab has scheduled three test flights to get the rocket into space, says Rocket Lab chief executive Peter Beck. But the launch location is yet to be confirmed.

Rocket Lab's Atea-1 launch from Great Mercury. Watch the video below.

So far all Rocket Lab's launches have been done from privately-owned Great Mercury Island, but the island's future as New Zealand's space port is being re-evaluated.
"Sir Michael Fay [co-owner] has just been a fantastic supporter of the programme and we could not be here without him," says Rocket Lab founder and CEO Peter Beck.
"Certainly Great Mercury Island is one of the options we are considering. It's not the sort of thing where we will build just one launch site for testing and one launch site for commercial operations. When we settle in, we would be settled in for good."
Until now Rocket Lab launches have been sounding rockets, that don't go into orbit, although the Atea-1 reached a sub-orbital altitude of 100 kilometres.
The six metre-long, 60kg rocket, which was launched from Great Mercury Island, is the first privately-launched rocket to reach space from the Southern Hemisphere.
The 10 tonne, 18 metre-long Electron rocket unveiled this week is made of carbon fibre and composites and will be able to put a 120kg satellite into orbit.
The plan is to revolutionise commercial access to space by dropping satellite launch costs from about $155 million to less than $6m.
The Electron will also reduce the time it takes to launch a satellite, from about two years to a matter of weeks, and is planned to launch at a rate of one a week.
"It's a very large rocket, a very large programme," says Peter. "Though we have launched them in the past, from Great Mercury, we have to stop and consider everything there.
"When you are launching little sounding rockets there are not too many factors that play into it. When you are launching large orbital vehicles, there are a lot of factors that come into it," says Peter.
"Every area and region has pluses and minuses and we have to evaluate. What I can say is the response we've had from all the regions wanting to get involved in the programme, is phenomenal."
Rocket Lab has a map of the country in its office and every time a mayor or council contacts them they put another dot on the map, says Peter.
"And the country's riddled with dots.
"The electron is expected to be launched next year. Rocket Lab will provide all the launching facilities to get customers' satellites into space. It already has commitments for more than 30 launches," says Peter.
"We're looking to create a billion-dollar space industry down here," says Peter. "If we can launch one rocket a week, we are going to change the world."
Electron was built by Rocket Lab using a $25m government grant and funds from The Warehouse founder Sir Stephen Tindall and principal backer Silicon Valley venture capital company Khosla Ventures.
More on SunLive...