Brothers on the ball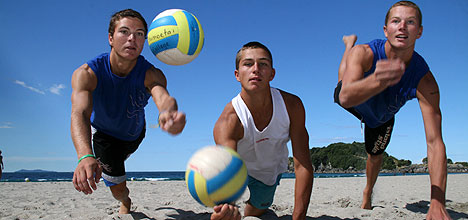 Tauranga brothers Edwin, Ben and Sam O'Dea and their playing partners are in top placings going into the 2010 McEntee Hire Beach Volleyball Tour at Mount Maunganui Main Beach on January 16 and 17. They and other top Kiwi players go up against the best beach volleyballers from around the world in the four part series, which culminates in Auckland next week.


Photo by Tracy Hardy.
When brothers Edwin, Sam and Ben O'Dea head into the third leg of 2010 McEntee Hire NZ Beach Volleyball Tour in Mount Maunganui this weekend, they will enter the competition in first, second and third place.
The 2010 McEntee Hire NZ Beach Volleyball Tour is the biggest volleyball competition held in the country and is the first year the three brothers have played against each other in a top tier event.
They say the fact they are brothers does not affect how they perform on court.
"It's pretty fun because we all know each other so well, so we know how we play against each other – so there's never really any surprises," says Edwin.
Sam says it's always a bonus to get a win over one of his brothers.
"It's always competitive because we are brothers. But we've played against each other for ages. We all train and play together. It's pretty normal but we are sweet on court.
"I try not to think about it. I know I'll always come up against these guys in the competition but it doesn't change my mindset," says Sam.
Edwin is competing with playing partner Brendon Heath, Sam with Greg Lindsay-Brown and Ben with Michael Watson.
The trio, Edwin aged 20, Sam, 19 and Ben, 17, gained a passion for volleyball before they started at Otumoetai College.
Edwin jokes that as long as he maintains his first place ranking in the competition, he hopes his brothers come away with some great results.
"It's really important to get the best ranking possible in the competition so we can compete in tournaments overseas," says Edwin.
The brothers hope to compete in the New Zealand Volleyball Open this year.
The 2010 McEntee Hire NZ Beach Volleyball Tour will be held at Mount Maunganui Main Beach this Saturday and Sunday, January 16-17.
More on SunLive...