The excitement that is Hungerball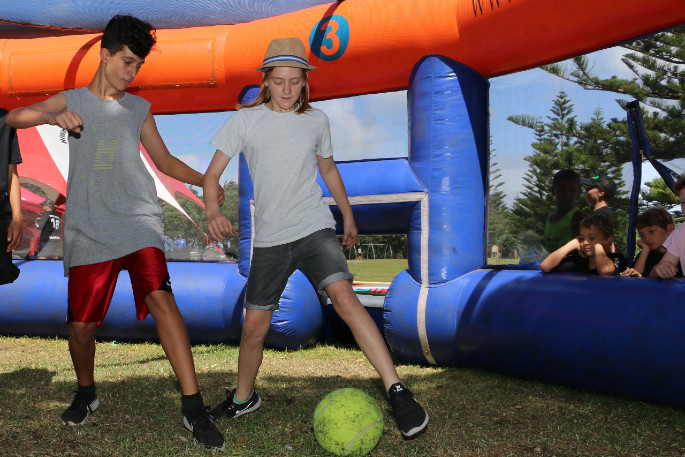 Picture a six-sided inflatable arena where you can play soccer, hockey and other ball games with up to 12 people either on your feet or in a wheelchair. That's Hungerball.
When Patrice Carmignani first came across Hungerball a year ago, he knew it was perfect for Tauranga kids of all ages.
The sports teacher, originally from France, has been working in New Zealand as a physical therapist for 16 years. He's also run before and after school programmes, and is excited to be introducing the Bay of Plenty to Hungerball.
"I met Andu Lordache, who created Hungerball in Auckland about a year ago," says Patrice. "The aim of it is to encourage children to play a game with a high level of fitness."
When Andu was growing up as a 12-year-old in Romania's small, crowded and vibrant urban spaces, he had the idea of a street soccer game whereby kids played all-on-all, with the last one standing winning.
Some 15 years later while visiting his parents' place, he was pleasantly surprised to see local kids were still playing the game.
The concept was further incubated for 20 years until finally coming into being in New Zealand in 2015. From its inception, Hungerball has expanded into other parts of the world, including Australia, Canada, the United Kingdom and Venezuela.
To support its development as a global sport, the Hungerball Soccer International Federation was established in October 2016 to govern the rules, equipment and licensing rights for organising Hungerball competitions anywhere in the world.
Back here in Tauranga, it's still in its infancy. The rules are simple. Inside the inflatable arena are six goalies each defending their own goal, and there is one ball and no hands. Each player can score in any of the other five goals.
There's an opportunity for kids aged 5-13 years old to try it out on Monday, January 24, from 2:30-4:30pm at Trustpower Arena.
Hungerball will take up one of six courts, with activities on the other five including trampolines, bouncy castles, bikes, scooters, balls, badminton, floorball, obstacle ninja warrior courses, climbing frames, building and creating, crafts, music and heaps of other fun stuff.
Anyone that would like to book is asked to visit: bayactive.co.nz. The cost is $10 per child.
More on SunLive...