Palmerston North case positive for Omicron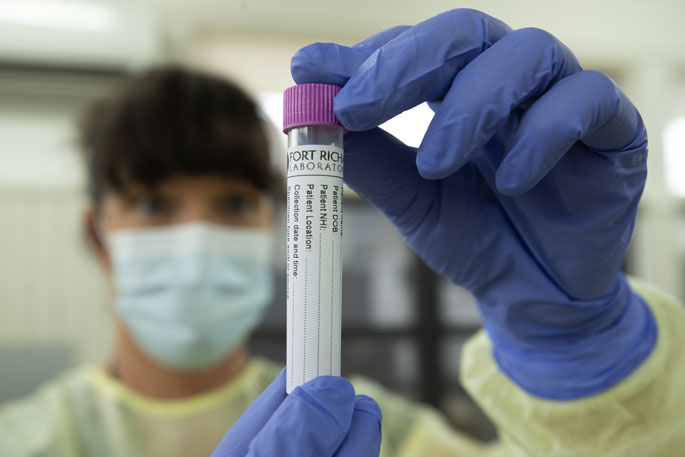 The Palmerston North case that tested positive for Covid-19 on Wednesday has been confirmed as having the Omicron variant.
The Ministry of Health says whole genome sequuencing confirmed Omicron case on Thursday night.
Meanwhile, there is also one new possible Omicron case in Auckland today.
The person works at Auckland Airport and they are not linked to previously reported Auckland Omicron cases.
The worker's infection was detected in a routine surveillance test taken on 18 January and a positive result was returned yesterday, says a statement from the MOH.
"Whole genome sequencing is underway to determine the variant, though as a prudent measure, it is being treated as an Omicron case. Investigations are underway to determine the source of infection.
"Testing of both household and workplace close contacts is underway. To date, one household member has returned a positive result and one has tested negative.
"The case is considered to be infectious from January 16. Initial locations of interest are expected to be published today.
"Our objective for all possible Omicron cases is to stamp out the infection and prevent any onward transmission."
Palmerston North Omicron case update
Whole genome sequencing has confirmed that the case who tested positive in Palmerston North has the Omicron variant of Covid-19.
The case became symptomatic on Wednesday and returned a positive Covid-19 test result on Wednesday evening, with WGS confirmed Thursday evening, says the MOH.
"The Ministry would like to thank the person for recognising Covid-19 symptoms and getting a test.
"Whole genome sequencing has identified similarities to border cases identified in Auckland, but no direct links.
"It has not identified any links to cases in the Christchurch MIQ facility, suggesting that the source of infection is offshore – either in the country they travelled from or during travel to New Zealand - rather than transmission in the Christchurch MIQ facility where they stayed.
"This case was released on 16 January (Sunday), after returning a negative test result on five occasions throughout their stay.
"They travelled on flight NZ550 from Christchurch to Auckland departing at 1400 arriving into Auckland at 1520. They then travelled on NZ5121 from Auckland to Palmerston North departing Auckland at 1655. The case is considered to be infectious from Monday 17 January, however if you travelled on either of these flights, as a precautionary measure, you are asked to get a test as soon as possible. If you are displaying symptoms you are asked to get a test and isolate immediately. For further clarification please contact Healthline on 0800 358 5453."
All locations of interest associated with this case are considered to be high risk and anyone who has been at these locations at the times stated are asked to follow the advice on the website, including to isolate and get tested immediately.
One previously published location of interest associated with this case has been amended, say the MOH.
The case visited ANZOR Fasteners on January 19. They did not visit ANZA on this date as previously stated.
Change to isolation requirements
"As part of the response to Omicron, at this stage our public health teams are focussed strongly on stamping out early any Omicron cases in the community," says the MOH.
"To help address the increased infectiousness of Omicron, as an interim measure the isolation time for all Covid-19 cases is being extended to 14 days. It was previously ten days.
"A similar change Is being applied for close contacts where all close contacts will now isolate for ten days. This was previous seven. These changes take effect from today.
"Isolation periods for cases and close contacts remain under review and are planned to change as part of the response to an Omicron community outbreak."
More on SunLive...