Tauranga's Humpty Dumpty on the mend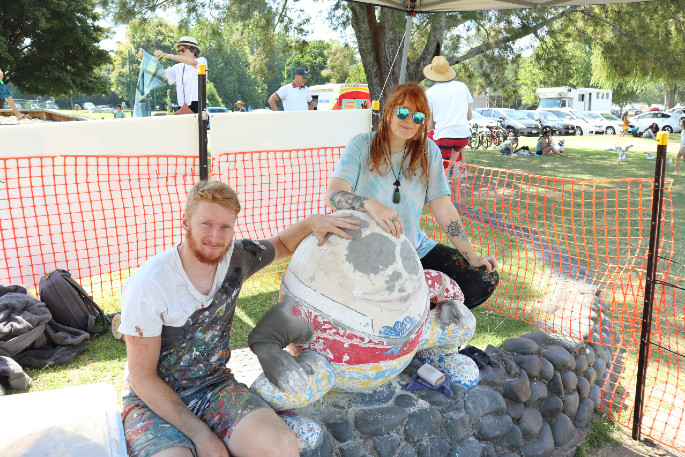 All the king's horses and all the king's men may not be able to put Humpty Dumpty back together again, but artists Sam Allen and Ally Drury are giving doing what they can.
The pair are busy mending one of Tauranga's much-loved icons after it was vandalised in early December.
Both are resident artists at The Incubator Creative Hub and both are pursuing careers in visual art, Sam and Ally certainly have the skills.
They're also individually well-known for painting bold, eye-catching murals.
Located in Tauranga's Memorial Park, a Humpty Dumpty statue has been part of the park's playground since 1959.
​"The statue has been seriously damaged this time around," says Tauranga City Council community services general manager Gareth Wallis.
"It looks like someone has taken a sledgehammer to it. Most of Humpty's right arm has been reduced to dust, and his head is badly chipped in places as well."
Gareth wasn't sure if it could be mended, but put out a call for expert craftspeople, sculptors or concrete workers to repair the damage to the arm and body and for an artist to repaint the statue.
"It's very disappointing, as all vandalism is," says Gareth. "I remember Humpty from when I was a kid myself."
As soon as they saw they saw poor Humpty's rotten dilemma, Incubator Creative Hub director Simone Anderson knew they could hatch a plan to put him back together again.
"The Incubator Creative Hub has never had a challenge like this before," says Simone.
"Given there's a good connection between eggs and incubators, we immediately knew we were up for the important responsibility to fix Humpty."
Sam and Ally have been working on site, with safety netting in place around the statue as it's too tricky to move it without risking further damage.
"We've completed the first part of the repair," says Sam. "Now we need to wait a few weeks for it to cure properly before painting it."
Council's spaces and places director, Paul Dunphy, is thrilled to see the support that the community has sent Humpty's way.
"We're so happy that our Incubator whānau will be helping return Humpty to the community," says Paul.
Humpty Dumpty is expected to have his new face and arm painted and be fully restored by early February.
More on SunLive...