Diversity is key in the current climate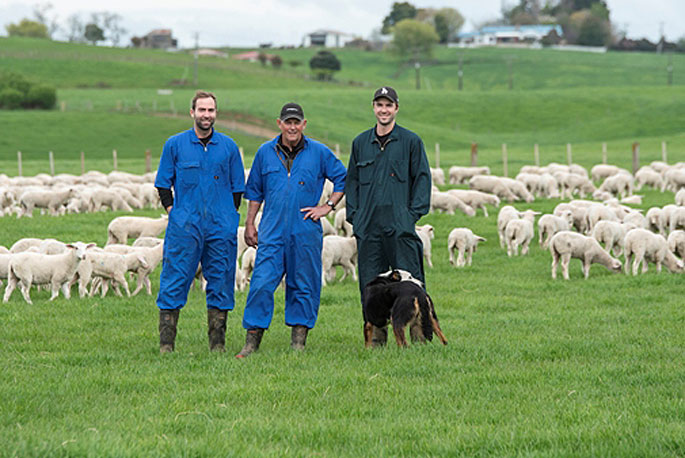 Fully immersed in their second lambing season, Brad and Kieran White, and father Paul, have had the opportunity to reflect upon the progress of Greenpark Sheep in Otorohanga, from its whirlwind start, to where it is today.
Paul and Dianne White have dairy farmed at Ngahape for 35 years, and their three sons had grown up and left home to pursue corporate careers. In 2019 the stars aligned somewhat serendipitously for the family.
"Dianne and I found ourselves at a crossroads and we wanted to step back, and the boys' aspirations had changed over time and they all wanted to return to farming," says Paul.
Son Andrew took up a contract to milk cows on the home farm, and Brad and Kieran were keen to be sheep milking trailblazers. Paul "floats between the farms to whoever shouts the loudest".
Paul believes it is important that the sheep venture is a standalone business and describes it as a "calculated risk".
"It was a new industry, something different, but it just stacked up both environmentally and financially," says Kieran.
"We're one of the first to milk sheep in the area, and there's so much potential for increasing production and quality in the business," says Brad.
A new farm
The Whites took over the 81-hectare dairy farm in May 2020 and immediately started the conversion work from cows to sheep. It had to be ready for milking by August, as their initial 860 strong flock of mixed age ewes started lambing.
The family chose Maui Sheep as their dairy company, impressed with their breeding programme and higher payout. The stability of their three-year rolling guaranteed payout offered security.
With no time to build a lambing shed, all lambs were reared naturally, remaining with their mothers for 30 days. Ewe lambs were kept as replacements and ram lambs were sold to the store market once they reached 25 kilogrammes.
Despite using natural rearing, their first season was financially successful and "better than break even".
"We averaged 200 litres of milk per ewe in the natural rearing season, and under artificial rearing we are expecting 280 to 300 litres per ewe," says Kieran.
The layout of the 57 by 9.5 metre Redpath lamb rearing shed was carefully thought out.
The lambing shed
A purpose-built lambing shed and fencing improvements for the lamb paddocks were all in place for season two, after learning the hard way that small lambs need much more wire in the fences.
The layout of the 57 metre by 9.5 metre Redpath polyshed was carefully thought out to be as labour efficient as possible, with a capacity for rearing up to 1000 lambs at a time.
"The kitchen and newborn areas had lots of input from the ladies of the family. There's plenty of bench space for bottle preparation, fridges, abundant hot water and cupboards and a washing machine for towels is on the wish list," says Paul.
Kieran's partner Jessica runs the rearing shed and organises homes for the ram lambs.
"Once feeding properly at three to four days old, they're castrated and given away. There's a promising demand to grow them on and finish for meat," says Brad.
The flock is now 1050 mixed age ewes and hoggets which start lambing two weeks apart, spreading the expected influx of at least 2000 lambs into a slightly longer window of time.
"Even so, it's been a huge learning curve and we've been really appreciative of the support from Maui and their sheep vet, Ginny Dodunski, and our local vets," says Brad.
The shed is set up to receive one-day-old newborns after they have fed from their mothers' colostrum, and the rearers teach them to bottle feed gold colostrum from either the flock or cow herd.
These smaller nursery pens with deep wood chip and shaving bedding, and heat lamps, catering for tiny lambs which Kieran describes as "so much less robust than the calves we were brought up with".
The lambs are progressed to the "lambateria" with weak colostrum from the colostrum flock, before moving to larger pens with powdered milk autofeeders, where milk is available adlib.
"We've put outdoor 12 metre square pens with riverstone bases, off the side of the shed, where the older lambs can go out and play in the sunshine and get used to being outside.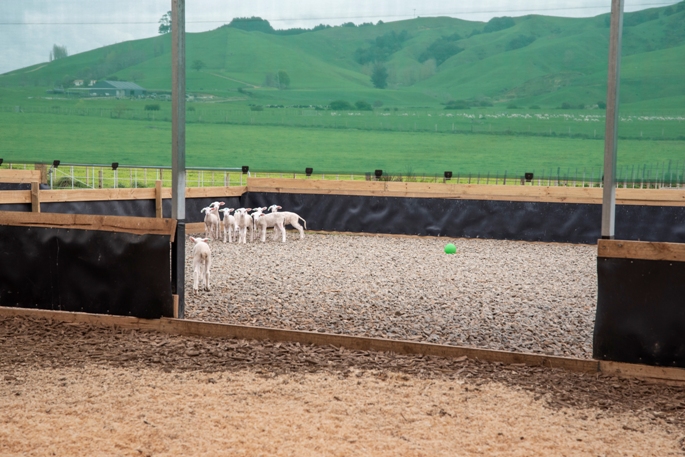 The older lambs enjoy playing in the 12 metre square, sheltered outdoor pens.
"Before weaning at around six weeks, the lambs are introduced to grass during the day, and then put permanently in the paddocks as one flock," says Kieran.
Future plans
Brad and Kieran run the farm with Paul's assistance, a permanent part-time relief milker, and three seasonal workers during lambing, with extras brought in for peak times.
"We concentrated on growing flock numbers last year, and now we're looking to consolidate the genetics and maintain a low age profile throughout. Sheep over five years old have more health issues," says Brad.
Maui Sheep have created a new breed called Southern Cross, which is a French Lacaune/East Friesian cross from a Coopworth base, with Maui supplying all the rams each season.
"We'll be looking at milk quality and production, temperament, and teat placement when deciding on the genetic direction of our flock," says Brad.
Optimising the milking shed and further lamb proof fencing are high on the to-do-list.
The Whites have no regrets, despite some real "on the job learning", and are looking forward to growing Greenpark Sheep.
"It's a good thing to have business diversity in the current climate," says Paul.
More on SunLive...