Staying cool through Covid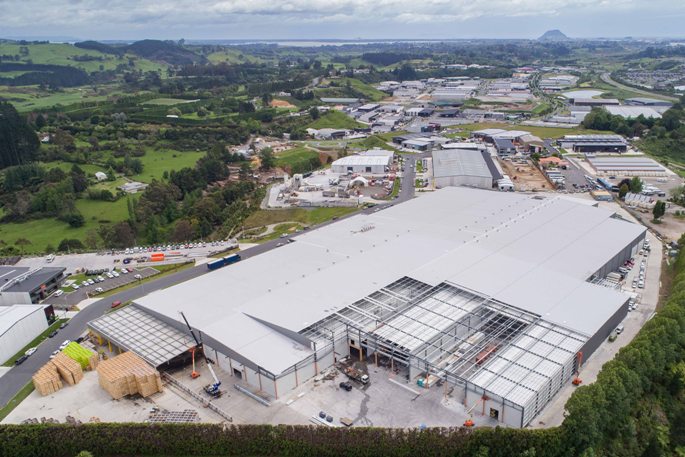 The largest packhouse and coolstore in New Zealand has been completed on time and budget despite the challenges posed by Covid-19.
Mount Pack & Cool's Stage 4 expansion at Tauriko in Tauranga means it will now employ about 600 people and handle 24 million trays of kiwifruit when the season gets underway in March.
It includes a state-of-the-art packing line and bin curing room, 17 controlled atmosphere stores and four coolstores.
Managing director Brendon Lee says there is a sense of pride amongst growers and staff that the development had created such high-quality infrastructure.
Industry growth and demand for the Gold variety drove Mount Pack & Cool's Stage 4 plans to commission a packhouse purpose-built for Gold kiwifruit.
Temperature and humidity will be carefully controlled inside the packhouse to preserve the fruit quality as it moves through the facility and out of the controlled environment, ensuring there's no humidity or sweating on the fruit, extending its shelf life.
Form NZ was the lead contractor for its Stage 1 and 2 developments, and was contracted again to project manage Stage 4.
By committing to the development as far back as June 2020, Brendon says Form NZ was able to overcome logistical challenges and supply chain bottlenecks that so many other big construction projects are battling.
"We went really early with our ordering to ensure that we had a buffer because we could see issues on the horizon."
He credits Form NZ for its expertise in managing construction and juggling workflow after the snap Level 4 national lockdown, starting August 18.
"Level 4 did stop construction on site until everyone could get back to work at Level 3, but with Auckland staying in lockdown for longer that did delay the supply of our steel purlins.
"Although manufacturing of the purlins was held up for a few weeks, their team came up with good back-up plans so they could deliver the project on time."
"Re-jigging the workflow to keep projects ticking over, that's the kind of thing that project managers are having to do – just keep shifting the plan, constantly re-shuffling."
Features built into the development include the first TOMRA 5S Advanced packing line from Compac to be installed in New Zealand. It delivers highly accurate grading results to optimise the sorting of fruit.
The coolstores also feature the new Atlas 3.0 pallet shuttle system from Belgium, increasing site safety and minimising the need for forklift drivers.
Packaging supplier Opal is installing ATX tray making and ATS tray stacking machines, reducing the need for labour by 50 per cent. They can handle 60 boxes every minute – up from 30 per minute on previous models.
The finish of Stage 4 means the company has completed 54,000sqm of building construction over five years.
In 2021, Mount Pack & Cool handled 16 million trays of kiwifruit, including 7 million trays of Green and 9 million trays of Gold.
Next year, it expects to pack about 19 million trays, including 7 million trays of Green and 12 million trays of Gold kiwifruit.
For a couple of weeks in early March, it will also pack about 20,000 trays of Zespri's new RubyRed kiwifruit.
More on SunLive...