Volcano sends out pressure wave recorded in NZ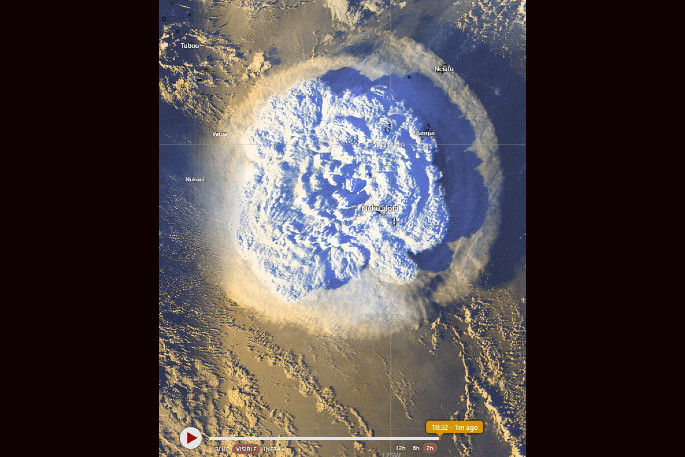 A pressure surge from the latest eruption of the Hunga-Tonga-Hunga-Ha'apai volcano in Tonga has been observed by New Zealand weather stations across the country this evening.
The pressure wave from the Tongan volcano was recorded at weather stations at Cape Reinga, Auckland, Tauranga, Gisborne, Taupo and Wellington between 6.50pm - 7.45pm.
Reports of explosions were heard in New Zealand which is over 2000km from Tonga. The shock wave from the Tonga eruption rippled out at about 1000km per hour, and from imagery from WeatherWatch shows that the pressure wave took two-and-a-half hours to reach NZ.
SunLive readers reported hearing what sounded like explosion noises
A pressure surge from the latest eruption of the Hunga-Tonga-Hunga-Ha'apai volcano in Tonga has been observed in our weather stations across the country this evening. Note, times are in UTC, so 0600 is 7pm NZ Time. pic.twitter.com/xqa9KgTXtw

— MetService (@MetService) January 15, 2022
"Hearing the loud explosion like noises here in South Otago as well," says Amy Blaikie from Clinton.
"We can hear them in Hawkes Bay," says Barb Woolley.
Trudi Kyd in Paeroa heard it too.
"We heard one large explosion around 7.24pm and then a smaller explosion and we live in Paeroa. First one was pretty loud," says Trudi.
Mike Jones says he heard it in Manawahe.
In Taradale, a couple wondered if it was space junk falling.
"The loud booms heard today over the Bay of Plenty were about an hour after a very loud boom heard over Hawke's Bay," says Kathy and John Ross from Taradale.
"When I heard the bang I went into the street, where I saw several residents checking it out. The boom was heard and rattled doors in Knightsbridge Napier too. My thinking is that it was caused by falling space junk, or maybe a meteorite breaking up."
A SunLive reader also reported experiencing their house rattling and booms in Belk Rd, Tauranga.
"No matter how you look at this, the eruptions in Tonga this afternoon/evening are absolutely enormous," says a WeatherWatch spokesperson.
"From the speed of the sound shockwave reaching NZ, to the size of the cloud now towering over Tonga and affecting aviation paths."
WeatherWatch.co.nz has made some infographics to help better illustrate just how huge and significant this activity today and tonight has been.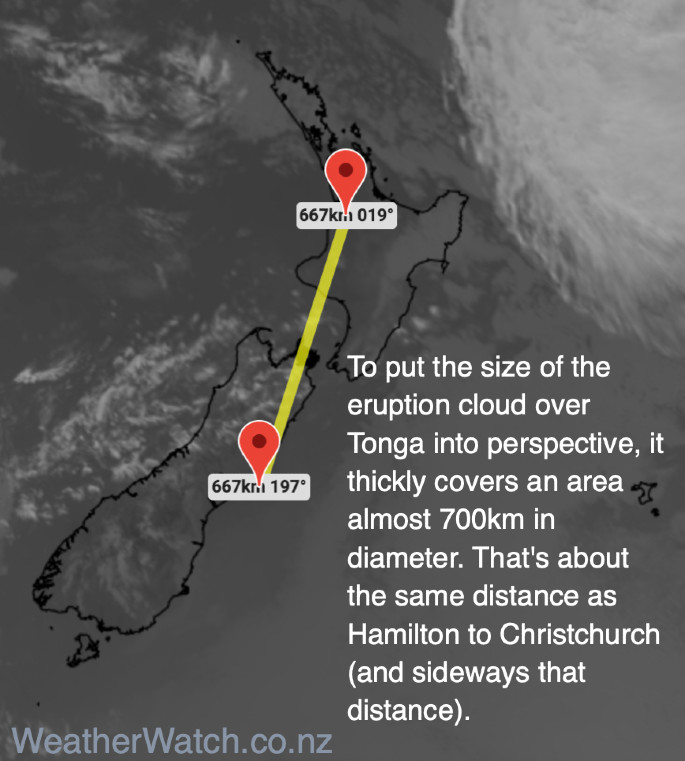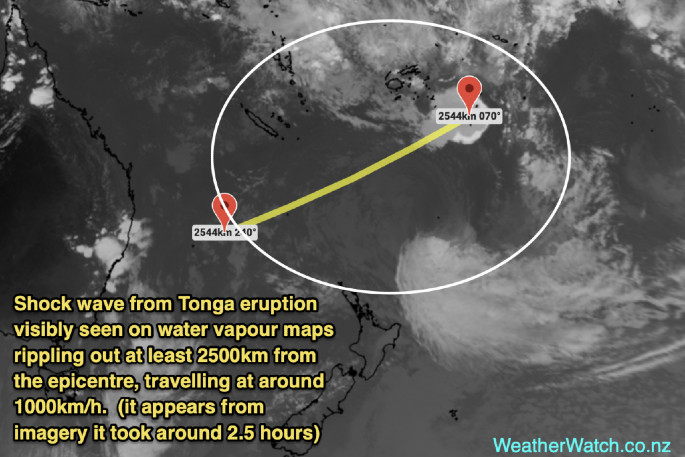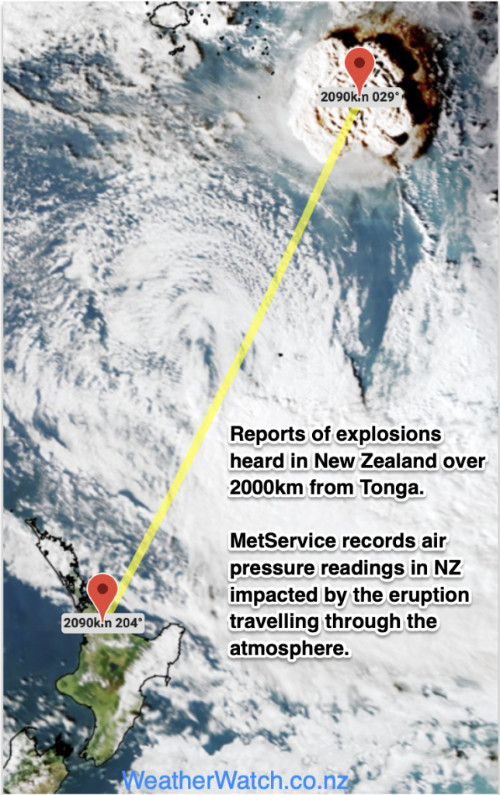 "The shock wave was also recorded by our official WeatherWatch.co.nz weather station in Auckland, New Zealand," says a WeatherWatch spokesperson.
"Some people may have heard the explosion(s) and others may have even felt the explosions in their ear drums."
"This spike is incredibly unusual. Air pressure, even when a cyclone moves in, only drops 1 or 2 hPa points per hour. In this case, it's jumped 4hPa and then fallen almost 6hPa all in about 20 minutes," says a WeatherWatch spokesperson.
"The only time you might see this is if a tornado passed by a weather station, which can also make your ears pop or put pressure in your ears that you can physically feel. For this to be detected over 2000km away is remarkable and rarely recorded."
The New Zealand National Emergency Management Agency has issued a tsunami advisory following the eruption in Tonga.
"We expect New Zealand coastal areas on the north and east coast of the North Island and the Chatham Islands to experience strong and unusual currents and unpredictable surges at the shore following the large volcanic eruption," says a statement from NEMA.
"Strong currents and surges can injure and drown people. There is a danger to swimmers, surfers, people fishing, small boats and anyone in or near the water close to shore.
"People in or near the sea should move out of the water, off beaches and shore areas and away from harbours, rivers and estuaries until at least 4am on Sunday, January 16. "
A tsunami warning has also been in force for all of Tonga following this evening's underwater violent volcanic eruption.
A tsunami warning is now in force for all of Tonga following this evening's #underwater violent #volcano eruption.
Please #StaySafe.Folded hands#Tsunami #Tonga #Oceania pic.twitter.com/h83XkfIT8O

— Chaudhary Parvez (@ChaudharyParvez) January 15, 2022
The volcano is located about 30 kilometres south-east of Fonuafo'ou island in Tonga.
Dramatic footage shows waves rolling through coastal Tongan homes as a tsunami warning has been announced for the Pacific island nation.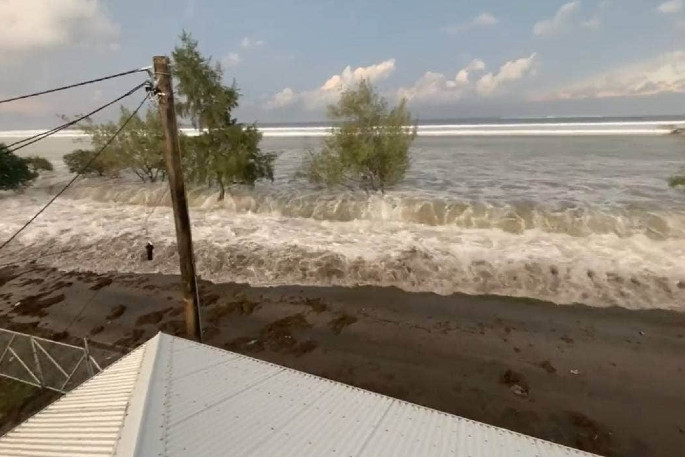 A tsunami alert was issued in Tonga following the eruption. Photo: @sakakimoana/Twitter.
The Tongan Meterological Service issued the warning for all of Tonga on Saturday evening, after ongoing underwater volcanic activity.
It comes after Hunga-Tonga-Hunga-Ha'apai erupted again on Friday, sending ash, steam and gas 20 kilometres into the air, Radio New Zealand reported.
The volcano was erupting intermittently in late December.
Jese Tuisinu, a reporter at Fiji One, posted a video on Twitter showing it was "dark" in parts of Tonga, and said people were "rushing to safety" following the eruption.
It is literally dark in parts of Tonga and people are rushing to safety following the eruption. pic.twitter.com/7NoP0y9GCo

— Jese Tuisinu (@JTuisinu) January 15, 2022
The United States has issued a tsunami advisory for American Samoa.
The U.S Emergency Alert Twitter page stated a "hazardous" tsunami had been generated by volcanic activity in Tonga, and monitoring was underway to evaluate the threat.
Can literally hear the volcano eruption, sounds pretty violent. pic.twitter.com/gX6z2lSJWf

— Dr Faka'iloatonga Taumoefolau (@sakakimoana) January 15, 2022
Meanwhile, there have been reports on social media from as far away as neighbouring Fiji – northwest of Tonga – of hearing or feeling the eruption.
Dr Frank Ross, who lives in Suva, Fiji – over 800km away from Tonga - said there had been "constant, on-and-off booms" for over half an hour that were still ongoing at 7pm NZ time.
"The house has been shaking, I've figured out that it must have been from this eruption.
I went outside, and it sounded like this constant boom, boom, boom in the distance, but there wasn't any thunder ... it must have been massive," he said.
"It was even shaking a few minutes ago – it comes and goes, so it must be a series of eruptions. It's been going on for half an hour or 45 minutes."
Radio New Zealand earlier reported that Tonga Geological Services head Taaniela Kula said the eruption had a radius of 260km.
It was about seven times more powerful than the last eruption on December 20 last year and continuing to grow, Kula earlier told RNZ.
WeatherWatch tweeted infrared satellite imagery showing how clear skies were fast replaced by the giant eruption cloud over Tonga in the past couple hours.
Infrared Satellite Imagery shows how clear skies were fast replaced by the giant #eruption cloud over #Tonga in the past couple hours. pic.twitter.com/pxqA4LymlH

— WeatherWatch.co.nz (@WeatherWatchNZ) January 15, 2022
More on SunLive...