Lifeguards involved in more than 100 rescues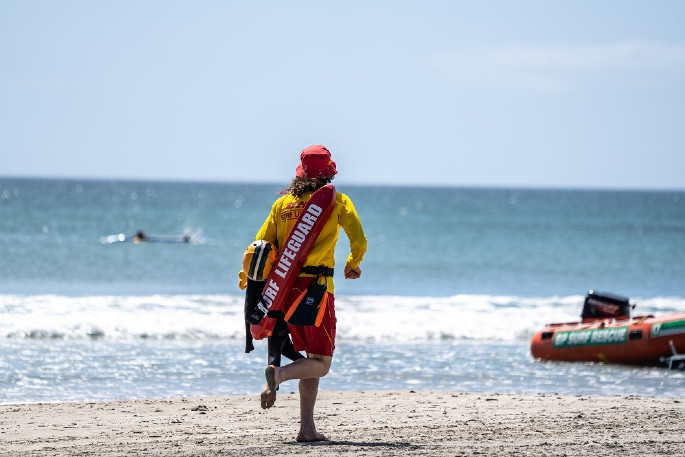 Following several serious incidents at beaches in the Coromandel and Bay of Plenty, Surf Life Saving New Zealand is urging beachgoers to take care in the water.
"Beaches across the Bay of Plenty have been extremely busy with the hot weather we've seen this summer," says Surf Life Saving NZ Eastern Region Life Saving manager Chaz Gibbons-Campbell.
"People are flocking to the sea to keep cool and have fun."
Lifeguards have been extremely busy with the high numbers of beachgoers, carrying out countless preventative actions to keep people out of trouble.
Eastern Region lifeguards have also been involved in almost 100 rescues and serious incidents this summer, and tragically there were recent fatalities at Whangamata, Pauanui and Omanu.
"This is devastating for the families affected, and our thoughts are with them at this sad time."
While the beach is a wonderful summer playground, it can also be deadly, says Chaz.
"Presently many beaches in the region have strong rip currents and lots of water movement, especially on the outgoing tide, which can sweep people out of their depth."
Pick a Patrolled Beach
One of the best things people can do to keep themselves, their family and friends safe when visiting the beach is to choose a lifeguarded beach, says Chaz.
"Ideally, choose a beach with lifeguards on patrol as they will be close by if anyone gets into trouble.
"Go to www.safeswim.org.nz to find out which beaches are patrolled and the times lifeguards are on duty.
"When arriving at the beach, look for the red and yellow flags and swim between them. This part of the beach has the safest swimming conditions and is always monitored by lifeguards. Other parts of the same beach may be dangerous to swim or paddle in, even if they are close to the flags.
"Always listen to instructions given by lifeguards. If a lifeguard waves at someone to come out of the water or asks them to swim at another part of the beach, people should follow their instructions. Lifeguards have the public's safety in mind and are there to keep people out of trouble. They know about risks and hazards that swimmers may not be aware of."
Chaz says lifeguards are a friendly bunch, and the public can ask them questions if they're unsure of anything or want to find out about the conditions of the beach they are visiting.
People should remember these important safety messages when visiting the beach. Carrying out this advice can help make sure Kiwis get home safely after enjoying a trip to the beach this summer.
Beach Safety Messages
· Choose a lifeguarded beach and swim between the flags
· Read and understand the safety signs – ask a surf lifeguard for advice as conditions can change regularly
· Don't overestimate your ability or your children's ability to cope in the conditions
· Always keep a close eye on very young children in or near the water – always keep them within arm's reach
· Get a friend to swim with you – never swim or surf alone
· Watch out for rip currents, they can carry you away from shore. If caught in a rip current remember the 3Rs: *Relax and float, *Raise your hand and *Ride the rip
· Be smart around rocks: When fishing never turn your back towards the sea and always wear a lifejacket
· If in doubt, stay out!
· If you see someone in trouble, call 111 and ask for the Police
· Be sun smart – slip, slop, slap and wrap to protect your skin and eyes from the sun's damaging rays.
More on SunLive...