Stranded whale dies in Coromandel Harbour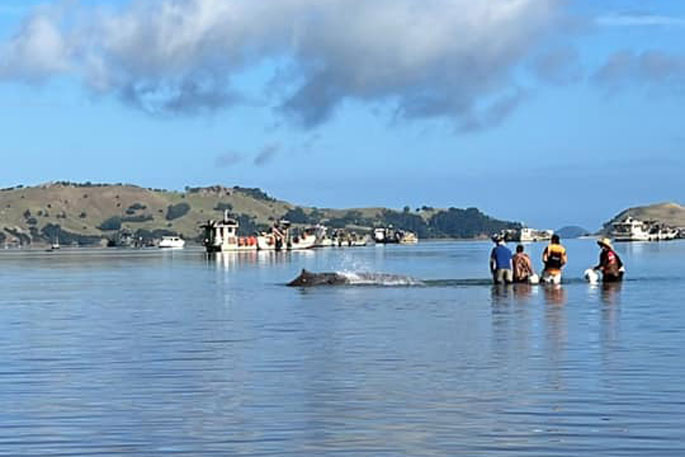 UPDATE 8.43AM: The whale that died in the Coromandel Harbour overnight, is being buried this morning.
The Department of Conservation reported that the stranded whale at Te Kouma, which was the focus of a re-floating effort on Sunday, passed away overnight.
"At one point yesterday it was refloated on the high tide but seemed reluctant to leave," says a post on Coromandel's CFM Facebook page.
"It died overnight despite efforts to refloat it.
"DOC has also advised that on closer inspection, they have established it to be a female Baird's beaked whale - not a male southern beaked whale as advised yesterday.
"The focus will now shift to a burial today with DOC working on arrangements with iwi."
EARLIER: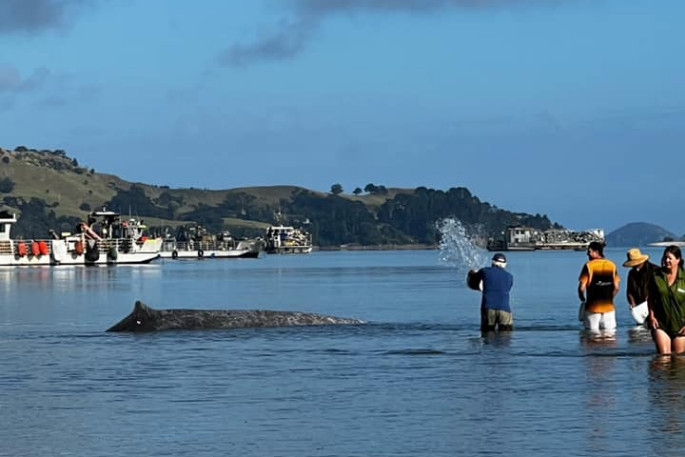 The whale stranded in the Coromandel Harbour has died.
The male southern bottled nosed beaked whale became stranded in shallow water at Te Kouma, just south of Coromandel Town on Sunday.
DOC staff were alerted to the whale stranding at about 6.30am.
Many attempts were made throughout the day to re-float the whale.
Coromandel's CFM station manager John Grant says the mammal was re-floated around 1.30pm but it seemed "reluctant to leave the area".
Volunteers, along with DOC and Project Jonah continued to monitor the whale overnight.
"Photos thanks to Rocky Heart showed the whale wrapped in wet cloths and people bringing water to keep it wet.
"It's been a great effort by community, DOC and Project Johan teams."
Sadly, DOC have advised that the whale has passed away overnight.
The focus today will be on working with iwi on a burial.
More on SunLive...