Coromandel whale refloated, now reluctant to leave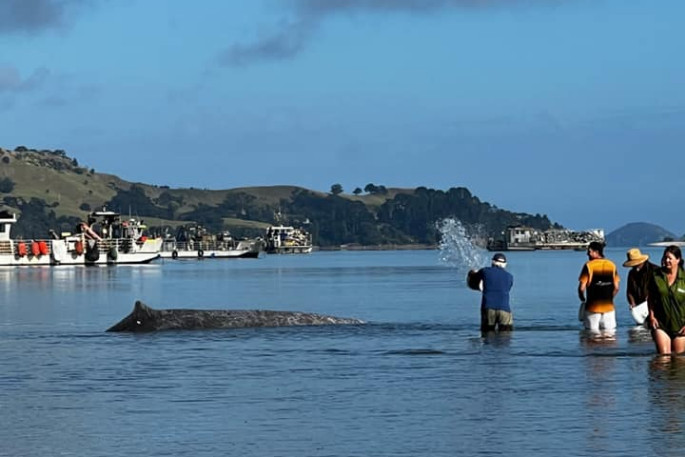 1.25pm Update: The whale that earlier stranded in the Coromandel Harbour has now been partially refloated, says Coromandel's CFM station manager John Grant.
Despite no longer being stranded, the male southern bottle nosed beaked whale is appearing reluctant to leave the harbour.
"It's now a 'wait and see' approach which has been adopted," says John.
"DOC staff are working with mana whenua on the next steps."
The nine metre whale stranded in shallow water at Te Kouma, just south of Coromandel Town earlier on Sunday morning and was reported in a Facebook post by Coromande's CFM.
Earlier, 10.45am:
A nine metre beaked whale has stranded in shallow water at Te Kouma, just south of Coromandel Town.
Coromandel's CFM has reported the whale stranding in a Facebook post on Sunday morning.
"We do not know the whale's particular species, gender or age," says a Department of Conservation – DOC – spokesperson.
DOC staff were alerted to the whale stranding at about 6.30am on Sunday January 9.
"We have staff at the scene. We have the situation under control and although we appreciate the public's support – there have been onlookers at the scene – we do not require any assistance."
Earlier, members of the public in the water were using buckets to help keep the whale wet.
DOC staff at the scene say that the whale is energetic, and has been attempting to free itself.
"However the water is currently not deep enough for it to swim."
They say that the tide is coming in fairly quickly, with high tide expected in Coromandel Harbour at 1.17pm.
"The water level is crucial to the whale getting back out to sea," says a DOC spokesperson.
"Once that water level raises, we will aim to get the whale refloated and shepherd it back out to sea.
DOC have arranged for boats to help with this approach for guiding the whale back out of the harbour.
"We have boats on the way to help with this approach."
A DOC spokesperson says that beaked whales are usually deep sea/ocean water species, so its arrival in the harbour/inlet is unusual.
.
More on SunLive...