Katikati family to compete in Colgate Games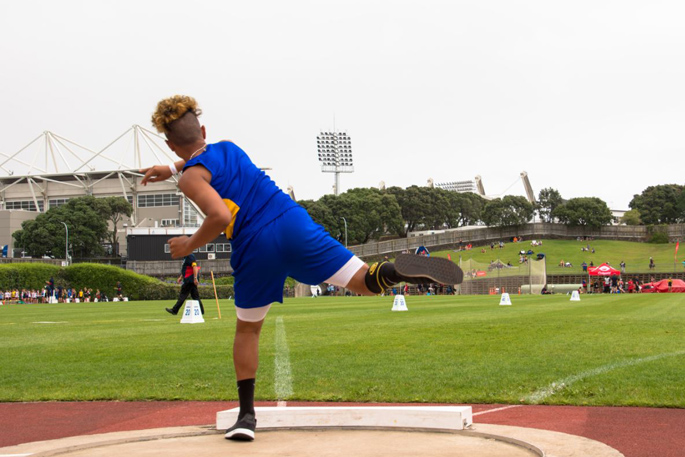 A Katikati family is representing the region in the Colgate Games this week.
The Hollows will join more than 1000 young athletes are preparing to run, jump and throw their way to success at the North Island Colgate Games at Newtown Park, Wellington, this weekend.
Mum Kayla says her 14-year-old daughter Destinee has always been very sporty from a young age.
"[She] has always done quite well with running so that's we're it all started."
Kayla's other six children – Tyriee, 11, Alex, eight, Chelsee, seven, Carter, five, Darci, three, and Kaycee, two - have followed in their sister's footsteps.
All the kids are registered members with Bellevue athletics this year.
"This is our third year with the club," says Kayla.
The kids generally train once a week at Bellevue, but they also do a lot a school and ribbon days over summer weekends when they are on.
Alex has also been doing lessons with a running coach for the last two terms, says Kayla, who describes herself as a taxi driver.
"We live in Katikati but come over to Tauranga a few times a week for athletics and other things.
"Athletics is great because the whole family can be involved. So Tuesday is always kept free for it. The kids also do lots of other stuff which helps keep them busy and fit throughout the year."
When the kids aren't doing athletics, Destinee plays hockey, football and volleyball, Tyriee does football, Alex is into hockey, run training, junior surf and swimming, Chelsee also does hockey, along with dancing, swimming and junior surf.
Carter is involved in hockey, dancing, swimming and junior surf, while Darci and Kaycee enjoy dancing.
"It's the best feeling seeing them excelling and enjoying the things they so."
Kayla says Colgate Games is a super exciting time for the family.
"We absolutely love it and look forward to it all year. This is our 4th year attending.
"It's just myself and the 4 older kids attending, so Destinee, Tyriee, Alex and Chelsee. This year is a bit special as it will be Destinee's last year being 14 and Chelsee's first year being seven."
Events the kids are doing
Destinee 1500 & 800
Tyriee 800, 400, 100, long jump and race walk
Alex 60, 100, 200, long jump and discus,
2022 North Island Colgate Games
Dates: 7 – 9 January 2022
Location: Newton Park, Wellington
2022 South Island Colgate Games
Dates: 14 – 16 January 2022
Location: Surrey Park, Invercargill
More on SunLive...