Tauranga para-sprinter breaks NZ record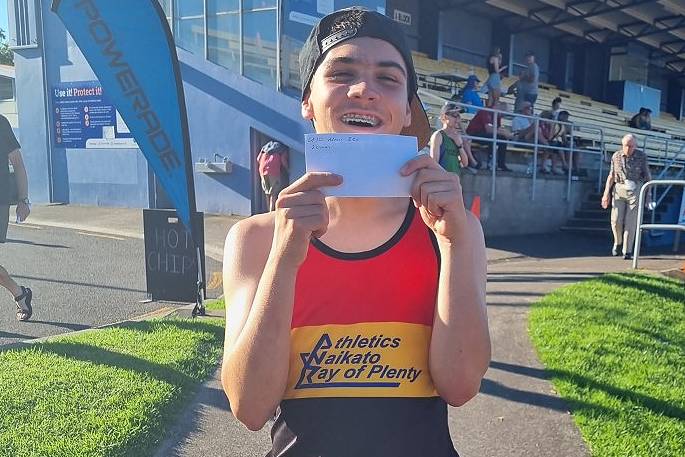 Tauranga para-sprinter Jaxon Woolley is celebrating a huge achievement after breaking his own current New Zealand record in the T38 classification for 100m.
Jaxon broke the record at a Tauranga Twilight meet recently.
This record stands now not only for his current age group of U17, but it also is the new record for U20 and Open men's, says Jaxon's mum Tash Bowden.
"It's a huge achievement."
Jaxon, who has been competing for about three years as a sprinter after being scouted by para-athlete Keegan Pitcher, has a rare condition called Polymicrogyria; too many small folds in the brain.
Polymicrogyria is a condition characterised by abnormal development of the brain before birth. The surface of the brain normally has many ridges or folds, called gyri. In people with polymicrogyria, the brain develops too many folds, and the folds are unusually small.
"Jaxon has one of the more severe forms of this condition as it affects his entire brain rather than just one area," says Tash.
"Bilateral forms of polymicrogyria tend to cause more severe neurological problems.
"Because of his conditions Jaxon experiences Spastic quadriplegic cerebral palsy, epilepsy, delayed development, problems with speech and swallowing, behavioral difficulties including ADHD and Autism Spectrum Disorder
"Individuals with his condition are often severely disabled, so for Jaxon to be experiencing reasonably mild symptoms and achieving the things that he is doing is beyond incredible."
Jaxon's family try to give him the "most normal" life possible.
They go camping, spend time at the beach, and go to the movies and overseas holidays.
But Tash says it has been an enormous challenge.
She says every outing has to be planned meticulously, with backup plans in place in case things went wrong.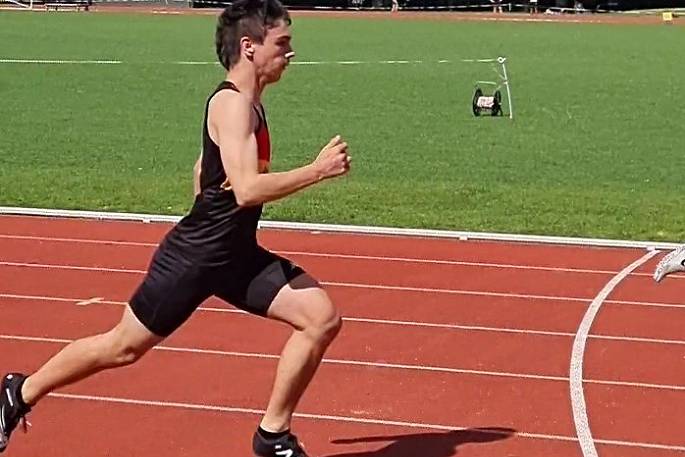 Over the years Jaxon was told by doctors and pediatricians that there is many things that he would not be able to do such as riding a bike, running 100m without passing out, anything that required co-ordination etc. So his family went out and bought him a bike, he went on to do BMX racing for two years.
He also played Rugby for North Harbour Marist and Northcote for seven years, and did recreational gymnastics for five years.
"A friend told us about The Halberg Disability Games and so we decided to give it a go. Jaxon was able to participate in an entire weekend of incredible sports, such as swimming, athletics, touch rugby, table tennis, archery to name a few of the sports on offer.
"After that he participated in regular athletics sessions with Parafed Auckland where his passion for the sport grew, before joining Hamish Meacheam's squad of para-athletes in 2019."
Following Jaxon's record-breaking run last week, mum Tash says he was over the moon.
"I was incredibly proud as any mother would be, but as I said to Jaxon on the day, the thing I was most proud about was his attitude on the day.
"He woke up in a fantastic mood, he was rearing to go, he was being kind to his siblings and myself and his step-father John Bowden.
"When he arrived at the track he was very chatty and bubby, this sport has improved his social skills beyond words, and he just had a 'can do' attitude.
"We rewarded him with a lovely family meal out at our local Papa Mo's – his favourite."
Jaxon has been long-listed for this year's Commonwealth Games, though he still has a fair amount of time to improve on to reach the qualifying standards for this.
In the meantime, Tash says he is competing at some of the Athletics New Zealand "Classics" in Hastings, Wellington and Auckland, and fingers crossed Covid permitting he will be able to get some international exposure this year.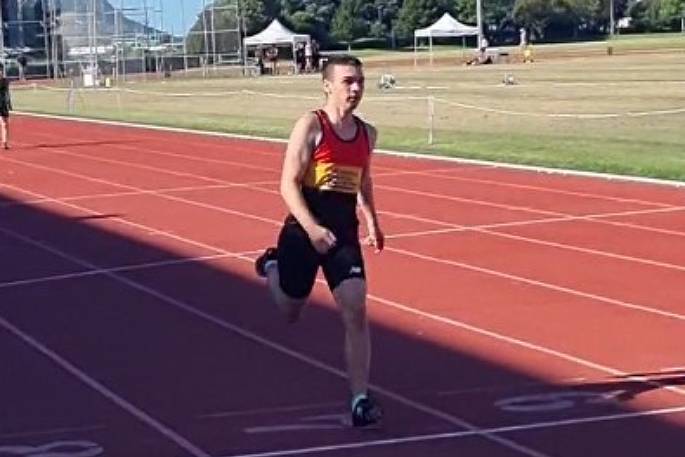 "Since Jaxon is so young at just 15, we are really just encouraging him to enjoy the sport and its benefits for him and his health as he still has so much time under his belt to achieve big things."
Tash says Jaxon's real goal at the moment is working toward the 2024 Paralympics in Paris.
"I can honestly say I am absolutely blessed to be Jaxon's mother, he has taught me so much about the world, how unfair it can be, how the small things really don't matter, and just how rewarding being the mother of a special needs child can be."
More on SunLive...