Kaitiaki based on site at Omanawa Falls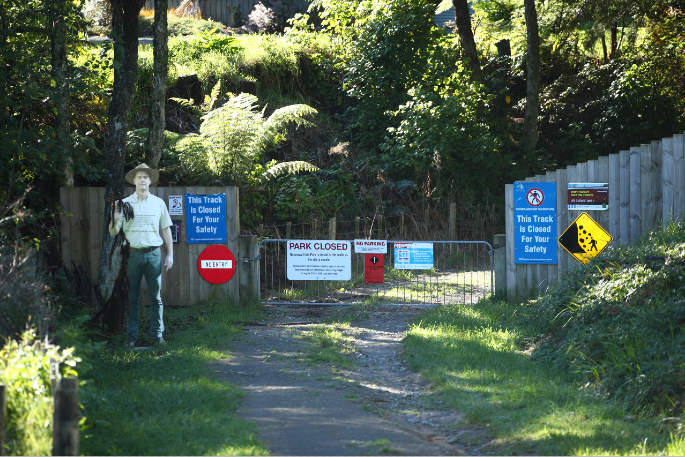 Kaitiaki (guardians) will be based on site at Omanawa Falls again this summer.
The kaitiaki from Ngāti Hangarau will be based at the falls to educate all manuhiri who attempt to visit around the life-threatening dangers involved, as well as the cultural reasons to respect the area, says Tauranga City Council.
Omanawa Falls is within the rohe of Ngāti Hangarau.
"The kaitiaki programme last summer was very successful at deterring people from visiting the Falls.
"To ensure all people are aware of the dangers, the site closure is also clearly signposted to visitors."
A man died in January 2021 during his attempt to visit the falls. Student, Kishore Kumar Arvindan, 27, drowned in the pool at the base of the falls in 2018.
Numerous others have also been seriously injured at the falls.
Kaitaiki will be based on site most days at the Omanawa Falls until the end of summer.
The Omanawa Falls are currently closed to the public for safety reasons and Tauranga City Council has been working closely with Ngāti Hangarau and Tourism BOP to re-open them in the future.
"Together with Ngāti Hangarau and TBOP we have gone through a co-design process to provide physically and culturally safe access to Omanawa Falls," says a council spokesperson.
"The design provides for viewing platforms, an upgraded track as well as carparking and public toilets."
Council and Ngāti Hangarau have jointly lodged a consent for the creation of culturally safe access to the Omanawa Falls.
A decision on whether consent will be approved to go ahead with the co-created design will be decided following a hearing in April 2022.
Director of Spaces and Places, Paul Dunphy says the presence of the kaitiaki are vital to spreading awareness of why the Omanawa Falls pose significant danger, as well as why they need to be respected as an important waterfall in the whenua of Ngāti Hangarau.
Council, Ngāti Hangarau and Tourism BOP continue to ask people not to visit the falls and highlight that there are a number of other fantastic falls in the Bay people can visit.
More on SunLive...