Uncollected food scraps bins causing a stink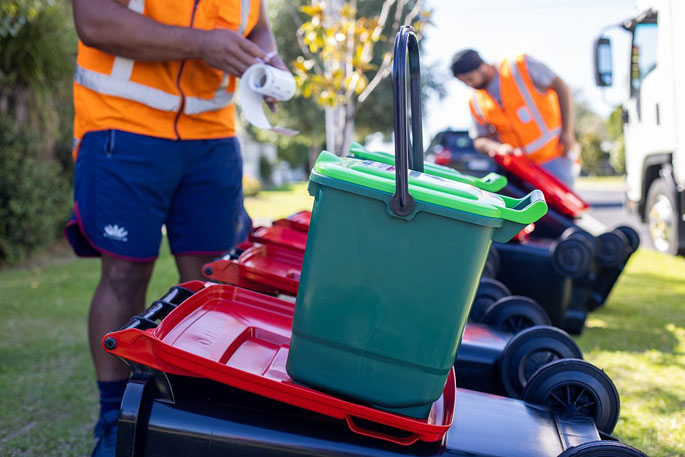 Uncollected food scraps bins are leaving Te Puna residents with a bad stench for new year's.
Some residents in the Snodgrass Road area and on Matahiwi Road haven't had their food scraps bin collected for 10 days because their collection was missed on Wednesday.
A Te Puna resident says their bin is still out waiting to be collected.
A post on the Te Puna Community Group Facebook page is asking if anyone else around the Snodgrass Road area didn't have their scraps bin collected.
One of the 15 replies to the post says their bin wasn't collected while another says theirs was collected at 7.05am.
The Western Bay of Plenty District Council is responsible for food scraps collection at urban addresses in the region.
The council's website advises people whose bins have not been collected to report it by calling 0800 926 732, filling out their online form, or through the Antenno app.
Other information on the website says any of the rubbish, recycling, glass or food scraps bins will not be collected for the following reasons.
Bins are filled incorrectly.

The bin was not placed on the kerb before 7am.

The driveway is blocked or hidden by trees.

It was not your collection day.

Waste in bags or boxes beside bins.

The pay-as-you-throw tag is not attached correctly.

Bins are not Western Bay of Plenty District Council bins or are third party bins.
If food scraps bins were not collected it may be as a result of incorrect items or it was lined with or contained plastic, says the council website.
SunLive has contacted council about the missed food scraps collection and will update the story when the information is available.
More on SunLive...