A pair of socks for Tauranga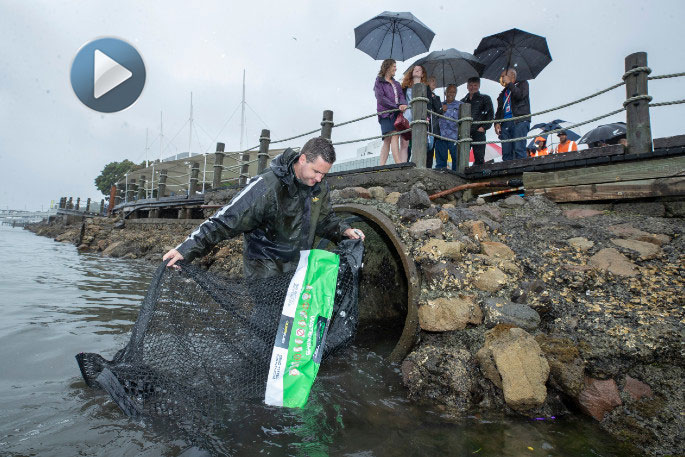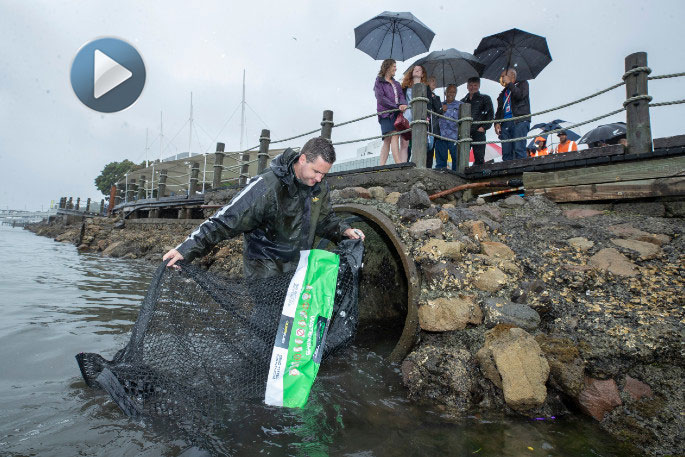 Click the image above to watch the video
No one really knows how much waste, particularly plastic pollution, pours into the Tauranga harbour by stormwater.
This should soon change, thanks to the Rotary Club of Tauranga Sunrise, with the installation of stormwater socks to capture pollution before it enters the harbour.
"The aim is to raise awareness of the negative effects of stormwater, especially the plastics in it, on Te Awanui-Tauranga Harbour and ultimately the ocean," says Tauranga Sunrise Rotary member and project coordinator Michele Beaton.
The idea for the club initiating the project came from Nathan Capper, who is not only a Tauranga Sunrise Rotary member but also a Pou Ngaio Technical Cultural RMA Specialist.
With co-operation from Tauranga City Council, Bay of Plenty Regional Council and Ngāi Tamarāwaho, the Tauranga Sunrise Rotary Club environment committee have installed two drain socks at the bottom of Spring St on the Tauranga waterfront.
At low tide on Tuesday, a site blessing by Ngāi Tamarāwaho kaumātua Tamati Tata attended by BOPRC deputy chair Jane Nees, Stacey Faire from BOPRC, Radleigh Cairns and Mikayla Jones from TCC, and members of Tauranga Sunrise Rotary took place. Immediately following this the Greentec net drain socks were fitted by CPL'S Bernie Stewart to two highly visible stormwater outlets.
Paid for by Tauranga Sunrise Rotary, thanks to an award from BOPRC's Environmental Enhancement Fund, Michele is hopeful the socks will promote community awareness of the problems caused by plastic pollution and stimulate 'copy-cat' projects in the community.
"The aim is to promote sustainable management of the natural and physical resources of the Bay of Plenty's coastal environment, as required by the Regional Coastal Environment Plan by raising awareness of the negative effects of stormwater," says Michele.
"We think that the large plastic items from stormwater captured by the nets will provoke an emotional reaction in the community, stimulate engagement with the problem and develop kaitiakitanga in relation to storm-water management, including the damage caused by less visible contaminants."
The two socks, attached by a clip, have their edges held in place by strong magnets. Should there be a significant weather event with a lot of water coming through the stormwater outlet in one short burst, the sock will float free allowing the deluge of water through but staying attached by the clip and can then be refitted fully again afterwards.
The socks will be regularly checked and emptied by Tauranga City Council contractors.
The installation will be highlighted and explained by signage with assistance from Ngāi Tamarāwaho's Buddy Mikaere and the public will be able to observe how much debris is filling the socks.
"The Tauranga Sunrise Rotary club would like other Rotary clubs, community groups and schools to 'adopt a sock' and be involved in installing them, as well as emptying and recording the quantity and type of plastic waste collected," says Michele.
More on SunLive...