Bay of Plenty officer gains Order of Merit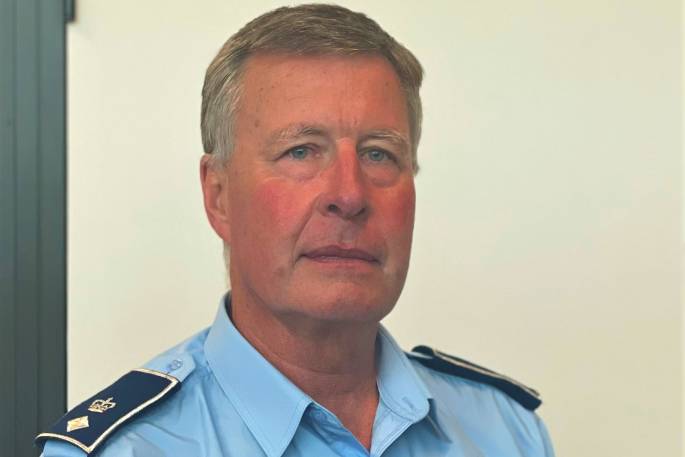 A Bay of Plenty police officer has been recognised for his services to the New Zealand Police and the community on this year's New Year Honours list.
Superintendent Andy McGregor has had a 41-year career with the New Zealand Police in provincial and metropolitan settings and has been Bay of Plenty District Commander since November 2014.
Andy, who is to be an Officer of the New Zealand Order of Merit, has held a range of roles within New Zealand Police and has acted in regions throughout the country.
He says receiving the news of the honour is very humbling.
"I wasn't expecting it at all. It is an honour, and I suppose in terms of that, it's also a reflection of what our staff do on a day to day basis.
"It's amazing to keep the community safe and I'd like to think I'm accepting this on behalf of all the staff here, not only in the Bay of Plenty but New Zealand police."
Andy was the Canterbury Metro Commander from 2012 to 2014 and National Manager of Communications Centres from 2008 to 2012, and since 2014, he has instigated a culture of partnership throughout the Bay of Plenty between government, non-government organisations, and iwi, hapu and minority communities.
Andy has worked to drive a culture change with local police in the Bay of Plenty, enabling more creative and effective policing styles and crime prevention initiatives, changing engagement with the community.
This has included the development of a mobile application by his frontline staff for support service referrals and initiatives for drug and alcohol addiction and family harm offending.
"When I first came to the Bay, the big focus for us here was to put a big focus around safer whānau and also our iwi relationships," he says.
"In terms of the Treaty and our obligations under the Treaty and the fact that actually 29 per cent of our population here are Māori; we need to get a lot better at being culturally confident and upskilling ourselves so we can be culturally safe, with not only engaging with Māori but also all of our ethnic communities.
"It was getting our staff to the stage where they can engage and do all the right things when engaging with these communities.
"What we want in our communities is to feel safe as well as be safe.
"The focus is obviously around crime with us in terms of reducing crime, lessening the impact of crime on our victim and also their perception of crime and victimisation. That was a big motivator and driver for me as well."
Andy is also involved in the Gang Harm Reduction Team in the Bay of Plenty, which has provided an alternative method in deterring young men and seasoned gang members away from the criminal lifestyle, also allowing mediation of several gang conflicts.
"The gang harm reduction team wasn't my idea but one of my colleagues, but it started with wanting to work better with the gangs.
"When they break the law, we obviously hold them to account, but the other side is we actually need to engage with them as well. We've now developed a relationship with a lot of the gang leader's right across the Bay, and we have a gang hui on a regular basis.
"The benefit of this, and we keep it separate from the enforcement side, is we build up a bit of trust and credibility with these gang leaders and they actually let us know when they're having any major gang tangi or hui or if there's a bit of tension and we actually engage with them pretty quickly.
"The benefit of that is it actually reduces the amount of resource we have to commit in terms of gang tangis and things like that."
Andy has founded and chaired the Bay of Plenty Collective Impact Governance Group from 2016 to 2020, and currently co-chairs the Waiariki-Bay of Plenty Leadership Group.
More on SunLive...