Weather recap for 2021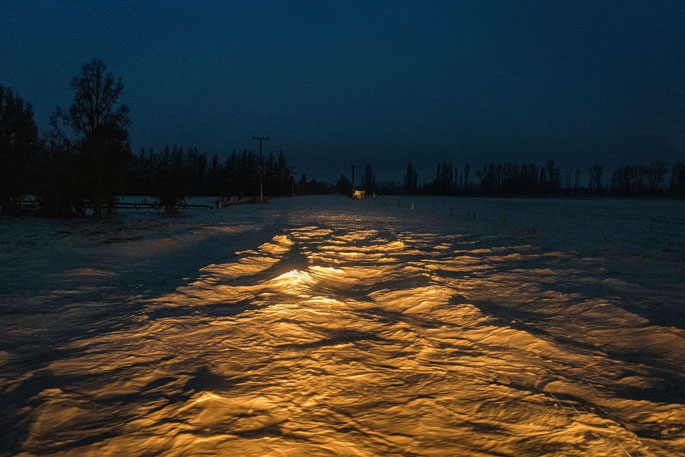 Weather around New Zealand is often changeable, sometimes severe and at times it can be deemed extreme!
This year MetService issued Warnings for around 60 Severe Weather events, with three of them making it into the Red Warning category, which is reserved for the most significant weather events.
"We saw several high intensity rainfall events with flooding cropping up around the country – warm temperatures were also recording breaking. Let's look back at some of the more notable events," says a spokesperson for the MetService.
"It was an incredibly wet start to the year for Central Otago with about twice a normal January amount of rainfall accumulating in one day at Alexandra airport. This had major disruptions for holiday makers around Otago."
Later in January it was time for the heat to kick in.
Ashburton Airport recorded its hottest temperature of 39.3°C (records back to 2006).
This heat also turned up in Christchurch with the airport recording it's hottest Jan temp (37.1°C) on the 26th and third hottest the next day (35.8°C). Masterton, Blenheim & Timaru Airport set January records too!
Timaru was back into the heat come Easter weekend, ticking up another monthly record, 30.6°C on April 4.
Fast forward to May and it was the other end of the scale getting a visit. -7.8°C on the morning of the 26th and -7°C the following morning – first and second coldest May temperatures with records back to 1971.
May wasn't just about temperatures – it also saw MetService issue our second ever Red Warning. Persistent, heavy rain was forecast to impact Canterbury at the end of the month.
"This was one of the bigger weather events of the year – hence the Red Warning. Parts of Canterbury saw a third of their yearly normal rainfall and several eastern centres saw twice their normal May rainfall in the space of a few days.
"A tornado passed over Auckland on July 19 and tragically caused a loss of life. Tornados are relatively rare in our neck of the woods, and they tend to be on the smaller side, but they still pose an immense risk to property and livelihoods.
"Our colour coded warning system was introduced in 2019 with the expectation that we would issue a Red Warning about once a year.
"Extreme weather doesn't exactly play by our rules though and we issued another Red Warning for Heavy Rain about six weeks after the last one.
"This time it was Westland and Buller that were lined up for an impactful weather event. Over the course of a few days, between 200-500mm of rain was recorded over a large portion of northern South Island and damage from wind also spread into the North Island.
"A wintry storm around August 8 brought widespread gales and heavy snow to parts of the country. Roads and schools were closed, trampolines went flying, powerlines were downed, and Wellington even saw a very light, very brief flurry of snow."
Auckland once again was affected by a severe weather event when a stationary band of intense rain brought flooding to Kumeū at the end of August. Around 200mm of rain accumulated in a 24 hour period while nearby Whenuapai saw 100mm.
The localised nature of this intense band of rain was highlighted by the fact that Auckland Airport didn't even record 20mm of rain during the time.
September provided the country with an extreme example of the 'roaring forties' and saw us issue our third Red Warning for the year, and the first Strong Wind one!
Northwesterly winds around September 10 caused notable impacts around the southern and central parts of Aotearoa. Trees were uprooted and a few caravans were even tipped on their side while on the road.
November started off with another typically dry part of the country bearing the brunt of a slow moving low pressure system laden with moisture, says the MetService.
"This time it was Gisborne's turn for persistent, heavy rain. Ticking up three times their normal November rain in the space of 48 hours with about another months worth falling in the next three days. Flooding was widespread and a state of emergency was declared.
"November kicked off with a heavy rain event but it was persistent heat which saw further records broken. Monthly average temperature records tumbled across the North Island as Whangārei, Auckland, Hamilton, Tauranga, and Taupō all saw their warmest November on record.
"Southern parts of the North Island have had a soggy start to meteorological summer. Paraparaumu had ticked up 300mm of rain by the 17th of December, bearing in mind that the average December rainfall is close to 70mm. Smashing the previous December record of 230mm with data back to 1945 – the third wettest recorded month at that station."
The week before Christmas saw gales return to Wellington and our Kelburn station recorded a 133kmph gust – the strongest gust there since early 2018.
"As you can see, 2021 was a big year for weather around Aotearoa, and a big year for our forecasting team.
"There's no doubt that 2022 will have its fair share of severe, interesting and record-breaking weather too – hopefully not three Red Warnings worth! Whatever the new year brings, be it rain, shine, gales or snow MetService will be there providing you with the weather forecasts you need to make informed decisions and stay safe."
More on SunLive...