Dead sharks discovered on Bowentown Beach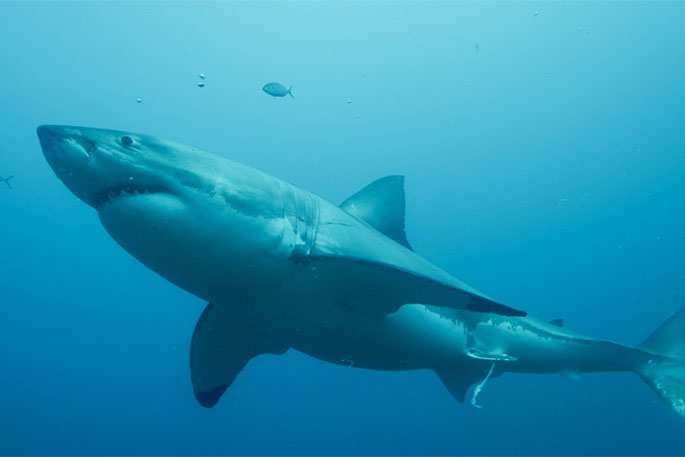 Three sharks, two great whites and a baby hammerhead, have been found dead on Bowentown Beach.
MPI says one of the sharks was found in a legally set net.
One of the sharks is said to have been more than 2m in length.
Great white sharks have been in the media recently following reports of increased sightings of the marine creature.
Recent focus on increased great white sightings from fishermen and boaties in Bowentown and the January death of Kaelah Marlow at Waihi Beach has highlighted the great white issue in the Western Bay of Plenty.
In a press release from the DOC last week, marine biologist Melissa Kellett pointed out that increased sightings are not just isolated to the Bowentown region.
She says at least six great whites have been identified in the region.
"The size estimates of these sharks have been between 1.5m-3.5m in length indicating they are primarily juveniles and sub-adults," she says.
Juveniles and sub-adults primarily feed on fish but at the upper end of that scale, their diet is beginning to change to include mammals, according to Tairua-based shark expert Riley Elliot. This potentially makes them more dangerous to humans.
Speaking to The Weekend Sun earlier this month, Riley suggests he has identified up to 15 different sharks since tracking the situation for the past two years – with fears the Western Bay could be facing a "Jaws-like" scenario.
Meanwhile, a local fisherman suggested to SunLive he has seen great whites on a daily basis at Bowentown harbour whilst a sighting at Kauri Point, documented by Gold FM, detailed a five-metre-long white pointer.
DOC advise that sightings of great whites should be reported to DOC via the sharks mailbox (sharks@doc.govt.nz).
"If it is close to swimmers and other water users warn them first and then alert lifeguards if it is a patrolled beach," says DOC marine expert Clinton Duffy.
He also stresses that attacks from sharks are extremely rare and most sharks in New Zealand waters pose no threat to humans.
However, to avoid interaction, people should avoid swimming in channels in harbours and estuaries near river mouths and anywhere there is a potential food source for large sharks.
Clinton Duffy says if you spot a great white exit the water quickly and calmly and report the sighting to DOC.
"Sharks are predatory animals but do not normally perceive humans as prey and most encounters with white sharks do not result in the shark biting the human," he says.
"If you are visiting the ocean you need to be a little bit vigilant and aware of what's happening around you and swim where there are surf lifesaving patrols, and don't swim or dive alone."
He says it is now recognised that New Zealand has a "shared population" of great whites with eastern Australia with work ongoing to develop an updated population count.
Anyone accidentally catching a great white must release it as soon as possible and report the incident to DOC.
It is not illegal to accidentally catch a great white but it is illegal to cause further harm to it, and not to report it.
Whilst shark risks remain low there are other hazards at the beach which must be considered to ensure beachgoers have a fun and safe summer experience.
Eastern Region manager at Surf Lifesaver New Zealand, Avan Polo says they rely on the Department of Conservation for shark mitigation and shark monitoring information.
However, they have a number of protocols in place to keep beachgoers safe from a number of dangers, including sharks.
"Should a shark sighting occur at a patrolled beach, lifeguards will ask swimmers to exit the water and may close the patrolled area," says Avan.
"If someone sees a shark they should calmly exit the water, inform others around them and inform a lifeguard. They can also report sightings by calling 0800 DOC HOT."
Avan has detailed the following beach safety messages for Bay of Plenty residents looking to cool off at the beach this summer.
• Choose a lifeguarded beach and swim between the flags

• Read and understand the safety signs – ask a surf lifeguard for advice as conditions can change regularly

• Don't overestimate your ability or your children's ability to cope in the conditions

• Always keep a close eye on very young children in or near the water – always keep them within arm's reach

• Get a friend to swim with you – never swim or surf alone

• Watch out for rip currents, they can carry you away from shore. If caught in a rip current remember the 3Rs: *Relax and float, *Raise your hand and *Ride the rip

• Be smart around rocks: When fishing never turn your back towards the sea and always wear a lifejacket

• If in doubt, stay out!

• If you see someone in trouble, call 111 and ask for the Police

• Be sun smart – slip, slop, slap and wrap to protect your skin and eyes from the sun's damaging rays.
More on SunLive...