Pāpāmoa policeman's pearls of wisdom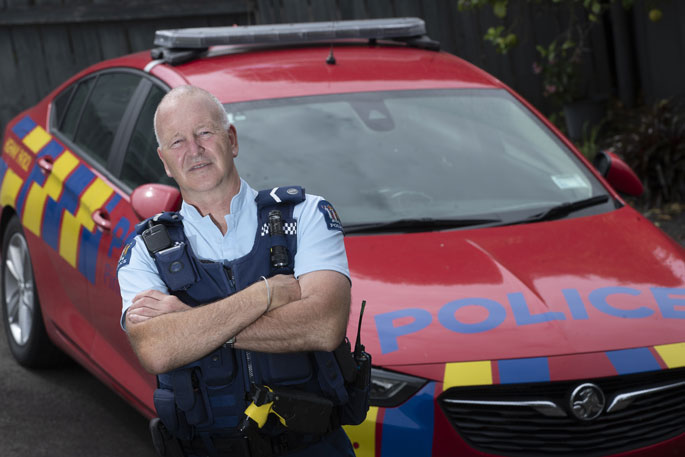 Preventing crime in our local neighbourhoods over summer should be as simple as using a key to lock house and car doors at night, bringing in work tools, and fitting a car steering lock.
It's surprising that Pāpāmoa Police Constable Adrian Oldham isn't blue in the face with repeatedly dispensing his weekly pearls of wisdom written eloquently in the local Neighbourhood Support newsletter.
"The summer weather is almost here but with all these balmy evenings and nights comes a little bit of complacency, something I'm a little bit guilty of myself," says Adrian.
"It's so tempting to go to bed with a few windows open, or even the odd ranch slider, but please bear in mind access by villains."
Adrian says it's a safe bet to leave windows open upstairs if you're in a two or three-storey building, but make sure the bottom windows and doors are locked.
"We had a recent incident where occupants of a house had left their garage door up half way to let air through, however had forgotten to close it before they went to bed. End result - bad man entered and stole items from out of the car parked inside."
"It's the same for vehicles, all windows wound down due to a stinking hot day," says Adrian. "People park up outside or in the driveway intending to put them back before bed but forget."
Smaller cars such as Nissan Tiidas, Suzuki Swifts, Mazda Axelas, Mistubishi Lancers and the like are hot property for car thieves. Easy pickings, as they are not usually blocked in by another car, don't have an alarm or immobiliser, and thieves can enter, start and drive. Sadly, they're sometimes found later, emptied, dumped and damaged.
"I apologise for sounding like the Grinch however I cannot reinforce security enough. Over my many years 'working the streets' I have arrested numerous 'baddies' and the common theme after interviewing them is that if a vehicle or house is all locked up, they'll move onto the next one which isn't."
Tradies with toolboxes left in their work utes, people with laptops and handbags containing wallets and credit cards left in their unlocked cars – it seems to be a repeated phenomenon of unthinking people not realising that these are perfect thief magnets.
Adrian says that over the past couple of weeks the local community patrols have been coming across a large amount of unsecured homes and cars.
"They have gone out of their way to door knock and advise the occupants who were very thankful and had simply forgotten."
More on SunLive...