Carving out a friendship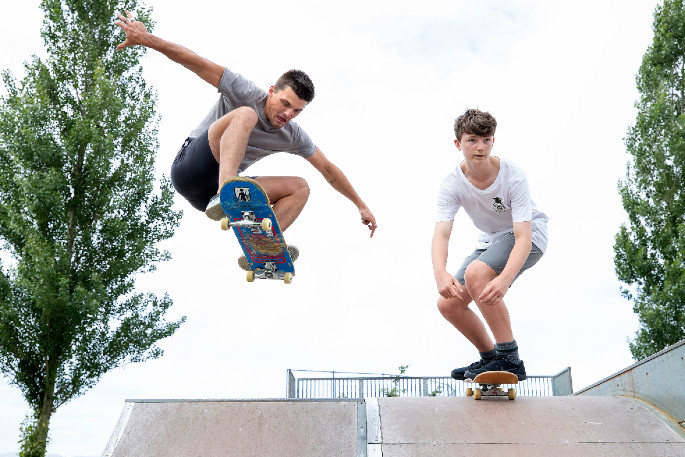 As two guys skate, the sound of the boards rolling up the ramps matches the rhythm of their chatter.
You can see the friendship skaters Sam Robertson and Brodi Storer have is genuine.
It doesn't matter that there's a 15 year age gap between the pair, they have the same interests so love hanging out each week.
Sam and Brodi have been matched through Big Buddy, an organisation that matches men with boys and early teens who don't have a father in their lives.
Most Sundays they will go skating, play volleyball, mountain biking, swimming or play chess if the weather is bad.
It's stuff Brodi wouldn't do with his mum, especially when they jump off rocks at waterholes.
On their recent mountain bike ride, Brodi took the lead, which they both enjoyed.
"I've never done mountain biking before and Brodi's real good," says Sam. "He showed me all the trails at Oropi and how to do it."
They laugh about how Brodi went down some steep trails but told Sam: "You probably shouldn't try this today".
The 13-year-old likes that he has a male role model and friend in Sam.
Sam has fond memories of his childhood because his dad was "real hands on" so he wanted to do that for someone else and got in touch with Big Buddy.
"I'm a firm believer that boys need someone to go and do those outdoor, exciting, fun, exercise things with," he says.
Brodi's mum Karen Bloxham says hanging out with Sam has increased Brodi's confidence and he respects the commitment Sam has made to him as a big buddy.
"It's nice knowing that he's hanging out with a mate… Almost like a brotherly figure," says Karen.
With the Otūmoetai College student coming into his teenage years, it helps Karen knowing he has Sam to talk to.
"It's been perfect timing for Brodi, having that role model. Sam's great with being there to support him.
"Brodi might not talk about stuff, but, he knows he can, if he wants to," she says.
Sam laughs, "Brodi is a man of few words and I talk quite a lot".
As a teacher, Sam is used to dealing with young guys but communicating with a teenage boy not as a teacher or relative was a context he hadn't experienced before.
"There has been learning experiences for me too which has been really cool."
He encourages men to become big buddies because "there's loads of young men and boys in this town that could do with someone to hang out with".
"Big buddy put a huge amount of effort into their screening processes.
"It's rigorous, which is really good, because it made me a better man, just going through the process.
"Asking those questions of yourself."
As a charity, Big Buddy needs help to pay for police and medical checks as part of the screening process as well as training for big buddies who are ready to be matched. For information, visit: www.bigbuddy.org.nz
For Brodi and Sam, when they're not skating, they plan to spend the summer checking out waterholes and swimming spots.
More on SunLive...