Marking Mauao to help save lives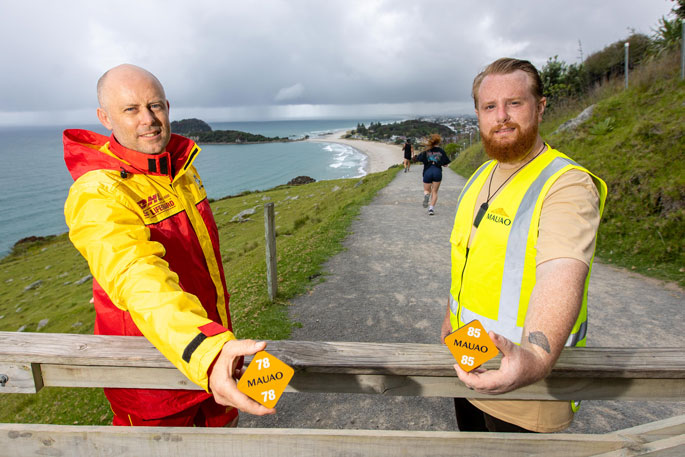 They're barely the size of a beer coaster but those tasked with performing rescues on Mauao hope that new markers will help save lives this summer.
The joint project by the Mount Maunganui Lifeguard Service and Tauranga City Council has seen 75 of the markers placed strategically all over the iconic iwi-owned maunga, fixed to solid structures to help emergency services find people in need.
The surf club has operated a call-out squad for nearly 80 years, with roughly half of the responses each year to people who have fallen or suffered a medical event on the flanks of the 232m extinct volcanic cone.
"We work closely with Police and St John to help people up the hill and finding them quickly as getting them the right treatment is critical," says MMLS lifeguard John Svendsen, who helped develop the concept.
"There's a lot of land on Mauao and often we struggle to get the exact details of where a patient is. Not everyone knows the track names - and stress always causes a bit of disorientation - so we've pinpointed all the markers with GPS coordinates and laid them out so that you're never any further that 50m from the nearest marker, when you're enjoying the beautiful views or getting some exercise in."
Emergency services have all the coordinates on their computer system, meaning they can now task lifeguards directly to the patient.
The markers are on an array of fence posts and benches and anyone using the tracks on Mauao is encouraged to familiarise themselves with the markers as they go.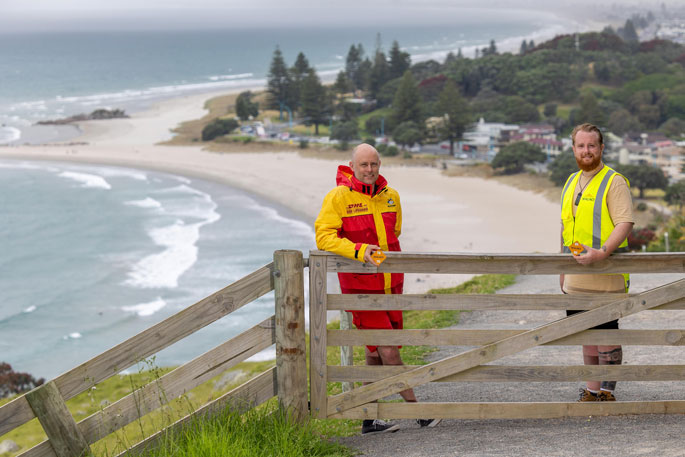 Mauao park ranger Josh Clark has been involved in the project from the start, with eager support from the Mauao Trust, which administers the maunga on behalf of Ngāi Te Rangi, Ngati Ranginui and Ngati Pukenga iwi.
MMLS chair Jamie Troughton says it's been a satisfying project to be involved in.
"Summer is always full-on with call-outs up Mauao, not only because of the influx of people but also because the tracks tend to get more slippery as they get drier and dustier.
"It's such a privilege to have something of a kaitiaki role on our beaches and surrounding area and this marker idea is a great way to make sure we can respond even faster and more effectively."
More on SunLive...