Olympians ready for Mount triathlon event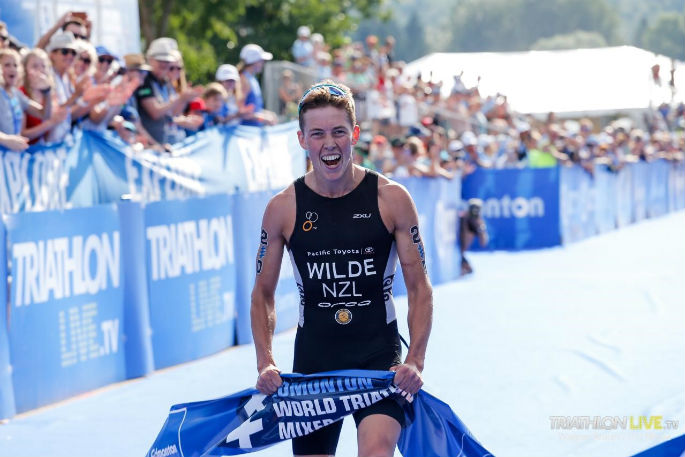 Whilst most of us will still be feeling the after-effects of Christmas celebrations some of New Zealand and the Bay of Plenty's finest athletes will be in action at the EVES Surfbreaker Triathlon at Mount Maunganui on Monday, December 27.
Olympic bronze medalist Hayden Wilde is just one of the elite participants in this year's race, which has been held since 1985.
Competitors will be utilising Marine Parade and Mount Main Beach for the race, which has three different distances.
The sprint race will see participants swim 750m, bike 20km and run 5km; super-sprint covers 375m swim, bike 7km and run 2.5km whilst the aquathon will cover 750m swimming and a 5km run.
The elite male and female race is raced over six-legs, repeating a 375m swim, 10km bike and 2.5km run.
Wilde will be participating in the elite race event. The Whakatāne-raised endurace star, who won New Zealand's first medal at this year's Olympic Games in Tokyo, is participating in his first races in the Bay of Plenty since returning home from his international race schedule earlier this month.
Taupō's Nicole van der Kaay and Gisborne's Tayler Reid are also set to take part.
Triathlon Tauranga events and development manager Paul Miller says he is excited for the event and is pleased to see the big-names involved.
"It is a bit of a challenge for them but it is what they are used to overseas," says Paul.
"They have taken part for probably the last three years but now they are actually Olympians, rather than our future hopeful Olympians.
"We are just happy that they are happy to have made the effort to have come here."
Paul is also pleased to be able to put on an event in the time of Covid-19 whilst advising the race is operating under orange in the current traffic light system so vaccine passes will be required in certain areas of the event.
"It is hard enough to get a race off the ground and running in the current climate so everyone is looking forward to hosting about 250 racers tomorrow," says Paul.
"That is the main thing really, just to be able to host a race and have people doing something."
He also thanks long-term sponsors EVES Realty for their continued support.
The sprint, super-sprint and aquathon events begin at 7.20am with the elite races beginning at 9.10am for the women and 9.13am for the men.
All racing should be complete by 10.15am with prize-giving scheduled for 10.30am.
There will be road closures and parking restrictions in place on Monday for the triathlon.
Road closures details
5.00am to 11.00am
Marine Parade from Adams Avenue to Tweed Street
Adams Avenue from Marine Parade to Maunganui Road
Roads may open earlier depending on race progress.
Parking restrictions
Parking restrictions will be in place on Marine Parade to allow for cycle turnaround points at approximately 209 Marine Parade.
More on SunLive...