Christmas greetings from Te Puke to Katikati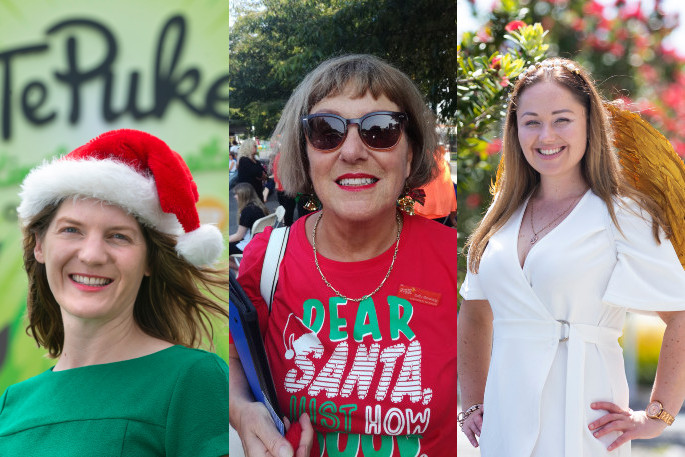 What would Christmas be without shopping? Helping to draw shoppers to the local town centres and shopping areas are often events, parades and festivals organised through the Mainstreet organisations.
This is the second year, however, where events have had to be curtailed due to the global epidemic and the Covid-19 restrictions in New Zealand, and has meant that some of the local Mainstreet organisers have had to think 'out of the box' to come up with innovative ways to promote their shopping precincts.
Epic Te Puke
With Te Puke unable to hold their annual Christmas parade safely due to Covid, Epic Te Puke's Rebecca Larsen ran a Christmas hamper elf hunt through the town with elf pictures hidden in ten shop windows. She also reworked the parade, transforming it this year into an epic decoration of the town with Te Puke becoming 'Christmas Town' and many businesses, organisations, schools and residents creating Christmas magic at their own locations.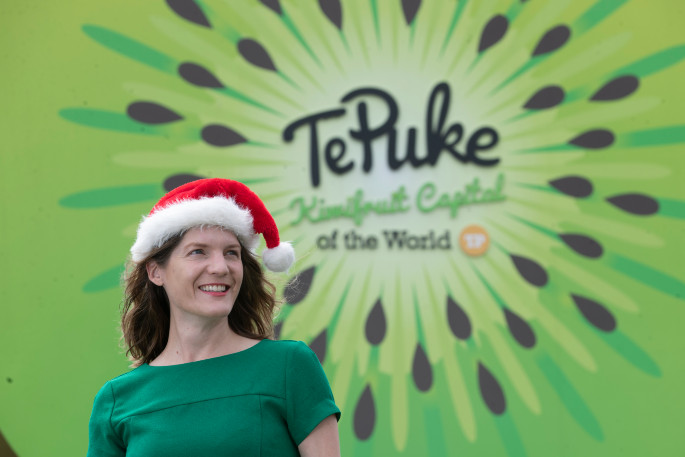 Epic Te Puke's Rebecca Larsen. Photo: John Borren/SunLive.
"Wishing you all a Meri Kirihimete from the EPIC Te Puke Community! Thank you for supporting your local businesses, organisations, and front liners over this past year," says Rebecca.
"Somewhere I saw a note that 2022 is pronounced 2020-Two. Whatever we're in for next year, let's remember our community matters and stay kind and respectful. Peace to all of your whānau and enjoy the sunshine!"
Pāpāmoa Unlimited
Pāpāmoa Unlimited's Julia Manktelow called on local elfies to take selfies on a hunt for Santa's reindeer hidden somewhere between Pak'NSave Pāpāmoa, Fashion Island and Pāpāmoa Plaza.
There was no Pāpāmoa Christmas parade this year, nor Pāpāmoa Polar Plunge but a very successful Halloween Powerco Pedal and Pump Pāpāmoa event was held along the waterways in October, with hundreds coming out on a scavenger hunt trail.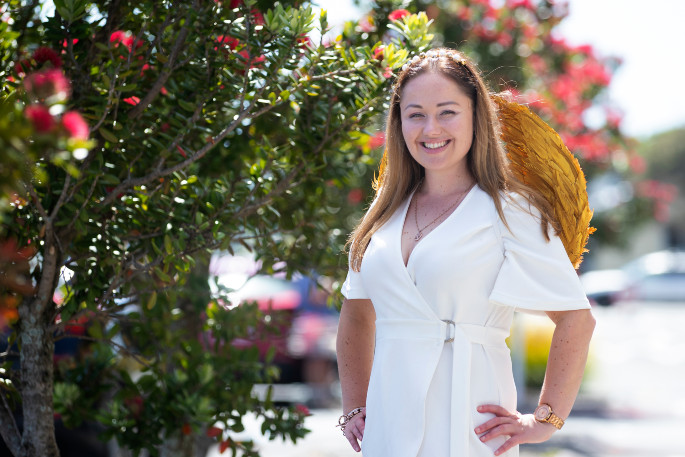 Pāpāmoa Unlimited's Julia Manktelow. Photo: John Borren.
"As the year that has been comes to an end I want to extend a huge thank you to everyone in the Bay of Plenty for the continuous support that everyone has given each other through challenging times. This really is an incredible community to be a part of," says Pāpāmoa Unlimited's Julia Manktelow.
Julie has some words of wisdom for those planning to spend summer visiting the beaches.
"Live, love, laugh this summer. Cherish every minute reunited with your loved ones and every new memory made as we leap towards a fresh new year. Be safe on the roads and beaches. Remember to swim between the flags and to slip, slop, slap & wrap," says Julia.
"I wish you all the merriest of Christmases and can't wait to bring fun free smiles to your families in 2022."
Greerton Village
Greerton Village was again abuzz with positive vibe this year despite the pandemic, with Craftables and Frankies Food amongst the new business arrivals, Castle 91 taking out the top prize at this year's Menulog Restaurant Awards and Ruk Thai able to reopen following their devastating fire the year before.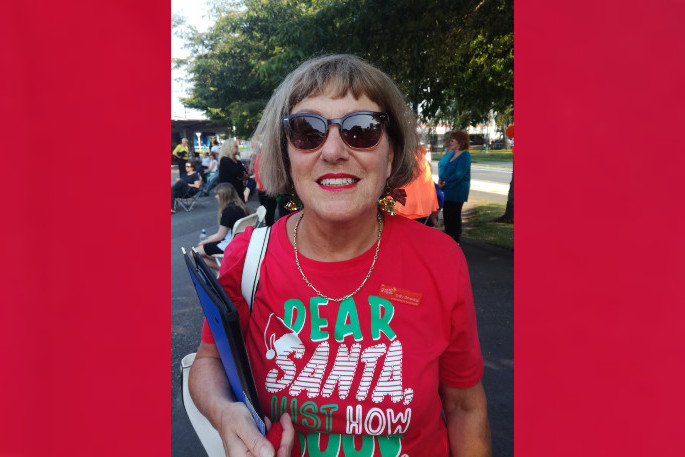 Greerton Village's Mainstreet manager Sally Benning. Photo: Supplied.
"As this very testing year comes to a close, I would like to say a huge thank you to all Greerton businesses who have been a part of our promotions and marketing projects this year – albeit that many had to be cancelled!" says Sally.
"I also thank all the locals and visitors who came out and supported our unique shopping centre, more than ever this year."
Members of the Greerton Lions and Greerton Village Community Association committee members have assisted during the year with decorating the famous cherry blossom trees, not only for the yarnbombing in July but also with the Christmas fairy lights which have been included in The Weekend Sun 2021 Christmas Lights Drive.
The village is looking very festive with a large Christmas tree in the village square outside the Greerton Library and many trees lit up.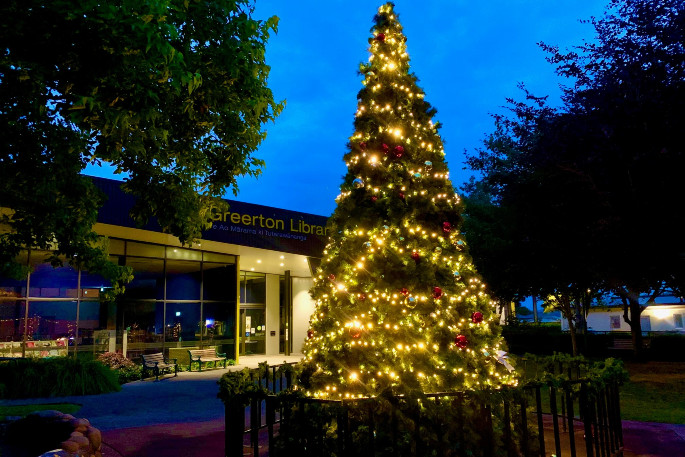 The Christmas tree in Greerton Village square. Photo: Rosalie Liddle Crawford.
Hundreds were able to turn out for the Greerton Vintage, Retro & Steampunk Fayre in March but due to Covid restrictions, the Cherry Blossom Festival in September and end of year Christmas show were unable to go ahead. That didn't stop Sally from organising the Greerton Cherry Blossom Window Dressing Competition, the stunning display of lights along Chadwick Road and Cameron Road, setting up the Greerton Christmas tree in the square, and also running a massive Christmas hamper promotion with 63 participating Greerton businesses.
And there are already plans in place for the 2022 Vintage, Retro & Steampunk Fayre due to be held on February 19.
"We leave the year in fine fettle with shops buzzing and our Christmas tree and lights – lighting up many a smiling face," says Sally.
"So from me, our board and our volunteers, please have a happy, healthy and safe Christmas and New Year and enjoy the holidays if you are fortunate enough to have them and lets all look forward and hope for a better 2022."
Downtown Tauranga
In downtown Tauranga, the waterfront has been transformed with a night light display and Christmas decorations have gone up in the city centre, with giant Christmas crackers up Devonport Rd, Grey St and in Spring St. Installations are also in place in Wharf St and Masonic Park.
A giant gingerbread house has been installed in Red Square with kids' activities happening.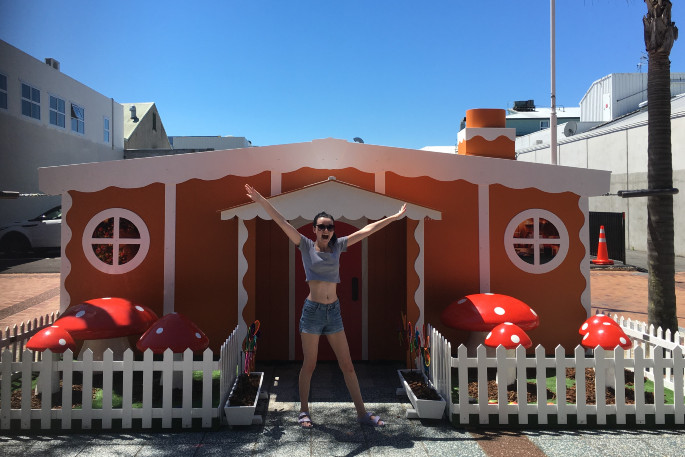 The gingerbread house in Red Square. Photo: Supplied.
The Strand Christmas Illuminations are lighting up Tauranga's waterfront, with a curated collection of stunning light sculptures and instillations by internationally acclaimed light artist, Angus Muir. Discover a wonderland of illuminated instillations in Tauranga's CBD, providing a perfect backdrop to your Christmas celebrations or a family night out.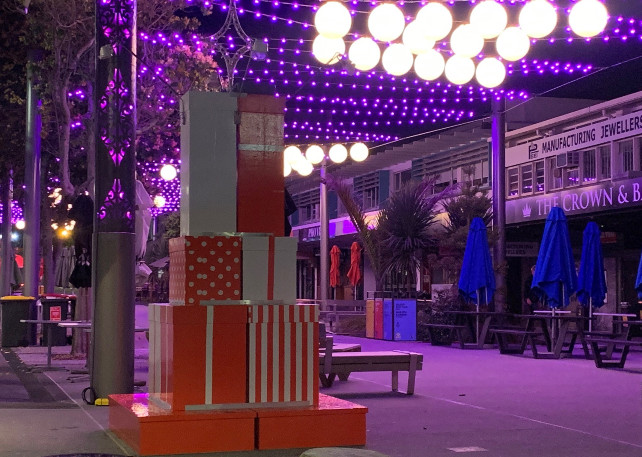 Wharf Street with Christmas present installation. Photo: Rosalie Liddle Crawford.
The illuminations will run nightly from November 28 – January 5, from dusk through until late night, with installations running the length of the Strand, from Spring St to Dive Crescent.
Mount Mainstreet
Mount Mainstreet has over 100 retail stores and salons offering an extensive mix, from chic boutique to trendy surf stores, budget friendly, world class athletic wear and everything in between.
There's a great range of beauticians, nail and hair salons to meet all pampering and beauty needs, plus it is a one-stop business destination, including lawyers, accountants, realty, travel agents, auditors and financial advisers.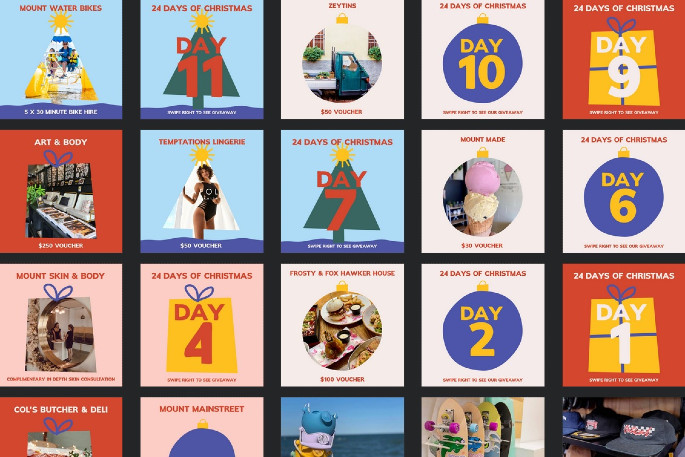 Mount Mainstreet. Photo: Supplied.
Christmas wreaths hang from many of the street poles and the town is busy and festive as holidaymakers descend on it for the Christmas period.
There have been 24 days of Christmas giveaways for people to win, by following Mount Mainstreet's Facebook or Instagram to see what the daily prize is, comment on the post and go in the draw.
The street is packed with culinary delights from around the globe including Thai, Mexican, South American, Mediterranean, Indian and Italian cuisines to name just a few. And of course, grocery, juice and sushi bars, bakeries and the kiwi favourite – fish and chips.
There are hundreds of free and immediately accessible carparks and people can enjoy relaxed and peaceful shopping and dining seven days a week. On Sunday morning the Farmers Market is held from 9am – 1pm.
Bethlehem Town Centre
For those who love selfies, there are installations and murals at Bethlehem Town Centre this Christmas offering opportunities to capture your own Christmas photo.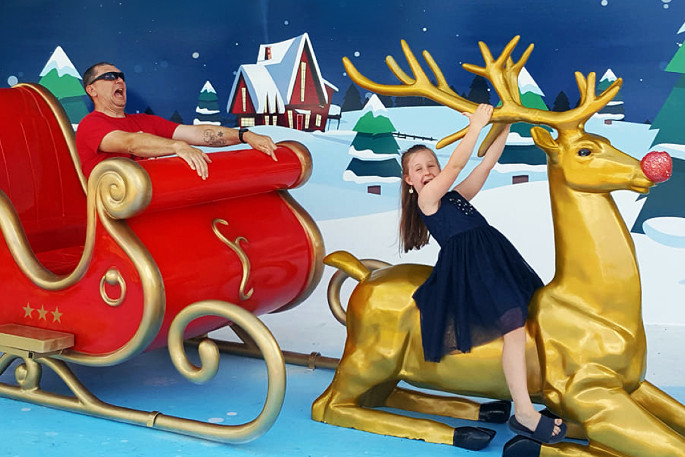 There are many fun selfie photo opportunities in Bethlehem this Christmas. Photo: Supplied.
A giant toy soldier, reindeer and sleigh, a mural of angel wings and devil's tail for those who are naughty or nice, as well as plenty of Christmas shopping.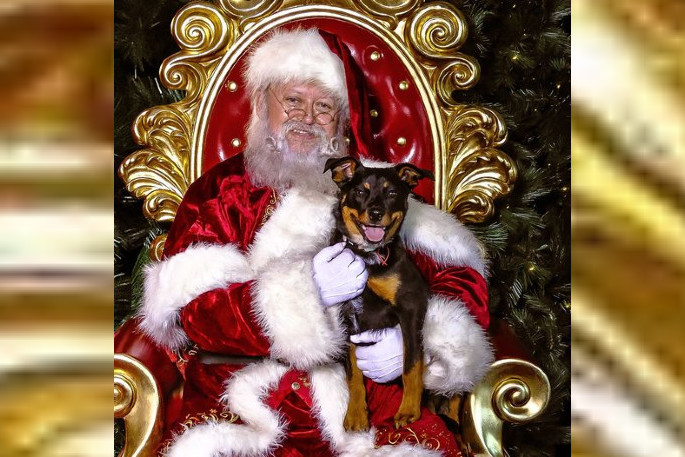 Santa Claus can be found in Bethlehem. Photo: Supplied.
Santa Claus has been busy doing pet photos for those bringing along their furry friends, and practising social distancing for those who would like a traditional family photo with Santa in his grotto.
Tauranga Crossing
Christmas wouldn't be Christmas without a tree with ornaments hanging from it. Each year, at Tauranga Crossing, Santa gives out a free Christmas tree ornament to children when they visit him in his Toy Workshop. This year's design was made by Lana Michele Base, a Tauranga local and close friend of Santa.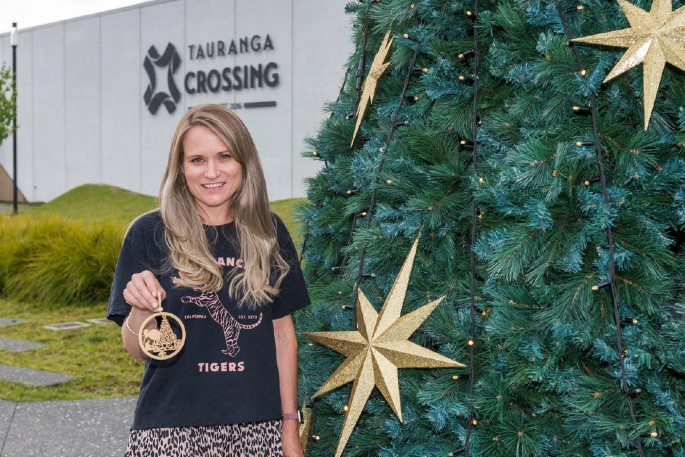 Artist Lana Michele Base with the Tauranga Crossing tree ornament that Santa has been giving away. Photo: Supplied.
"My original idea for the Christmas decoration came about, because I wanted to offer hope and humour following the difficult year we have had with Covid-19," says Lana.
"Nothing screams Kiwiana to me more than a Kiwi bird. After a couple of days of bouncing the idea around with my amazing friend Drew, finding silhouettes that we could puzzle around in Photoshop, we brought the idea to life."
Katikati
Katikati has once again celebrated a sustainable Christmas with their upcycled Christmas tree competition.
At The Arts Junction, Santa will be in his grotto until December 29, to meet children and families.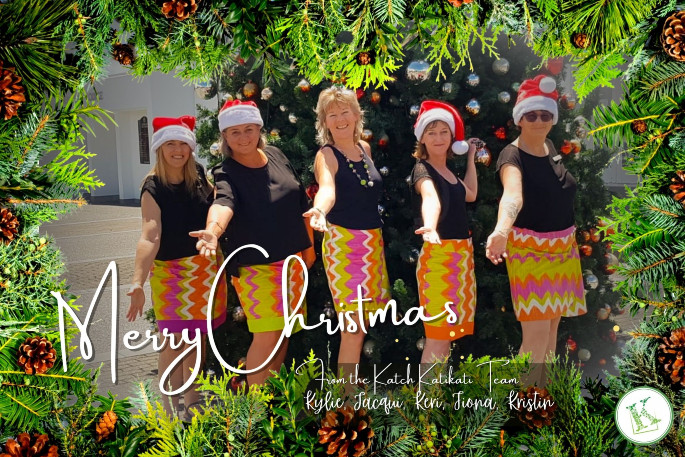 The Katch Katikati team. Photo: Supplied.
"Merry Christmas to you all from the Katch Katikati team and wishing you a safe and joyful holiday break," says a Katch Katikati team.
"Our team and volunteers will be manning the Visitor Information Centre, Carlton Gallery, Retail Therapy shop and Junction Theatre at The Arts Junction, 36 Main Rd, Katikati over the holiday break."
The four venues will be open every day except Christmas Day and New Year's Day. Hours are Monday – Friday from 9am-4pm, and Saturday, Sunday and public holidays from 10am-2pm.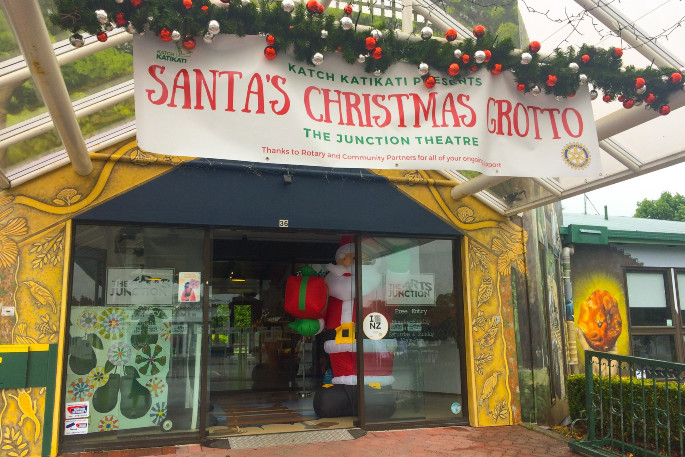 The Arts Junction in Katikati. Photo: Supplied.
More on SunLive...