Young women's plea after home on wheels stolen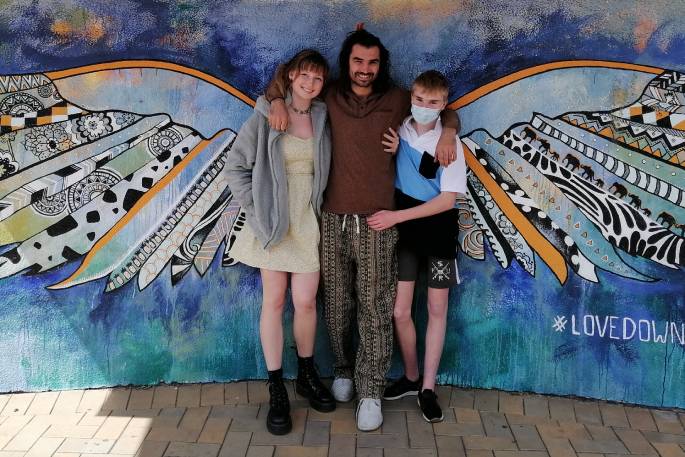 A German traveller has had all her possessions stolen while she enjoyed a bonfire at the beach with a group of friends in Papamoa on Tuesday.
Emma Fina Hansen was born in Germany and came over to New Zealand in 2018 with her family when she was 17.
After finishing school, the 21-year-old went to study Creative Industries at Toi Ohomai Institute of Technology, Windermere Campus, which she just graduated from only a couple of weeks ago.
"I was majoring in Graphic Design and I had some commissions lined up which I will have to cancel now because all my devices were stolen.
"During my studies I worked as a support worker for a young man with disabilities. I taught him German and the piano and we would just hang out.
"My family went back to Germany over a year ago, because my younger brother got homesick. That was when I decided to buy a van and convert it into a sleeper van.
"I needed some flexibility and independence in these uncertain times. A friend of mine helped me with the building, we set it up perfectly for me to live in and I named the van Vinnie. She became my tiny home on wheels, a little safe bubble to take with me wherever I went."
On Tuesday, December 21 Emma's white 2006 Nissan Vanette was stolen from Papamoa Beach Road, along with her clothing, food, art, art supplies. Phone, wallet, iPad and laptop.
"I went to a bonfire at the beach with a group of friends. We spent the night there singing, playing drums and roasting potatoes in the fire. It was a beautiful night, we even saw marine luminescence.
"When I was about to leave at midnight, I couldn't find my keys which I had left on a towel next to the fire where we had all been sitting. We searched the sand for a good 20 minutes until I went to the car park to check if Vinnie was still there.
"That is when I realised that my home had been stolen with pretty much everything I owned in it. I called the police straight away and blocked my eftpos and debit card.
"My friends took me to their place for the night, made me dinner and gave me an old pair of shoes and a toothbrush.
"I am super grateful for all these amazing people who want to help me out. I really appreciate the support that I have been getting in this difficult time."
Emma asks anyone who many have information about her missing Nissan Vanette to email her on fina.hansen@gmail.com
More on SunLive...