BOPDHB give details on racecourse hospital plans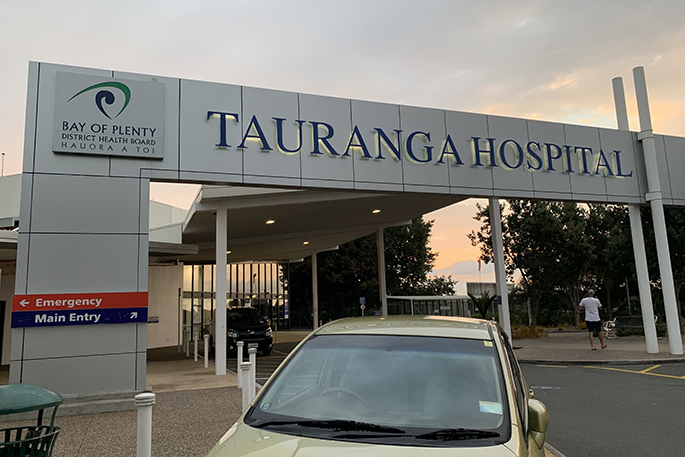 The Bay of Plenty District Health board says it "makes sense" to consider Greerton's Racecourse Reserve as a potential site for expansion of Tauranga Hospital.
BOPDHB CEO Pete Chandler says meeting increased demand on the current Cameron Road site would be "challenging" and an ongoing business case could accommodate the relocation idea should there be support.
Tauranga City Council tabled the seven options for use of the 85ha area of Crown land last week.
This follows 650 items of community feedback being received as part of the Greerton Maarawaewae Study, conducted in conjunction with Kāinga Ora.
Whilst many of the options presented were expected, such as housing, the hospital option came from left-field.
Even Tauranga Council commission chair Anne Tolley admitted at a recent media briefing it was something of a "surprise" possibility.
A health service is included within option seven from Council and would mean the relocation of the current racecourse.
Pete says the BOPDHB first considered the space as an opportunity for growth in October after being alerted to the Greerton Maarawaewae Study process in the media.
At that point, the BOPDHB made Council aware of an ongoing business case being formulated by the DHB regarding expansion of Tauranga Hospital.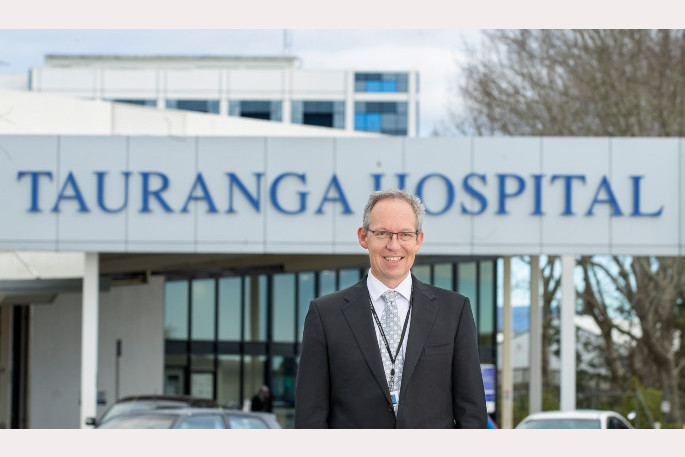 BOPDHB CEO Pete Chandler says meeting increased demand at the current hospital site would be "challenging". File Photo. SunLive.
In mid-November, following "due notification process" with mana whenua and central government, an agreement was reached that the option must be tabled for community conversation.
"There is currently much thought being given to the future needs of the Tauranga Hospital campus, given our growing population and the future population projections over the next 50 years," says Pete.
"The hospital has been extended and added to many times during its history and further significant extension on the current site is challenging."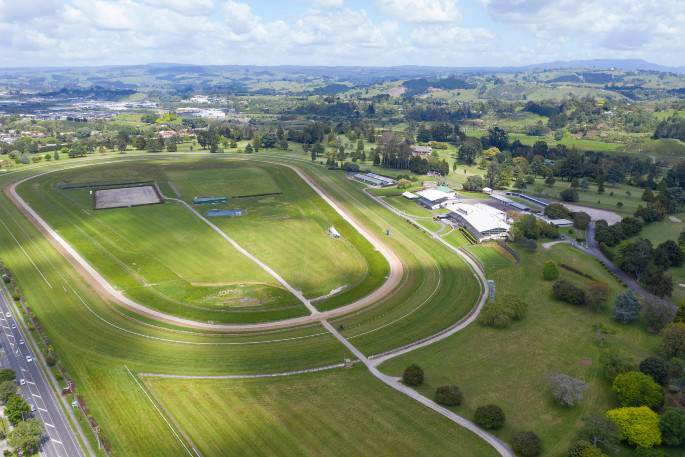 The greenfield space at the Racecourse Reserve is being considered for its future use. Photo. John Borren/SunLive.
Pete says looking at greenfield space as an expansion option is logical but only if a "suitable area of land" is available - with such land scarce.
The Racecourse Reserve potentially provides that opportunity.
"We're only just starting out on this process and the community conversation is focused on ideas for use of the reserve land in the next 10, 20, 30 and 50 years," says Pete.
"However, if we know that there is support for the possibility of utilising some of the land, given its ideal location, this will significantly help us in putting together our business case options."
He's also keen to stress that the BOPDHB remains mindful of a need for public health services in the Pāpāmoa area, something which remains under consideration.
Pete says that the option would involve the relocation of specific hospital services as a "new build". Which services could be relocated is yet to be determined.
The seven options for the Racecourse Reserve are currently open to public feedback until the end of February.
Analysis will take place throughout March, with final recommendations then presented to Commissioners.
April is when Commissioners aim to make a decision on which option to proceed with.
Should the health service be officially recommended the BOPDHB could then push forward with including plans in their own expansion business case.
Pete says the business case for expansion of the hospital services in Tauranga is likely to be completed by the end of 2022.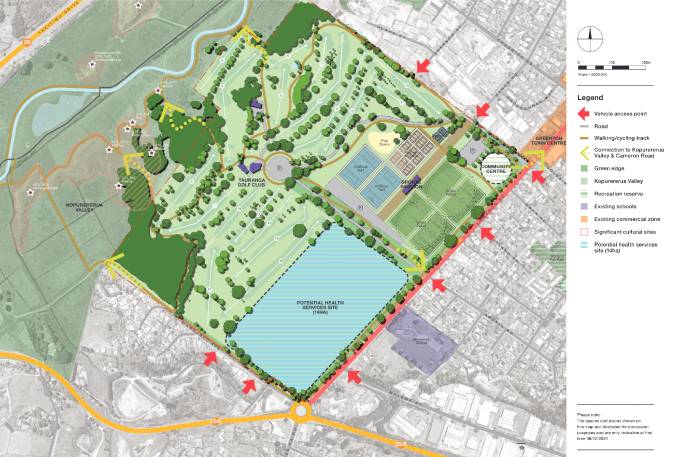 Council's proposal which includes the health service provision. Photo. Tauranga City Council.
Any use of the current land for a health service would also require a change of its current land status.
The reserve land is currently zoned as a 'Passive Open Space' and is further identified as a scheduled site to be protected as open space and for recreation activities.
"Any change to the status of this land would need to go through a significant plan change process that will involve community input," says Pete.
"Whether it is for health services, houses or sportsfields, this plan change process would still apply."
The land is currently leased by Racing Tauranga and Tauranga Golf Club until 2039.
The land is owned by the Crown with the Council the administering body.
Tauranga Hospital was recently funded nearly $18 million by the Government to help expand the ICU/HDU units to a one-level unit, moving and expanding the Coronary Care Unit to level three whilst also converting a ward into a 16-bed pandemic response unit and upgrading the emergency department's air management.
More on SunLive...