New BOP cricket facility a "game-changer"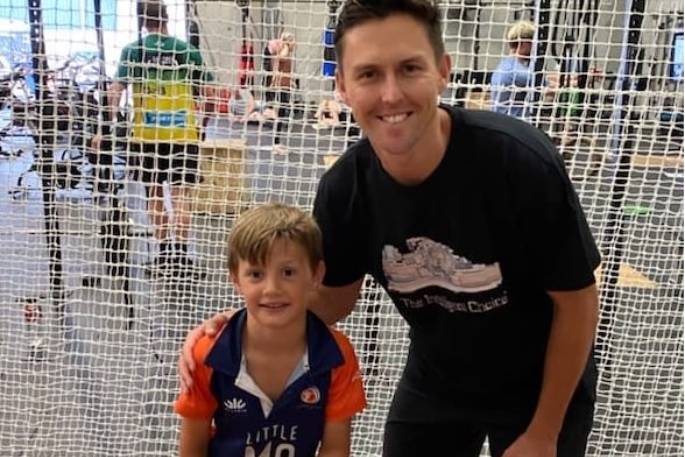 The Western Bay of Plenty Cricket Association have new indoor training nets in what is being called a "game-changer" for the area's cricket community.
Blackcaps star Trent Boult bowled the first ball at the new nets, located at The Athlete Factory headquarters on Aerodrome Rd, Mount Maunganui, earlier this week in front of local cricket players, coaches and supporters.
"It's always great to get involved and help support cricket at the grassroots level," says Trent, who is currently preparing for the Blackcaps upcoming Test Series, including a New Year's Test at the Bay Oval, against Bangladesh.
"That's where it all begins and it was humbling to be asked by the TCA to help open the new indoor nets.
"It's an impressive facility and I hope it can help and inspire the next generation of Blackcaps and White Ferns."
The delivery of the indoor training nets has been four years in the making, and long serving WBOPCA Board member and local cricket enthusiast Paul Wills, is thrilled the facility is now completed.
"This is a game-changer for our local and district representative cricketers," says Paul.
"For the past four years, we have had no decent local indoor training facility for our local coaches/cricketers to use during the winter months, or when the weather isn't good enough to be able to use outside training facilities.
"This facility will be available for all cricketers to use, from your up and coming younger cricketers wanting to better their cricket skills, through to seasoned Northern Districts representative players keen to continue to hone their skills.
"It will also give all our school and club teams somewhere to start their team trainings in the July-August months, when it's still too dark to train at their outdoor facilities."
Northern Districts Cricket coaches and training squads, have already availed themselves of the new nets and are scheduled to return in the second half of the season and throughout the winter months. Bay of Plenty Cricket will use the nets as part of their winter training schedule, along with local clubs, schools and teams.
Providing the top-level cricketers based in the area, such as New Zealand captain Kane Williamson, with a place to train when the weather fails to play ball is key, but Otumoetai Cadets club coach Sam Owen is clear the new nets are available for all cricketers in the region.
"They are going to be a massive help," says Sam, who will manage the new WBOPCA indoor training nets facility.
"Just with the ever-growing cricket community itself with a number of senior and junior teams. Just this year in the B grade competitions it has been a record year.
"When we get weather like we have this week you need a place like this. We have already had bookings for tonight and in the week. So it is great there is a dedicated area where people can train.
"We have got a lot of Northern Districts players in the region and the Blackcaps players they need a facility like this so it is great.
"It is just available for everyone, not just the top level of cricket, but for all levels."
The new nets have been developed in partnership with The Athlete Factory and through sponsorship with Tauriko Business Estate/Element IMF Ltd.
The Athlete Factory director Mike Rogers says the partnership first kicked off at the start of 2021 when Sam began bringing in cricketers for strength and conditioning and general gym work.
"We then got talking around being able to set this place up as a hub for cricketers here in Western Bay," says Mike.
"So we have managed to get something put up together over the past six months with co-funding and we are really excited about it. It's pretty awesome.
"It is able to cater for both batters and bowlers which is something that hasn't really been here before indoors in Tauranga."
Mike is quick to thank everyone involved in bringing the vision to fruition.
"We really want to acknowledge the cricket community," says Mike.
"They have really had to get behind this with funding. Also, Tauriko Estates, being a big partner, we are really grateful for their support.
"The cricket fraternity has been great and this is really going to help when it is pouring down with rain all the time."
More on SunLive...