Whakaari/White Island vent temperature rises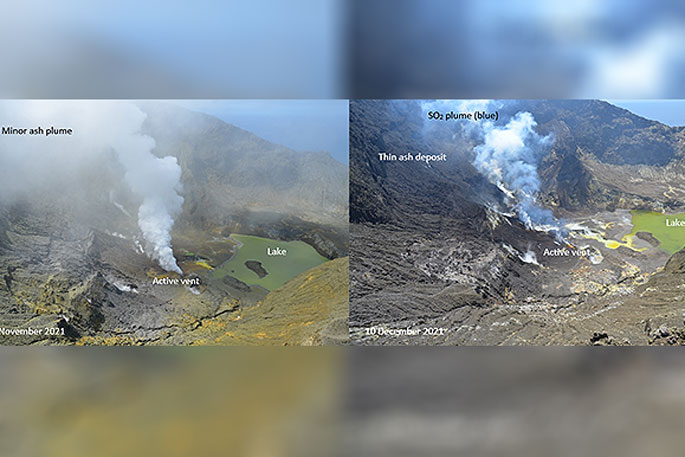 Data from a recent observation flight at Whakaari/White Island shows a significant increase of the active vent temperature to just over 500°C, reports GeoNet.
The state of moderate to heightened unrest continues. The Volcanic Alert Level remains at Level 2, says duty volcanologist Craig Miller.
"Last week GNS scientists undertook a visual observation flight, including temperature measurements of the active vent area.
"The maximum temperature measured in the active vent area was 516°C. During September-November 2021 temperatures ranged from 202°C to 264°C.
"Temperatures over 500°C were last observed in July-August 2021. These observations are consistent with hot gas continuing to be released from the molten rock (magma) beneath the volcano."
Craig says some minor amount of ash emission continues to be observed, as during most of our previous flights.
He says these ash deposits remain limited to areas close to the active vents. Further intermittent ash emission may continue to occur.
"There was no evidence of further ash or liquid emission from the vent near the base of the 2019 landslide area.
"Gas emissions appeared lower but have not been quantified since 18 November 2021. The water level of the lake has receded during a recent spell of fine weather."
The current level of activity is consistent with moderate to heightened levels of unrest. As such the Volcanic Alert Level remains at 2 and the Aviation Colour Code remains at Yellow.
"As noted previously, our on-island equipment has degraded. This means that while we are getting some data, it is not real time and it is not complete. We are continuing to work on restoration options.
"The Volcanic Alert Level reflects the current level of volcanic unrest or activity and is not a forecast of future activity.
"While Volcanic Alert Level 2 is mostly associated with volcanic unrest hazards (including discharge of steam and hot volcanic gases, earthquakes, landslides, and hydrothermal activity), potential for eruption hazards also exists and eruptions can still occur with little or no warning."
More on SunLive...