Waihī Beach kids get creative with library ideas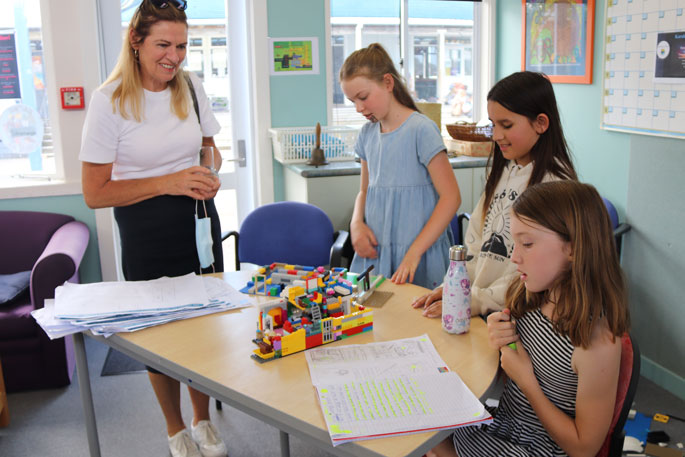 Cats, robots and lasers were just a few of the more sensational ideas the kids of Waihī Beach had for the town's new library.
Tamariki from Waihī Beach School were enlisted to help Western Bay of Plenty District Council design the town's new library and community hub coming in 2024, as part of a wider community conversation.
Starting with the libraries around them, students visited Waihi and recently upgraded library, service centre and digital hub in Katikati - Pātuki Manawa.
Looking at the libraries in a new light, they took note of the different ways the spaces were used and what features they liked, such as natural light, soft seating and hanging structures.
Students then became architects, designing their own libraries and using lego to bring their designs to life.
"The kids were inspiring - they know libraries go way beyond books and they've created spaces they'd genuinely want to visit. They suggested indoor trees, aquariums, gaming rooms and plenty of bean bags," says Council's Customer Service and Governance Manager, Barbara Whitton.
The future engineers of the class presented their ideas to Council representatives, coming up with innovations for high-tech libraries, including robots that gather books and deliver them to waiting patrons, multi-tiered reading hammocks, and a slide come escalator for travelling up and down floors.
Self checkout was also a popular feature.
Importantly this exercise helped get the kids focussed on how they could use the new library, if it was designed with them in mind.
Whaea Rachael Coll, school principal was supportive, saying it was important to get students into the library now, so they'd know what services were available when they were needed.
"They're never going to come back to our [school] library after year six.
"But if we put them in a place that they're used to they'll continue to come back to it."
Barb agrees.
"We want to build a library that's at the heart of the Waihī Beach community, and having kids feel welcome is an essential part of that. I'm really grateful to Rachael for taking up this kōrero with her students, we will do our best to reflect their ideas."
Students' feedback has been included in the final community feedback to help inform Council's next steps in the development of the library, service centre and community hub design.
Plans to build the library, service centre and community hub have been brought forward from 2028, following community support expressed through the Long Term Plan 2021-2031.
More on SunLive...