Cyclone Ruby: tropical downpours erupt over NZ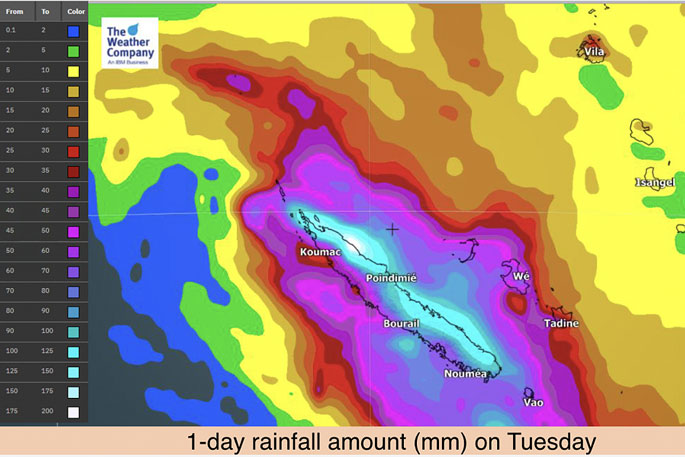 Damaging winds and torrential rain will be impacting the western side of New Caledonia in the next couple of hours as the sun comes up this morning over the south west Pacific Ocean.
The tropical storm - expected to become 'severe' Category 3 today - is going to directly impact New Caledonia across Tuesday with a potential direct hit to the Loyalty Islands, says WeatherWatch.co.nz.
"As of 7am NZDT (5am in New Caledonia) the cyclone was already slamming into the western side of the French Territory.
"New Caledonia may get over 200mm today as the storm tracks through with damaging winds."
NEW ZEALAND
As the main focus remains on New Caledonia today with Cyclone Ruby, a second focus is now becoming clearer on New Zealand as tropical-like downpours continue to build across parts of the North Island and soon the upper South Island, says a spokesperson for the weather organisation.
"The forecast for the next 48 hours - well ahead of the remnants of the cyclone tracking by to our east - sees a mixture of dry spells, drizzle patches and big downpours.
"These downpours have already lead to localised flooding in Manawatu overnight and more of these downpours can be expected today across the North Island and into the upper half of the South Island as they become more widespread.
"Low pressure zones in the Tasman Sea are siphoning some of the energy out of TC Ruby, bringing slow moving heavy tropical-fuelled rain to parts of New Zealand in the coming days, but especially the next 36 hours.
"Flooding potential is there in both islands, including the north eastern side of the South Island as far south as Banks Peninsula and as far west as Tasman. Rain may be heavy enough to cause slips and flooding.
"Christchurch city may also be exposed to some flooding risks too. (Check your local WeatherWatch.co.nz or RuralWeather.co.nz for hyper-local rainfall forecasts)."
MOST EXPOSED
It looks as though most exposed to the flooding risks and heaviest rain - also some of the strongest winds - will be Bay of Plenty and East Cape, says the weather organisation.
However, both main islands have rain and wind risks:
Rain and Wind Highlights:
• Tuesday to Wednesday: RAIN: Total rainfall amount of 50-100mm will be common across the North Island and the upper South Island, locally heavier falls to exceed 150mm in Bay of Plenty, Taranaki and Tasman.

• Tuesday to Wednesday: WIND: Wind gusts of 80 km/h will be possible across exposed portions of Bay of Plenty, Gisborne, Tasman and West Coast Wednesday.

Thursday: RAIN: Christchurch and adjoining areas with 30-50 mm. This is enough to cause localised flooding in low lying areas, depending on how quickly it falls.

Other highlights:
• Maximum temperatures will be much cooler than normal across east side of the South Island through Friday while remaining areas will experience warmer than normal highs.
• Minimum temperatures will be above to well above normal across the North Islands and western coast of the South Island from Tuesday to Thursday before dropping to below normal across the country from Friday.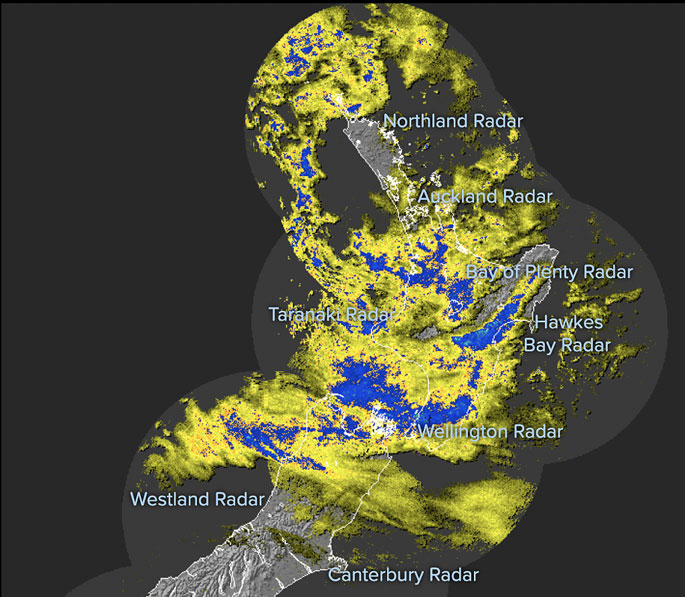 Track Live MetService Rain Radar in Real Time at WeatherWatch.co.nz - click to view live animated version.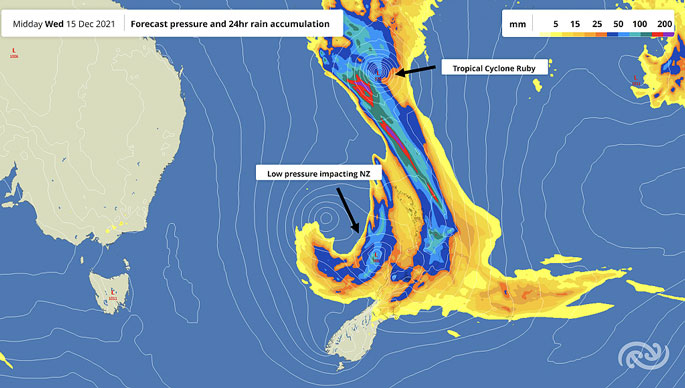 This MetService graphic shows the lows in the Tasman Sea bringing the tropical fuelled heavy rain and how it's connected to Cyclone Ruby near New Caledonia - despite the cyclone being a long way from NZ at this time.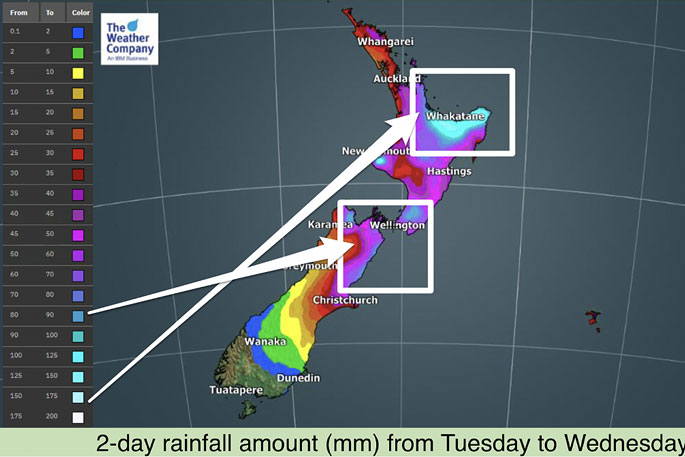 Areas highlighted look to have the highest chances of flooding at this stage. However localised floods (on a smaller scale) are possible in other parts of the North Island. Data via IBM/WeatherWatch.co.nz.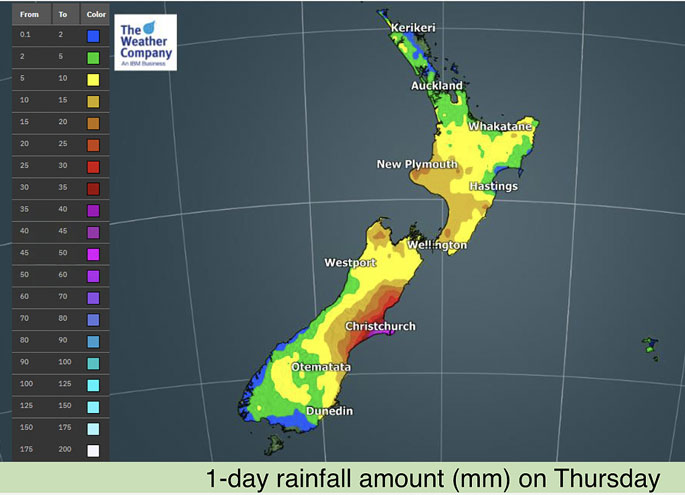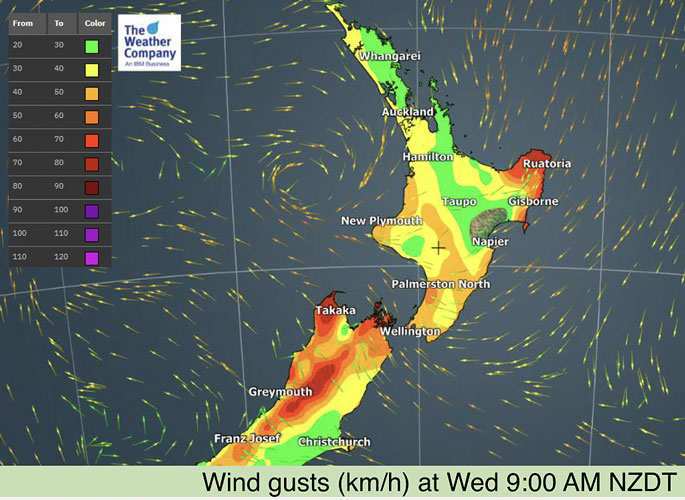 The lows in the Tasman Sea make it a complicated set up - some people have calm conditions, others more exposed to gales or strong gusts.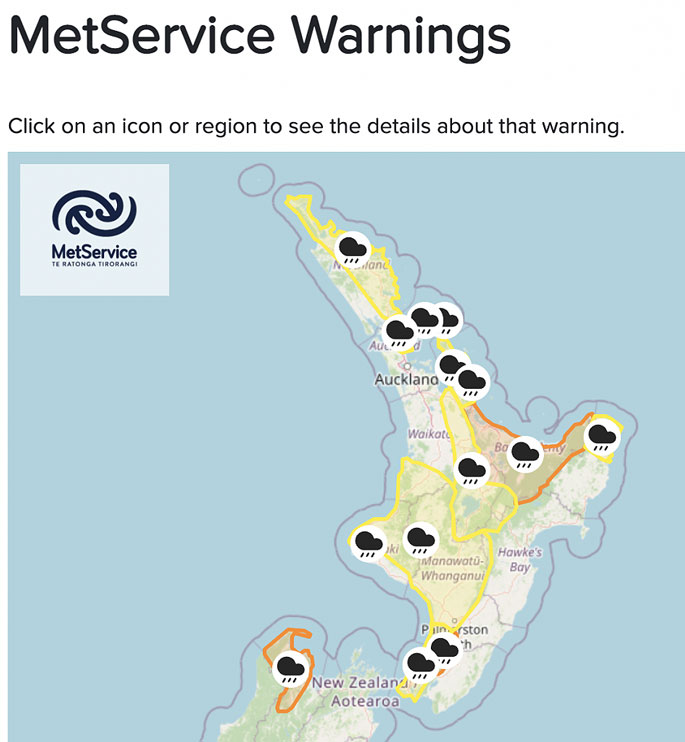 Stay up to date with the latest MetService tax funded weather warnings now LIVE via WeatherWatch.co.nz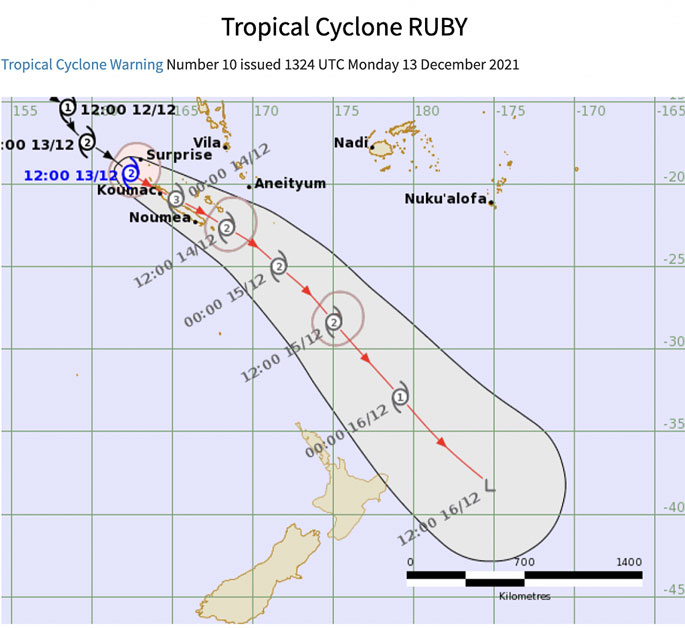 Fiji MetService tracking as of 7am.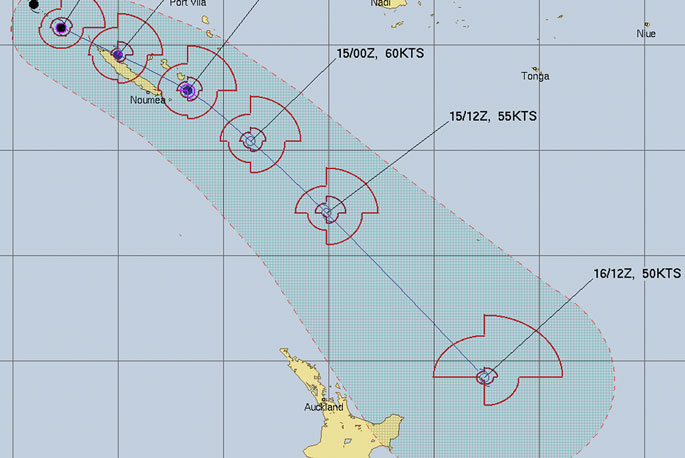 JTWC tracking as of 7am. Remember, despite the cyclone remaining offshore, NZ already is receiving tropical rain connected up to it.
More on SunLive...