Extra summer kerbside collections for Waihī Beach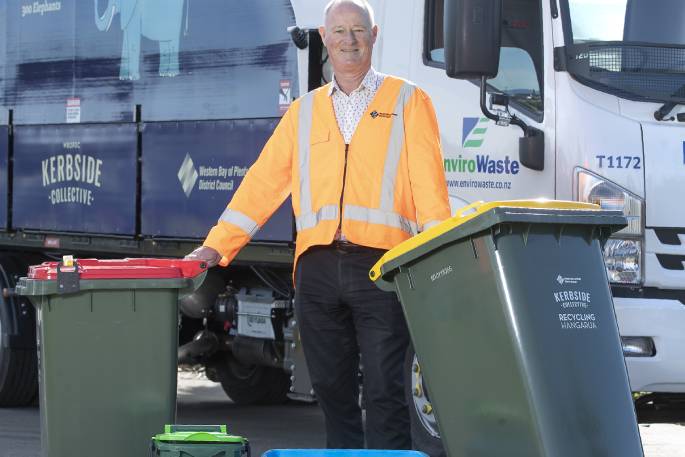 Guests filing in and bins filling up? Western Bay of Plenty District Council has you covered with extra kerbside collections.
Holiday hot spots Waihī Beach, Athenree and Bowentown will have added recycling, rubbish and food waste collections for six weeks this summer.
The added collections will help communities keep up their waste minimisation efforts, even with an influx of holidaymakers and guests.
"We love that people want to spend their summer in the Western Bay, and this is our opportunity to show visitors how we good we are minimising waste," says Council's Deputy CEO and Group Manager Infrastructure Services Gary Allis.
Added kerbside collections will run from Friday 17 December 2021 to Monday 31 January 2022. The six-week holiday schedule will be
Mondays – rubbish, mixed recycling, glass crate and food scrap bins emptied every week
Fridays – rubbish and food scraps emptied every week
These occur each Friday and Monday including public holidays.
Glass crates and yellow lid mixed recycling bins will be collected weekly in this period, as opposed to the normal schedule of glass and mixed recycling on alternating weeks.
The new services apply to fully serviced homes (i.e., if you have a food scraps bin you qualify) in Waihī Beach, Athenree and Bowentown. The normal kerbside collection schedule will resume on Monday 7 February.
While residents and visitors will need to get familiar with the new summer schedule, visitors will also need to learn about the Western Bay of Plenty's unique Pay-As-You-Throw tag system.
"One of our incentives to reduce waste sent to landfill is our Pay-As-You-Throw tag system. Where all red lid rubbish bins must have a PAYT tag or they won't be emptied.
"With this pre-paid system you only pay for what you use. So, the less waste you generate, the less you'll pay," says Gary.
A PAYT tag must be attached correctly through both black and red handles of your red lid rubbish bin or it won't be emptied. Tags can be purchased from local retailers, listed below. There are no additional charges for mixed recycling, glass or food scraps.
Waihī Beach Library and Service Centre, 106 Beach Road, Waihī Beach
Waihī Beach Dairy, 211 Seaforth Road, Waihī Beach
Four Square Waihī Beach, 33 Wilson Road, Waihī Beach
New World Waihī, 33 Kenny Street, Waihi
Athenree Recycling Centre will also be open to the public extra hours over the holidays for people to drop off extra recycling for free. While vaccine passes are not required to enter the centre, visitors will need to sign or scan in, wear a face covering, stay two metres away from others and wear shoes to keep safe.
Athenree Recycling Centre holidays hours can be viewed at westernbay.govt.nz/summerinfo
"We introduced a kerbside collection service on July 1 this year to help the District reduce waste to landfill. So far, our communities have responded brilliantly and we want to keep the momentum going through summer," says Gary.
If you have urgent questions contact our 24/7 customer service centre 0800 WBOPDC (0800 926 732).
Happy holidaying from the Council team.
Follow these steps to get your bins ready for collection
Bins out on the kerb by 7am.
Red rubbish bin must have PAYT Tag attached through both black and red bin loops.
Bins must be 30cm apart in a visible location (not obscured by trees).
Bins are not overfilled, all bin lids close, glass level with top of crate.
Bins will not be collected if:
Bins are filled incorrectly. For example, the blue glass crate must not be filled past the top
The bin is hidden by trees, parked cars or obscured from the drivers vision.
Non standard containers E.g. waste in bags or boxes beside bins.
Your PAYT tag is not attached correctly eg., only looped through one handle instead of the red and black handles.
If you're not sure what item goes in which bin, use our item search finder kerbsidecollective.co.nz/item-search/
Download the Antenno app to receive collection day reminders direct to your phone the day before westernbay.govt.nz/antenno
More on SunLive...