A takeaway on Christmas Day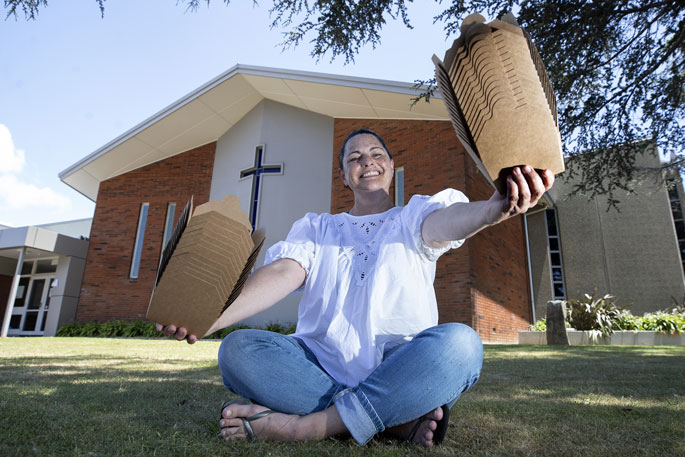 With Christmas only two weeks away, St Peters in the City is reaching out to the community to show a little Christmas spirit.
For the past 32 years, the church has held an annual free community Christmas day dinner, inviting the public to sit down, have a meal and meet new people.
Due to Covid-19 restrictions things will run a bit differently this year. Instead of a sit down dinner, the church is providing 250 takeaway meals to anyone who is in need.
Free community Christmas dinner coordinator Julz Mariner says this year is going to be the largest yet, with demand growing by 70 meals since last year's event.
"There are heaps of people doing cool things in the community, but we all need help and support to keep it going.
"We can't put the dinner on if we don't have the volunteers to run it.
"Every year we have wonderful support and we have to acknowledge that there has always been support, but it does get harder for organisations just because the need is so great.
"There are always things people can do to help. You can help in the lead up to Christmas, or you can help on Christmas day at the collection station. We are also always asking for food donations, people drop off legs of ham or stacks of potatoes and it all adds up.
"The most rewarding part about volunteering is knowing that you can actually make a difference to people.
"I know it has been a hard year but I'm still grateful for what I do have and I know that there's a lot of people that don't have that.
"I just think it's awesome that on Christmas day you can do something that's pretty awesome for someone that needs it.
"It's a small gesture that reminds people that they're not forgotten and it's to be a part of something that is positive."
St Peters in the City were worried that the community dinner would be unable to go ahead for the first time due to Covid-19 restrictions, and so the takeaway meals are a way to make sure no one would be forgotten about this Christmas period.
"What we're offering people this year is a chance to pop along to the Church on Christmas day where we'll have two collection stations set up where each guest will receive an individual Christmas dinner pack. In that pack will be a roast meal, a choice of desert, salad and a drink.
"We're quite excited to do something different and we'll try to make it all fancy.
"We're also hoping to have some entertainment set up outside to really make it a celebration.
"If people are interested in attending they have to contact the Church and we can organise a spot for them. If people would like to volunteer they can contact us or head to our website."
The free community Christmas dinner will be held at St Peters in the City at 130 Spring Street in Tauranga.
To receive a meal on Christmas Day, or to ask questions regarding volunteering call St Peters in the City on: 07 578 9608
To sign up to become a volunteer, or to donate food, head to the website here
More on SunLive...