Lifeguards monster rivals after long break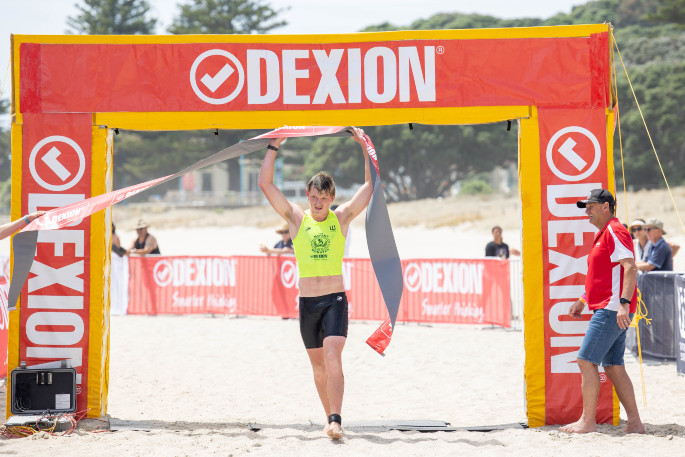 They haven't raced in anger for the best part of 11 months but Jayden Murphy and Olive Pearce proved worthy champions of the ninth Mount Monster surf lifesaving endurance race today.
Covid-19 has decimated the surf lifesaving calendar in 2021, with national championships cancelled and a host of minor events falling victim to lockdowns.
That the 24.5km, four-leg Mount Monster went ahead was something of a minor miracle, with organisers scrambling to hold it as a fully vaccinated event with numerous safeguards, but those efforts were deeply appreciated by the lifeguards taking part.
"A lot of effort went in to put this event on and we're all very, very grateful," says Olive who is the open women's winner.
"Our open nationals were cancelled last season and so were our pool nationals, so this is my first race since the Eastern Region champs back in January. It's been crazy - it's like having a whole year off - so getting a race like this in is just so good."
The 18-year-old Mount Maunganui Lifeguard Service member dominated the female ranks on her home beach, after her first year at university in Dunedin saw her focus on her swimming and picking up flat-water kayaking as a training pursuit.
That helped her to a five minute lead after the opening 12km ski paddle and she eased home after the subsequent run, swim and board legs to finish in 2hrs 48mins 43secs.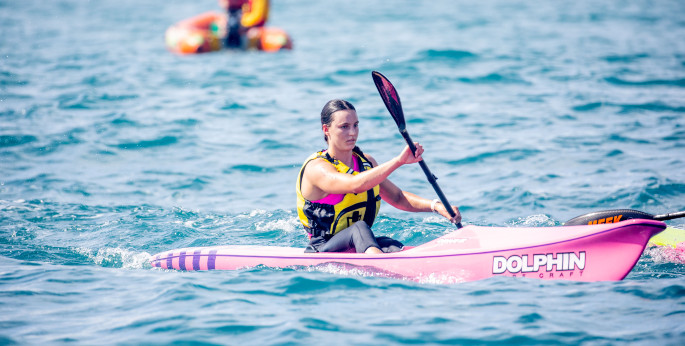 Mount Maunganui's Olive Pearce on her way to victory in the women's section of the Dexion Mount Monster title today. Photo by Jamie Troughton/Dscribe Media.
Olive was 3:35 clear of Ruby McSweeney from Omanu at the finish, with Hawke's Bay's Bella Bassett-Foss third in 2:54.40.
Olive's club mate Jayden Murphy was just as dominant in the men's race, also collecting his maiden Mount Monster title after finishing second last year.
The 17-year-old won the dash for cash - the cash prize for making it to the first turning can on his ski, 250m out from the Main Beach - and steadily pulled away, finishing in 2:23.50. He was well clear of Gisborne teenager Jack Keepa, who's been training with ironman legend Cory Hutchings, with Omanu's Tanner Baxter emulating his third-placing last year.
"It's pretty amazing - I've put a lot of work in behind the scenes over the winter, with lots of support from a lot of people, and it's been so hard to train for this because every time we set up to do some miles, there would be another Covid development and the race looked doubtful," says Jayden. "We're so lucky to get out there and race and they've put on another amazing event."
Jaydens's time was nearly five minutes faster than his second-placing last year, despite a rising northerly breeze this time around.
"The wind made it pretty difficult, coming back on both the ski and the run, while it was hard to see the cans in the swim as well."
Meanwhile, Olympian Lewis Clareburt clocked his first Monster win, helping his team to an impressive victory. Lewis's swimming prowess was ably backed up by Danny Hart's ski paddle and Hamish Miller - a two-time individual winner - who was nursing a stress fracture on the closing board leg. The star of the team, however, was 14-year-old George Wyllie, newly qualified as a Mount Maunganui lifeguard, who recorded the fastest run time of the day of any competitor.

Results
Surf lifesaving
Results from the Mount Monster 24.5km endurance race in Mount Maunganui today:
Open men: Jayden Murphy (Mount Maunganui) 2hrs 23mins 50secs 1, Jack Keepa (Gisborne) 2:28.01 2, Tanner Baxter (Omanu) 2:30.18 3.
Open women: Olive Pearce (Mount Maunganui) 2:48.43 1, Ruby McSweeney (Omanu) 2:52.18 2, Bella Bassett-Foss (Waimarama) 2:54.40 3.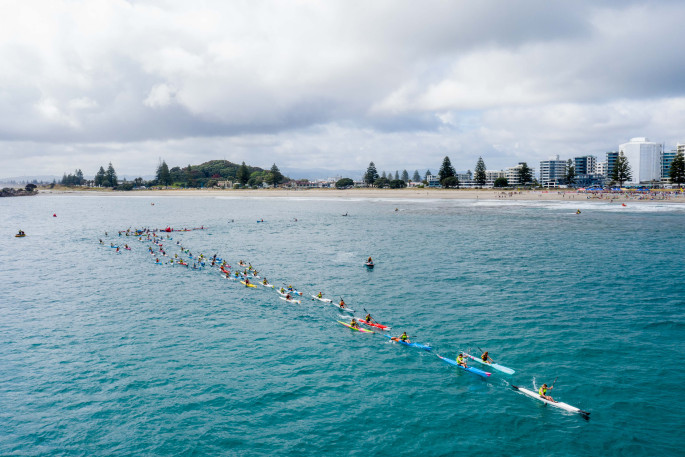 Mount Maunganui's Jayden Murphy leads the field out on the opening ski leg during the Dexion Mount Monster title on his home beach today. Photo by Jamie Troughton/Dscribe Media.
Jamie Troughton/Dscribe Media
More on SunLive...