Purr-fect event to boost the kitty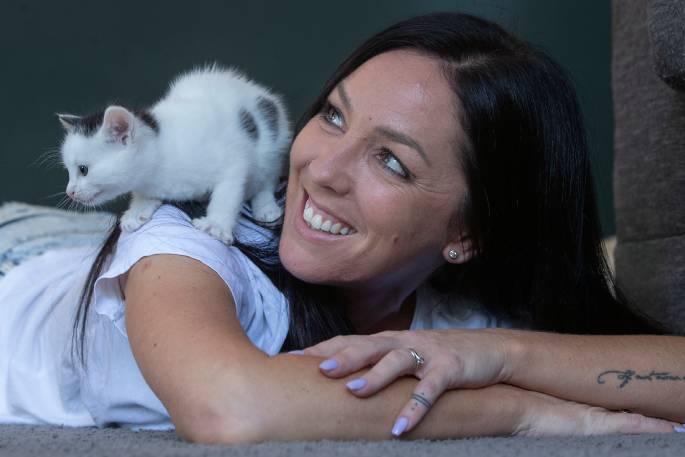 There may be no room at the inn for many at-risk animals this Christmas with volunteers' own homes "bulging" with an influx of rescued pets in Tauranga.
The RRR – Rescue, Revive, Rehome – is hosting a Christmas-themed event at the Te Puke Memorial Hall this Saturday from 11am-2pm with the hope of raising much-needed funding and awareness of the volunteer shortage.
"This is a really tough time of the year for us," says RRR secretary and feline manager Liz Proudlock.
"We are getting four or five calls a day in the feline division alone of kittens being dumped."
Liz tells the heart-wrenching story of a box of kittens dumped in Te Puke earlier this month. The box was eventually hit by a car with just one kitten surviving. This happened just metres from the vets.
"It was just down the road," Liz laments.
"They only had to walk down the road and deliver them.
"It is just endless. Continuous cats and kittens and puppies being dumped and dropped this time of year."
Liz explains that every time an animal is taken in by the rescue they must be vet checked, deflead and dewormed whilst many arrive sick or underfed. It makes it an expensive endeavor nursing them back to health.
"It is extremely sad and costs us on average around $380 per kitten to get them from being a neo-natal right through to being a kitten ready for adoption."
RRR does not have a facility. Instead, they rely on fosters taking poorly pets into their own homes.
"We just have such a shortage of houses where we can put these animals," Liz explains.
"Our own homes, as volunteers are already bulging."
Clair Batley's home is one such capacity location.
Clair, who leads the feline team of RRR with Liz, adopted a puppy from RRR three years ago. Soon she started fostering and it "snowballed" form there.
Currently, she has a spare room which has been repurposed into a cat hospital, such is the influx of felines at this time of year.
"We rely on fosters 100 per cent," says Clair.
"We can't take animals in without foster homes. We have so many followers and supporters but I don't think it is well known that we don't have a facility.
"We all have full-time jobs and have families so we are just doing what we can when we can so we always need more fosters on board."
Whilst Clair admits it can be hard work and an "emotional rollercoaster" the rewards can be plentiful.
"It is hard but we have some amazing success stories," says Clair.
"We have ones that go literally from death's door to being family pets and that is why we do it at the end of the day."
The positive aspect of the role is what Clair is hoping the focus of tomorrow's event will be.
"We are trying to have a bit of a positive event, as a lot of the stories on our page can be quite sad," she admits.
"But this is something people can come to and support us.
"We have lots of little crafts and goodies that would be great in the lead up for Christmas.
"It would be great for people to get in and support us, get the word out there and tell people what we are about as well as raise some much needed funds."
Anyone interested in becoming a foster can fill in an application form on the RR website at rrr.org.nz/foster/.
More on SunLive...