Oranga Tamariki site signifies Māori-led direction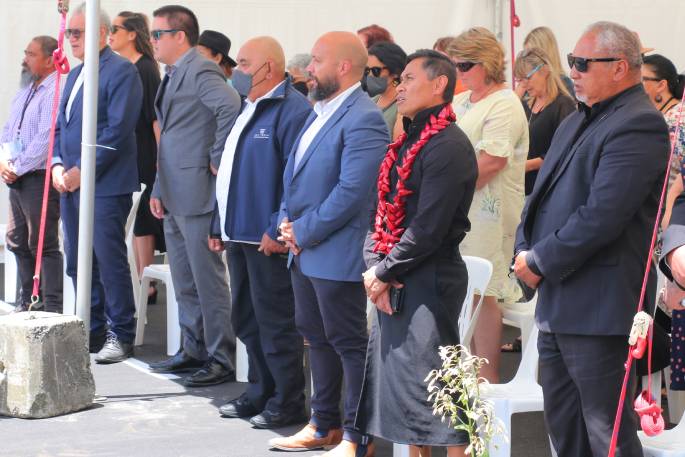 Oranga Tamariki's new Pāpāmoa-based site has been unveiled, with a new partnership between the agency and Māori in the region at the heart of its formation.
The Domain Road site has been named Ngā Parirau and will look to be a trailblazer in sweeping changes to Oranga Tamariki processes across New Zealand.
Mana whenua led the appointment of Joel Ngatuere as the location's site manager earlier this year – one of the first steps in devolving decision making to local Māori.
Joel is clear that the new directive is about hearing the needs of those in impacted communities.
"It is about engaging with our iwi and our Māori NGOs to say this is what we can do, you tell us what you want," says Joel, who also sees the new Pāpāmoa location as a positive step toward centralising access for the entire region.
"It is my role to come back and speak with those around and above me to see how we can make these things happen.
"We want them to tell us what they do well, what they want, because they know their community better than us. They know their communities better than Oranga Tamariki.
"We can then work with them to figure out how we can make this happen and create better outcomes for our kids."
The site was set to be unveiled by the Minister for Children Kelvin Davis, who declared the current system "broken" in a parliamentary select committee in June.
The Minister, who was unable to attend the event after last-minute unforeseen circumstances, also made it clear that devolving power in the organisation to regional and Māori communities was of paramount importance.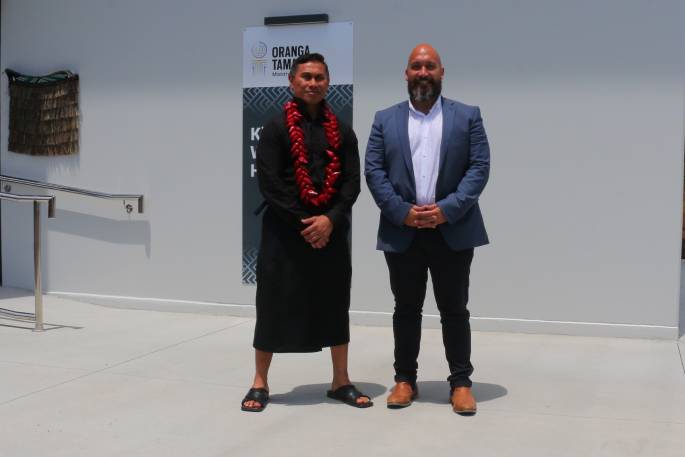 Joel and Tasi outside the new building - Te Ākau - on Domain Road.
A Ministerial Advisory Board report released in September advised much the same, with shifting decision making and resources to communities one of three key recommendations.
Oranga Tamariki Bay of Plenty regional manager Tasi Malu says he is grateful to be at the official unveiling, which was postponed from October due to Covid-19 but held on Thursday under new traffic light system guidance.
He calls it a celebration for mana whenua and the refreshed relationship Oranga Tamariki will have with them going forward.
"It has been a long time coming," says Tasi.
"If you think of the whakataukī 'it takes a village to raise a child' I think for too long Oranga Tamariki has seen itself as the village. But we all know the village is out there in the communities.
"If the problem lies in the village then the solution lies in the village. This brings Oranga Tamariki into the village, where it should be and working for solutions with those in the village.
"It's a new way of working with our communities, particularly with iwi in which there is a greater chance of transformational change."
For Tasi, utilising the boots already on the ground in communities is an important step in the right direction for improving prevention rather than intervention.
"These people live amongst them, they know them and they are their neighbours," explains Tasi.
"That fact alone means they are far more prepared and ready to help whānau out there.
"Ultimately, it is about preventing tamariki from coming into our system and for those who have come into our care returning them as soon as possible to whānau."
Those boots on the ground form Te Whakaruruhau, a kaitiaki group including an 'army of aunties' supported by iwi and hapū – including Ngā Pōtiki, Ngāti Pukenga, Waitaha and Ngai Te Rangi – who will operate from the building on site, which they have named Te Ākau.
Te Whakaruruhau spokesperson Rahera Ohia says discussions over a new working relationship began in June and Oranga Tamariki mentioned the new site being formed on Ngā Pōtiki land. She felt it was an opportunity that could not be missed.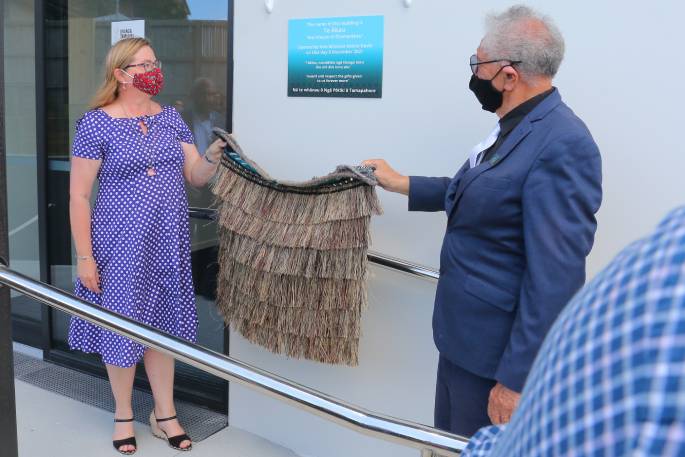 Labour List MP for the Bay of Plenty, Angie Warren-Clark, stepped in to open the building in Kelvin Davis' absence.
"We saw it as a sign," says Rahera.
"This is our chance to provide a protective umbrella and some guidance and support so that Oranga Tamariki does the right thing by our kids and whānau."
She says she is pleased to be forming a Treaty-based relationship which will hopefully ensure the needs of both groups are met.
"We hope to be a template that might be used by others in this region and over the country."
For Joel, the new relationship is about rebuilding trust between communities and the agency.
"It means fronting up and apologising for any mistakes that have been made by Oranga Tamariki and initiating and building relationships and moving forward," admits Joel.
"I want this place to be an environment they don't dread. It is an environment that is warm and welcoming and people are going to be worked with fairly.
"We understand it is not something that is going to be built overnight, but over time that is something I want."
More on SunLive...