The people behind wastewater testing in Ōpōtiki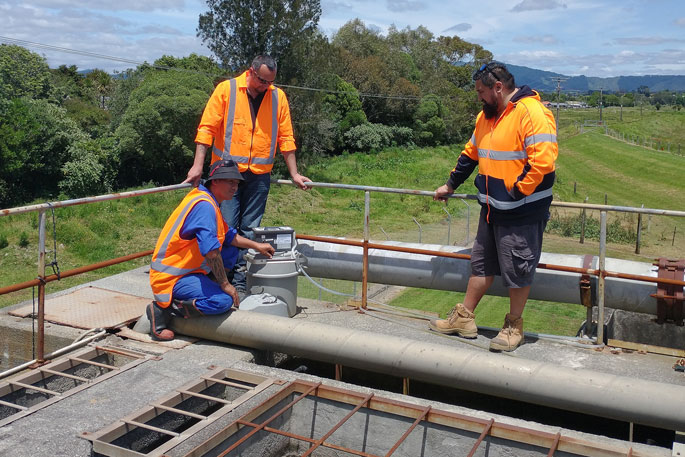 Over the past two years, the New Zealand public has become used to a new vocabulary with words and phrases now in common use due to the Covid-19 pandemic.
One of these is 'wastewater detection', using wastewater testing as a surveillance tool to help detect the virus when it pops up in the community. And it is not just in the big centres – Ōpōtiki also has wastewater detection sampling.
Ōpōtiki District Council operations and systems manager Anthony Kirikiri says Environmental Science and Research (ESR) undertakes testing of wastewater throughout New Zealand on behalf of the Ministry for Health for the presence of SARS CoV-2, the virus which causes Covid-19.
"The first place our wastewater goes for storage and primary treatment is the Imhoff tank. Here, the raw wastewater from all the pump stations around town is combined and screened before further treatment.
"We have an auto-sampler which is a small pump that collects a sample every few minutes and combines them into a single composite sample over a 24-hour period. If required, we can carry out manual grab samples if we need to know more or do some follow up testing.
"It is usually our operations staff (Taka and Tumau) who take the samples and send them off to ESR for testing. If the lab finds traces of Covid in the wastewater, ESR's priority is to tell the Ministry of Health who is best placed to know if it is a surprising result or something expected like a recovered case. They provide any public notifications from there.
"The Imhoff tank is the best place to gather these samples as it is where all the wastewater from toilets and sinks around the town network converge, this provides a recent, representative sample for testing." says Kirikiri.
Wastewater testing isn't new and for Anthony Kirikiri and his team, it is the same process but tested for a different trace element.
ESR also test for the presence of specific drugs in the wastewater and these are published quarterly on the New Zealand Police website.
More on SunLive...