Calling all elfies to take selfies with reindeer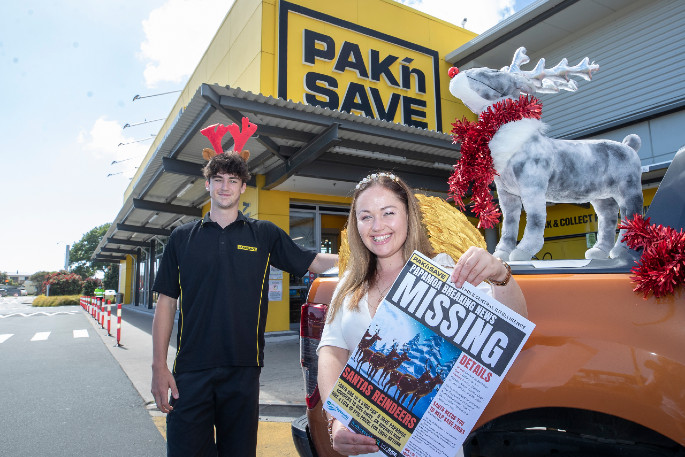 The forecast in Pāpāmoa this Christmas is golden sunshine with a chance of reindeer.
But already there is drama – the breaking news in Pāpāmoa is that all nine of Santa's reindeer have gone missing.
"We have received information that they were last seen in Pāpāmoa between Pak'NSave, Fashion Island and Pāpāmoa Plaza," says Pāpāmoa Unlimited's Julia Manktelow.
"Santa needs you to help save Christmas."
The golden brown Christmas reindeer go by the names Dasher, Dancer, Prancer, Vixen, Comet, Cupid, Donner, Blitzen and Rudolph. For those who want to know where Olive the other reindeer is, she still seems to be in winter hibernation.
Has Christmas left you feeling extra Santa-mental this year?
Julia is calling on Tauranga, Western Bay and Te Puke sleuths to come to Pāpāmoa and locate all nine reindeer in the locations last seen.
By checking in via the QR code at 'South Pole Central Intelligence' outside Pak'NSave and registering to play on Eventbrite, all wannabe Sherlocks and private reindeer investigators are then requested to take an 'elfie' with each reindeer.
"Upload to our Pāpāmoa Unlimited Facebook page or send through to us via Facebook Messenger," says Julia.
Plunge and parade postponed
Those who love living happily ever antler in Pāpāmoa have had to forgo their annual Pāpāmoa Polar Plunge event this winter. Thanks to Covid alert level restrictions and the traffic light system, it's been a challenging year of cleverly reshaping some much-loved events.
In October, the very successful Halloween Powerco Pedal and Pump Pāpāmoa event was held along the waterways, with hundreds coming out on the scavenger hunt trail.
Unfortunately, the Pāpāmoa Christmas Parade has had to be cancelled for 2021, but Santa's jolly good fellows are replacing it with the hunt for Santa's reindeer.
Sleuths who plan on sleigh-in it have from December 12 to 9am on December 24 to enter the fun competition.
But wait – there's myrrh. Yule not be sorry.
Prizes include winning one of 12 $300 Pak'NSave vouchers, an Advanti kids' bike from My Ride Mt Maunganui, a Titanium Weber BayQ from Mitre 10 Pāpāmoa, a $100 voucher from Rain Bar & Restaurant, a deluxe Christmas ham from Dough Jarvis Butcher & Deli, and two beautiful bathmats from George St Linen.
"I also am going to be doing a challenge for the best Christmas team photo to win a $1000 Pak'Nsave Pāpāmoa voucher," says Julia.
Julia is also on a drive to pay it forward with the Ulyssess Club Tauranga to collect toys for Tauranga Hospital Children's Ward for their club's annual toy run.
"We'll be collecting presents at the
Pāpāmoa
Plaza customer service desk until December 24," says Julia.
Prizegiving for the reindeer hunt will be live at 11am on Christmas Eve on Pāpāmoa Unlimited's Facebook page.
More on SunLive...