FAME Trust awards scholarship at Te Herenga Waka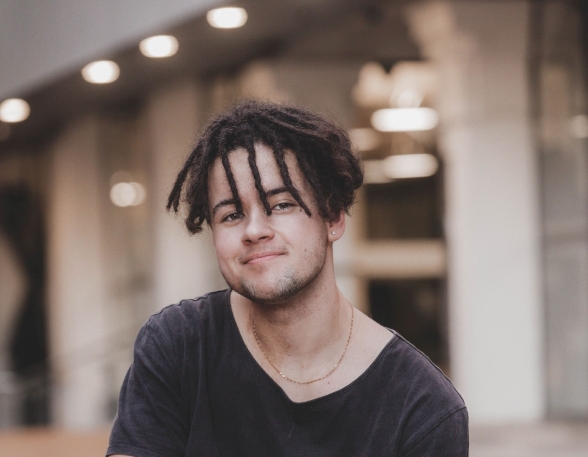 The team at the Western Bay of Plenty's Acorn Foundation and FAME Trust are proud to announce Sebastian Hunter as the first Emerging Practitioner Award winner at Te Herenga Waka—Victoria University of Wellington.
Te Herenga Waka is one of six premier performing arts schools located throughout New Zealand which have each been provided with a $10,000 award for a talented student who has completed at least the first year of university study.
The Acorn Foundation manages several scholarship and awards programmes for the FAME Trust, including six Emerging Practitioner Awards through the team at Creative Bay of Plenty.
Outstanding performing arts institutions, including University of Auckland, University of Waikato, Te Herenga Waka—Victoria University of Wellington, University of Otago, Toi Whakaari and NZ School of Dance will each have a $10,000 award to offer to students who have completed at least one year of study.
Te Herenga Waka—Victoria University of Wellington student Sebastian Hunter has been selected as the first winner for the scholarship award.
Sebastian, who is of European, Māori, and Tongan descent, comes from the Manawatu-Whanganui region and completed secondary school at Feilding High School.
Sebastian says he is proud to be the first in his family to attend University.
Sebastian is Takatāpui (a part of the LGBTQI+ community) and aims to be a positive influence within the queer, trans, Māori and Pasifika communities.
"This award will greatly impact my career path by providing me with the necessary resources I'd otherwise have no access to. As your average, typical uni student, the award is life changing, and I plan to make the most of it," says Sebastian.
Theatre and music are dual passions for Sebastian, who has landed a lead role as "Luke" in the feature film Poppy about a young girl with Down Syndrome who refuses to let her disability define her. He also composed four original songs for the film.
At Te Herenga Waka this year, Sebastian has joined his classmates in staging a full-length adaptation of John Gay's Polly. He has participated as an actor, musician, script writer, and lighting designer. He is also currently producing his first album.
Te Herenga Waka Professor David O'Donnell says the Theatre programme is so proud of Sebastian for his outstanding application and achievement in winning this award.
"Sebastian is an exceptionally committed and multi-talented artist with a wide range of skills in theatre and music who has accomplished much during his studies here, including acting in a feature film and teaching music theatre. Sebastian is an inspiring role model for diverse representation in the performing arts."
From Acorn's inception in 2003 through 2021, the foundation collectively distributed over $10m to the Western Bay of Plenty community, supporting the work of more than 260 local charities.
This year, the Acorn Foundation gave away over $2M to 194 local charitable organisations and scholarship and award winners. Scholarships and awards reached nearly $350,000 in total and include the Jann Medlicott Acorn Prize for Fiction, given annually at the Ockham New Zealand Book Awards.
Founded in 2007, the FAME Trust has long provided support for young and mid-career artists, plus funded national organisations like the NZSO, Toi Whakaari NZ Drama School, and the NZ School of Dance and local groups such as Opus Orchestra, Youth Philharmonic and BOP Symphonia.
More on SunLive...