Drug warning following first time detection in NZ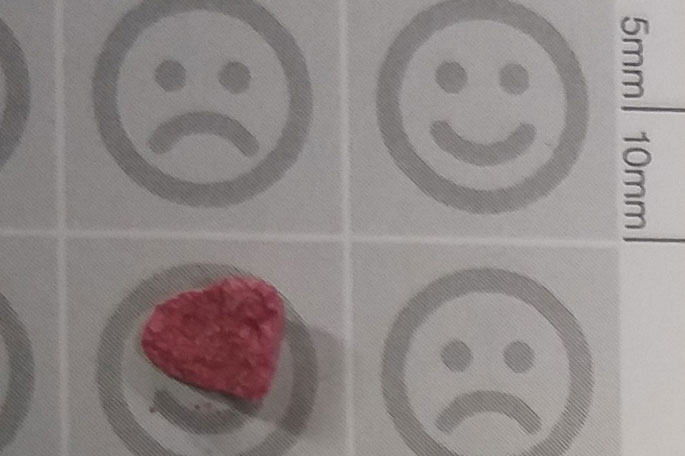 A new synthetic drug has been detected in New Zealand for the first time.
In a post on Facebook, the New Zealand Police say very little is known about the substance cathinone dimethylpentylone.
"Very little is known about this substance, and it's especially concerning that it's reportedly being sold as MDMA.
"We strongly urge people not to take this substance."
According to highalert.org.nz, a drug information and alerts website for New Zealand, Dimethylpentylone was found in two samples tested by KnowYourStuffNZ in Dunedin, including in a pink 'Playboy' tablet that was sold as MDMA.
The drug is described as a pink pill, about 1cm long with a Playboy logo.
The website states is can also be detected as a white crystal.
"It's likely tablets containing dimethylpentylone are in circulation and being sold as MDMA," the website ststes.
"KnowYourStuffNZ and the NZ Drug Foundation are running drug checking clinics across the country throughout summer to help reduce harm - check the schedule here."
Dimethylpentylone is also known as bk‑DMBDP and is a synthetic cathinone (sometimes called "bath salts").
"There is currently no information on the substance's health risks, long-term side effects, or dosage, which makes its use riskier than the use of more common, well-studied substances," says highalert.org.nz.
The physical effects of dimethylpentylone are also unknown but are likely similar to other synthetic cathinones:
Stimulation

High blood pressure, rapid heart rate

Inability for body to regulate temperature

Appetite suppression

Compulsive redosing

Loss of consciousness

Death
People who have taken the drug are being advised to stop taking it, rest, eat and wait it out.
Avoid cannabis, alcohol, caffeine and other substances. Definitely don't try to drive.
Seek medical help immediately if you have a racing heart, high temperature, extreme anxiety, numb, tingling, cold fingers or toes, or haven't slept for more than 24 hours.
If you are looking after someone who has taken dimethylpentylone, help them to stay calm and remind them they will just have to wait it out.
If you think someone is suffering a medical emergency, call 111 immediately and ask for an ambulance. Always tell emergency responders what someone has taken – you won't get in trouble, and it could save a life.
Always call an ambulance if someone:
is unconscious

stops breathing

has a seizure

is extremely agitated for longer than 15 minutes

has chest pain or breathing difficulties for longer than 5 minutes.
People concerned about their own drinking or drug taking can reach out to the Alcohol Drug Helpline on 0800 787 797, or text 8681.
You'll be able to speak with a trained counsellor who can provide you with helpful information, insight and support. They're available 24/7, all calls are free and confidential.
You can also chat to the Alcohol Drug Helpline team online through the website, or:
Call the Māori Line on 0800 787 798 for advice and referral to kaupapa Māori services.

Call the Pasifika Line on 0800 787 799 for advice and referral to services developed for Pacific people.

Call the Youth Line on 0800 787 984 for advice and referral to services for young people.
More on SunLive...