The humble road cone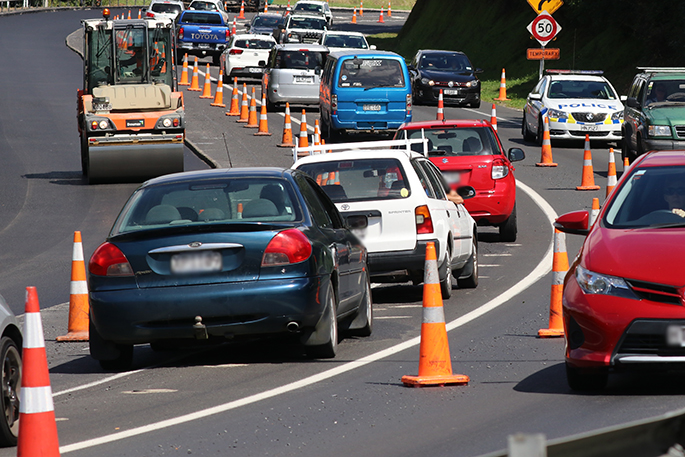 Bright orange road cones are the attention-seekers on state highway work sites, for good reason, says the Waka Kotahi NZ Transport Agency.
The agency's Bay of Plenty system manager says the humble road cone plays a key role in guiding people safely through road works.
"We often hear comments about the number of cones people see on their travels along State Highway 2, so we wanted to give people and idea of why they are there," says Roger Brady.
"As with everything we do, it comes back to safety.
"There are traffic management standards in place which determine the appropriate and safe spacing of cones."
Under these standards, Roger says they have three different levels of highway.
Level one carries lower traffic volumes, such as SH2 north of Katikati, and can have further spacing between cones than the journey between Katikati and Tauranga, which is a level two highway.
"However, for both consistency and to deliver an enhanced level of temporary traffic management, our safety improvements project treats SH2 north and south of Katikati the same.
"What you will see on your journey between Waihī and Tauranga when driving through work sites is road cones placed at 2.5 metre intervals where the road narrows to alert drivers a work site is ahead. In the work site itself, cones need to be placed at least every 10 metres.
"Not just any cone is approved to work on our roads. As well as needing to be orange on the outside, the inside and the base of cones must be either white or orange to ensure it is visible if knocked over. They must be at least 900mm high and weigh less than 7kg.
"You will see fewer road cones on your SH2 journey as we head towards Christmas.
"Our teams are busy completing works for the year and by December 23 will have minimal temporary traffic management in place.
"Where the road is wide enough, the safety improvements project will install temporary steel safety barriers at work sites for additional safety during the busiest time of the year."
To keep across travel times on your journeys, please visit the Waka Kotahi Journey Planner website: www.journeys.nzta.govt.nz/
This is what you can expect to see between Waihī and Tauranga this week:
Waihī to Ōmokoroa Safety Improvements Project (ongoing)
• Athenree Road to Tanners Point Road – road widening works continue throughout the week. Expect minor delays of one to two minutes.

• Tanners Point Road to Kauri Point Road – final watermain relocation connections and tidy up are underway. Expect minor delays of one to two minutes.

• Rea Road / Tetley Road intersection – preparation works for a roundabout are ongoing. Expect minor delays of about five minutes particularly on the side roads.

• Lund Road to Aongatete Road – road widening, earthworks, drainage and service relocation works between Lund Road and Aongatete Road continue with a focus on the Wright Road intersection. Expect minor delays of one to two minutes.
Takitimu North Link preparation works
• Wairoa Road (off SH2) – near Oliver Road, southbound shoulder closure in place, not anticipated to impact traffic.

• Harrison Road (off Cambridge Road) – shoulder closure in place while archaeological investigations take place. No delays anticipated.

• Cambridge/Moffat Road – shoulder closure in place while surveying works take place. No delays anticipated.

• Richard Way (off Cambridge Road) – now closed to the general public, authorised access only.

• Cambridge Road – Stop/Go for tree felling along this area near 310 Cambridge Road. Closures only in effect when necessary.
Plan ahead for a safe, enjoyable journey. Keep up to date with:
More on SunLive...