Giltrap back and raring to go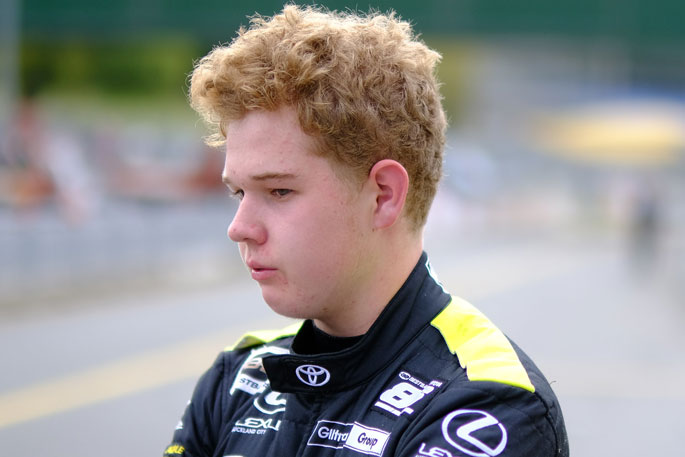 Last season's Rookie of the Year Marco Giltrap will be back in the saddle for the forthcoming Toyota 86 Championship and the 17-year-old is targeting his first race win in the category.
Giltrap will line up with the vastly experienced Simon Evans again in the two car Giltrap Group Motorsport team. He's also nearing full fitness following his nasty incident at Taupo in June.
"I'm back in training and can't wait to race again," he said. "I've been good to go for a while now but obviously the lockdown has prevented any track time in the car. With everything getting underway again though, I'm aiming to get as many miles in as I can before the season begins."
Giltrap completed his first laps since lockdown at the end of last week and will be out again testing for three days later in December.
Last season, he improved throughout the year and quickly established himself a regular challenger near the front of the field. This season, however, he has his eye on the podium.
"I want to keep focussing on getting better and I know there are areas where we can and will make some major improvements like the reverse grid race," says Marco.
"I know there are some great opportunities in that for top places and solid points. Simon is a great team mate and teacher and I will continue to absorb as much of his knowledge and experience as I can.
"Improvement is the focus for sure, but yes, it would be awesome to get my first win especially as this is going to be a very competitive year."
Giltrap will be backed for his second full season in the Toyota 86 Championship by title sponsor Lexus of Auckland, Giltrap Group, Huffer, Sixt and Colin Waite Panelbeaters.
His confirmation in the championship brings the total confirmed for the season to an impressive 21 drivers.
The field is a mix of the experienced and inexperienced and is brimming with talent.
Giltrap will be one to watch according to Category Manager Geoff Short.
"It's fantastic news to have Marco back for this season," says Short.
"He was a standout performer last season and it's going to be fascinating to see how he goes in this field. He's a very welcome addition especially after the challenges he's faced this year and we wish him all the best for a great season."
With Covid restrictions having delayed the start of the championship, drivers and fans will have to wait until January 14-16 for the action to begin at Highlands Motorsport Park.
After Highlands the championship moves to Christchurch for the Ruapuna weekend, January 21-23. Three weekends later it's back to Hampton Downs on February 11-13 for the New Zealand Grand Prix meeting.
Pukekohe now shifts from its early December date to March 4-6 to become Round 4 before the category heads to the Bruce McLaren Motorsport Park, Taupo on March 25-27.
The season concludes at Hampton Downs Motorsport Park over the weekend of April 22-24.
Toyota 86 Championship 2021 – 2022
Round 1 – Highlands Motorsport Park – January 14-16
Round 2 – Mike Pero Motorsport Park, Ruapuna – January 21- 23
Round 3 – Hampton Downs Motorsport Park – February 11-13
Round 4 – Pukekohe Park Raceway – March 4-6
Round 5 – Bruce McLaren Motorsport Park, Taupo – March 25-27
Round 6 – Hampton Downs Motorsport Park – April 22-24


More on SunLive...