Mount Hot Pools unveils He Pou Rarama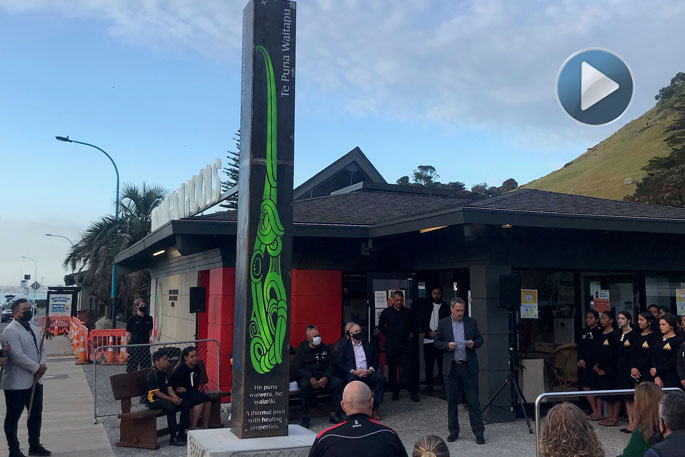 The Mount Hot Pools unveiled today a culturally significant artwork that stands outside their iconic site at the base of Mauao.
The work, titled He Pou Rarama by artist Tiare Dickson, tells the story of the four sacred spirits of Mauao.
Dickson has chosen this story to signify the connection the Mount Hot Pools has to these four traditional springs as Te Puna Waitapu, one of the four springs, is the original hot pool used in ancient times for bathing and healing.
Waipatukākahu, on the western side of Mauao was a spring used for washing, Ruarapapari was a cool water spring for drinking and bathing and the most sacred spring of all, Te Kawa Waipuna led into two pools: one for birthing children and one for bathing the deceased.
The tale of the springs is also widely relevant.
"It is meaningful to all iwi and hapu and cultures who have a connection to Mauao, so everyone will feel involved in this work," says Dickson.
Ngāi Tūkairangi Hapu Trust chairman Anaru Timutimu hopes that He Pou Rarama becomes an icon and adds to the story and learning for people visiting the hot pools and those walking up and around Mauao.
The pou is crafted from corten steel, rather than the more traditional wood medium which would erode in the corrosive salt air at the foot of Mauao.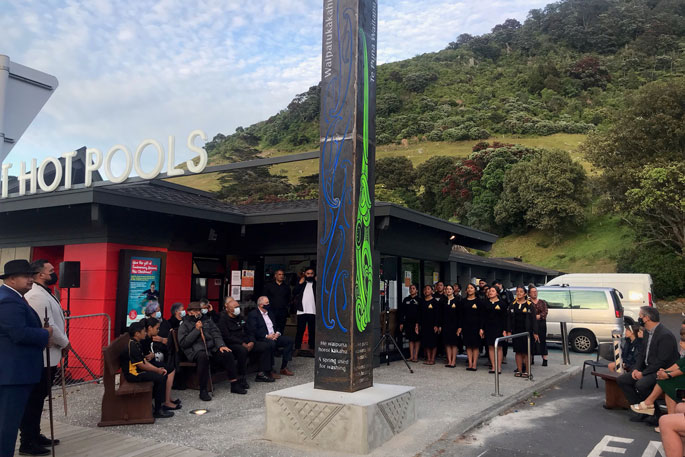 The more contemporary material will purposefully rust over time to fit in with the natural landscape.
The design work of the pou has been laser cut to reveal coloured acrylic which glows with the assistance of LED lighting, providing a different vista by night.
The four springs are represented on each side of the pou by a different colour. Waipatukākahu is a deep blue, Te Puna Waitapu (the original healing hot pool) is be a light green, Te Kawa Waipuna is red and Ruarapapari is light blue/aqua.
Alongside the pou, the Mount Hot Pool has erected palisade fencing with seating for community use; the final touches to their external façade upgrade that began at the start of this year.
"It's such a great external rejuvenation for our world class facility. Now the outside of our facility matches the internal sanctuary," says Mount Hot Pools manager, Matthew Strange.
"It also reflects the significance of this land to our local people."
More on SunLive...