New jerseys and identity for Chiefs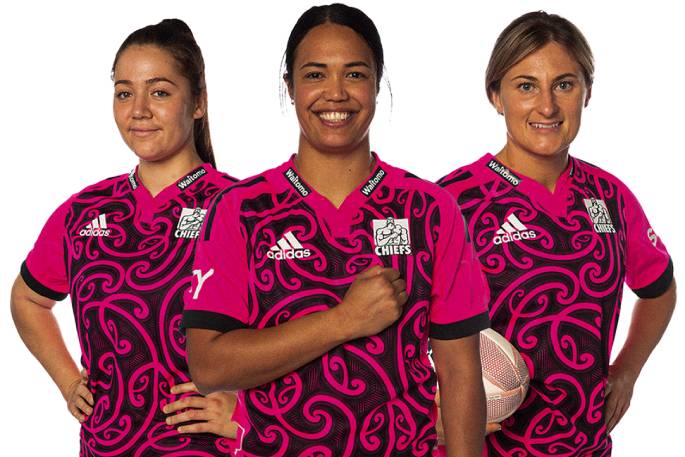 New jerseys for both Chiefs Rugby Club sides have been unveiled, along with the new identity for the women's team ahead of the inaugural Super Rugby Aupiki season.
The women's team will be named Waitomo Chiefs Manawa, Manawa being a derivation of two words, Mana and Wāhine.
Chiefs Mana is a central pillar of the Club and Wāhine is the most identifiable feature of the team being all female, says a statement from the club. The Waitomo Group have sponsorship naming rights.
Chiefs Manawa head coach Allan Bunting led the process of developing the new team identity alongside Gallagher Chiefs head coach Clayton McMillan, NZR Māori cultural advisor Luke Crawford, Chiefs jersey designer Dave Burke, Chiefs general manager commercial Kate Rawnsley and a number of female players.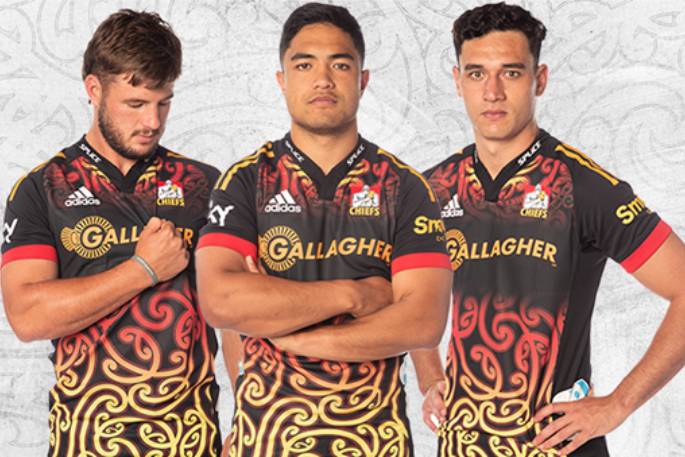 Chiefs Alex Nankivell, Shaun Stevenson, Josh Ioane photographed in the 2022/2023 Gallagher Chiefs home jersey. Photo: Chiefs Rugby Club.
The internal process was focused on building the team's identity and developing a name that connected the Chiefs Rugby Club's people, places, past and present.
"We have come up with something really special for the team and something that we can make our own and be unique to the ladies we have," says Bunting.
"In the name Manawa there is a lot of meaning in behind it and will be pretty sacred to the team. It translates into heart, Chiefly heart and for us it is important to be connected through the heart. Special things can happen if you start your foundations from there."
Chiefs Rugby Club has a long standing association with Te Ao Māori and in particular the inclusion of a deeper relationship and understanding of Te Ao Māori concepts and practice.
"The Club has been connected through Te Ao Māori for a while and I think it is important," says Bunting.
"It is unique, it is a connection and holds a whole lot more meaning for the mind, body, heart and spirit. A lot can derive from this and our players will connect into that. It is accepting everyone for who they are and where they come from, it is a pretty special thing for us to be a part of and continue to create in the future."
The 2022 Waitomo Chiefs Manawa jersey depicts a mangōpare (hammerhead shark) design but when viewed from another angle it depicts the shape of a beating heart.
The flax weave sits in behind the flowing design of the kōwhaiwhai pattern which represents the connecting waterways flowing in the Chiefs contributing regions.
The new 2022/23 Gallagher Chiefs home and away jerseys have also now been launched. The Adidas designs are linked to the Chiefs region, whānau and Māori heritage.
"We are very excited to launch our new Gallagher Chiefs home and away jerseys," says Chiefs Rugby Club chief executive officer Michael Collins.
"A great deal of hard work goes into the design and production of these jerseys in collaboration with Adidas, NZR Māori Cultural Advisor Luke Crawford and Designer Dave Burke.
"The connection to our Chiefs region, whānau and Māori heritage are important aspects of our jersey design and we are proud to share these with all those who support us."
More on SunLive...