History of the hills revealed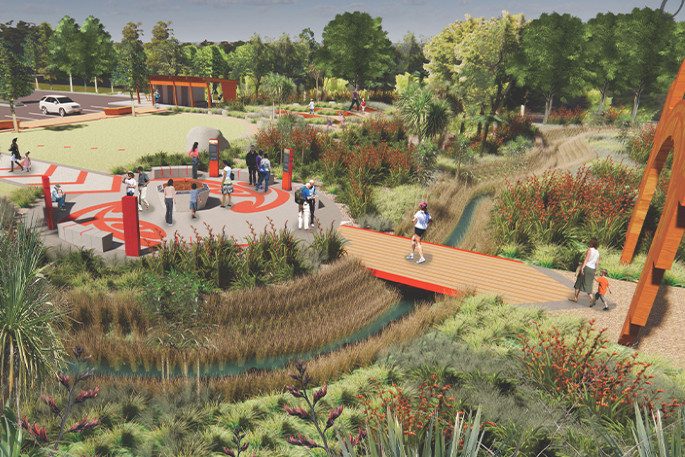 Rising above Pāpāmoa are ancient stories of the past, hidden away and waiting to be told.
For local iwi, these stories are already known and treasured, as it's the history of their ancestors that go back hundreds of years.
Very soon, these stories will be uncovered in a unique way as Pāpāmoa Hills Cultural Heritage Regional Park undergoes an important makeover.
"In ancient times, the park was known as Te Uku O Takakopiri prior to it becoming a Regional Cultural Heritage Park," says Te Kapu o Waitaha general manager and Te Uepu member Vivienne Robinson.
"The site consists of several pā sites of Waitaha and has the shared history of other iwi too. Their stories are of special importance and will add value by raising public awareness and appreciation for the protected pā sites."
Until the Bay of Plenty Regional Council initiated a new development at the park, there has been little opportunity to appreciate or understand the significance of the cultural history of the hills, which were lived on for centuries.
A remarkable regional reserve, the park encompasses 135 hectares of hilly landscapes up to 224 metres above sea level. To put this in perspective, Mauao is eight metres higher.
The park in Pāpāmoa includes significant cultural and archaeological sites, with at least seven pā sites, wāhi tapu and natural wai springs.
"Waitaha historical narrative states that pā within the park were used for many different reasons," says Vivienne, "some of which include wananga, instruction of tikanga, skills of warfare, and defence in times of earlier battles.
"Pāpāmoa Hills Cultural Heritage Park is a culturally rich landscape, with visible evidence of historical occupation and links to Maketū, (Mauao) Mount Maunganui and Tauranga Moana."
Vivienne says that annual visitor numbers have climbed from about 60,000 five years ago, to well over 100,000 today.
"This is putting pressure on the existing carpark and track network, hence the upgrade."
Visitors currently approach the site through a utilitarian carpark at the main entrance.
Landscape architects Boffa Miskell, who led the site design and spatial arrangement, say there is a clear need to provide entry into the park that reflects the significance of the site and retells some of the cultural stories to a wider audience.
Together with design consultants Law Creative Group, Boffa Miskell worked with local iwi and council to hear the site's unique stories before providing a designed response.
Law Creative led the workshopping and storytelling with the iwi, and Boffa Miskell led the site design and spatial arrangement.
"Representatives from Waitaha, Ngāti Pūkenga, Ngā Potiki and Ngati He, who are all iwi/hapū members of Te Uepu, a co-governance entity with four regional council members to govern the park, sat down with Toi Moana Bay of Plenty Regional Council, Law Creative and Boffa Miskell to tell of the site's unique stories and past," says Vivienne.
These stories inspired the design for the carpark and entrance way.
"The collaboration from the groups, led by the stories from the iwi, will enable signage, wayfinding and storytelling to pay homage to the historic life on the hills."
The resulting site design includes a new carpark area, separated from the topography by a reshaped ecological waterway which splits the carpark and entry and the Pāpāmoa hills walks via pedestrian bridges - and in the case of the main entry, an impressive tomokanga, designed by Law Creative's artists.
"I believe the site design encapsulates the cultural detail and is endorsed by those iwi involved," says Vivienne.
The entry and carpark space includes a series of activities in itself, including informational signage, a 3D contoured map highlighting the pā on site, seating, play and lawn areas for future gatherings and education.
"I see the rich cultural history and occupation of the park being celebrated by those who visit," says Vivienne.
"At the heart of this will be the ability for Waitaha and other iwi to reconnect with their ancestral lands, water, sites, waahi tapu and other taonga which they have generously shared as part of this project."
More on SunLive...