A new view on art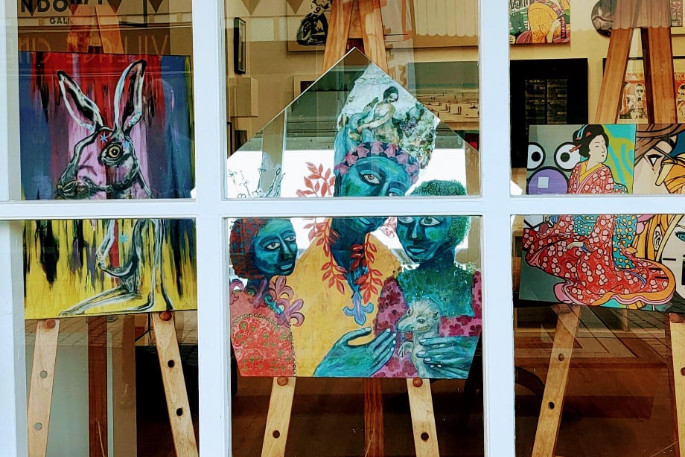 A newly opened eye-catching gallery in the fast growing arts precinct that is the Tauranga Historic Village has local artists and passers-by buzzing.
"The Artist Window Gallery is a new initiative of the Incubator Creative Hub," says The Incubator Creative Hub director Simone Anderson.
"Continuing with its purpose to grow and support a vibrant community of artists, the kaupapa of this new gallery is to develop a collective working model to enhance professional development and profiles among fine artists in our region."
The new gallery will be a professional platform for painters, sculptors and jewellers and will firmly align with the Incubators intention of working with the art sector and not for it.
"Artists will represent the collective through volunteer days and have the opportunity to be the 'Artist in the window' painting and working to demonstrate their practice to passers-by," says Simone.
Both The Artist Window Gallery and The Pot House Ceramics Gallery and Studio received a blessing by kaumātua Tamati Tata of Ngāi Tamarāwaho at an early morning ceremony attended by The Incubator Creative Hub team, resident artists, Tauranga City Council staff and Commissioner Bill Walmsley. The Pot House ribbon was cut by Tauranga Historic Village manager Blair Graham, and the ribbon to The Artist Window Gallery was cut by Tauranga City Council Arts and Culture Manager James Wilson.
"Alongside the Pot House, the list of initial artists whose work will be displayed in The Artist Window Gallery is a great indication of the quality and creativity that will be available for sale through the new gallery," says James.
The Artist Window Gallery will offer premium art work for sale including paintings, sculpture, jewellery by artists such as Sue McDougall, Christie Cramer, Nick Eggleston, Constanza Bricenō, Lynette Fisher and others.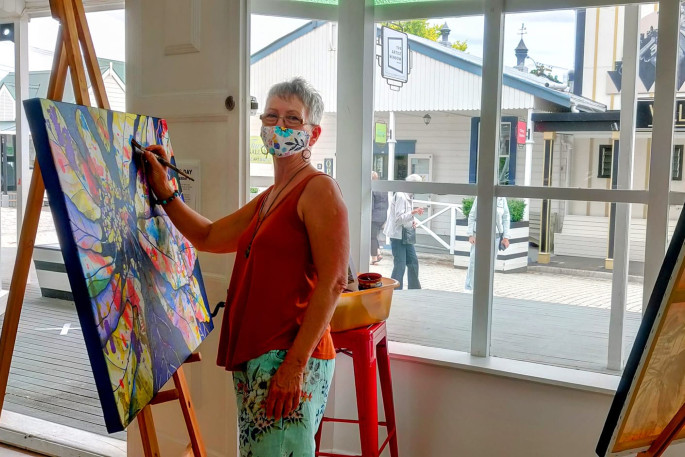 Artist Christie Cramer at work on her painting. Photo: Supplied.
Simone says that people visiting the Historic Village will see an artist at work through the window, providing them with a valuable interactive experience. They will be able to browse the variety of paintings, sculptures, jewellery and other art pieces on display.
"The Artist Window provides opportunities for creative expression and artistic celebration by interaction between artists and the community. The Artist Window Gallery – the new go-to place to purchase and experience authentic high-quality local and original art," says Simone.
"The addition of this stunning gallery at the entrance to the village will further grow this as a destination rich with galleries, arts and cultural experiences, artisan boutiques and speciality shops, valuable community organisations and bespoke creative events."
Established artists who are interested in getting involved or selling their work through the gallery can contact The Incubator Creative Hub at ww.theincubator.co.nz
More on SunLive...