Experience Mauao through adventure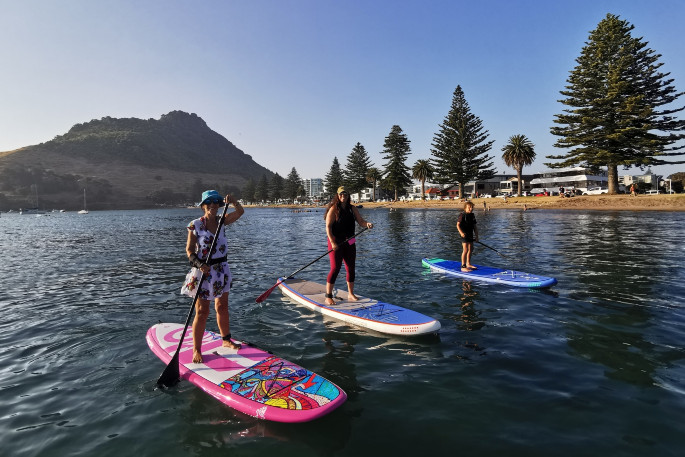 There are many ways to experience Mount Maunganui's most prominent land mark.
Some walk the winding trails up its face or wander through the shade-filled paths below.
Many swim underneath its shadow, or circle above in planes or helicopters; but this extinct volcanic cone that highlights the entrance to Tauranga Harbour is best viewed from the shallow waters that lap at its shores.
Mauao Adventures specialise in stand up paddle boarding, waka ama experiences, and walking tours of Mauao.
Owner Porina McLeod says it's about facilitating and nurturing a journey and a connection with the moana by providing a safe, interactive and educational platform using ocean activities.
For those who choose to make this connection through stand up paddle boarding by taking the SUP adventure, Porina introduces you to the moana after a short but thorough lesson on the shore of Pilot Bay.
With the morning sun on your face and the dull hum of keen fisherman and their boats heading out of the harbour, it's an exhilarating feeling to push off into the cool blue water.
As fears of sharks and jelly fish begin to vanish, your legs begin to shake just a little bit less, and the paddle begins to move through the water a little smoother. Mauao begins to look a little different than it does from land.
The journey that begins from the middle of Pilot Bay takes you along the shoreline, where starfish and small fish can be seen from its surface.
Soon, you face towards the harbour entrance, moving with the current towards another of Mount Maunganui's well known features – the statue of Tangaroa.
Whilst passing the small white jetty, dodging small fishing lines that drape from its edge, Porina explains the importance of Tangaroa and how it was first brought to the Bay.
The bronze statue represents Tangaroa, the ocean entity, whose duty it is to protect the sea and all of its inhabitants.
Tangaroa represents safe travel through the harbour and out into the ocean, and is gifted with offerings by many a passer-by.
After dragging the SUPs onto the shore, where Mauao faces Matakana Island, Porina speaks about the history of Mauao.
"The core purpose of what we do is to connect our guests with our moana, our whenua and us as tangata whenua," says Porina.
After a walk along the sandy beach listening to stories of the past, setting off back into the moana makes Mauao seem to stand a little taller than before.
More on SunLive...