Options explored for Whakaari maintenance return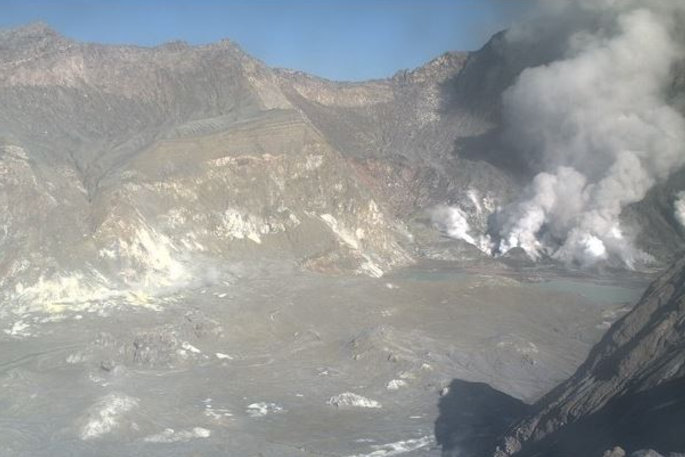 GNS Science are looking into methods of returning to Whakaari/White Island to restore monitoring equipment that has degraded, resulting in no real-time seismic data being available since October.
However, they are mindful of a delicate situation regarding ongoing legal issues and are still regularly assessing the risk of a future event from onshore.
It is now nearly two years since the 2019 eruption on Whakaari in which 22 died and several others suffered life-changing injuries.
Whilst some on-island monitoring equipment was covered in volcanic matter following the eruption, rain washed much of it away. Combined with the robust nature of the kit this meant sites kept working for many months. GNS had functional real-time monitoring during 2020 and most of 2021.
However, GNS have not been able to return to the island since the December 9 eruption and as a result equipment is now degrading due to a lack of maintenance.
"In mid-2020 we noticed some growing intermittent issues – for example, some of the camera batteries were not holding as much charge as before the eruption," says GNS volcanologist Gill Jolly.
"We expected this would happen. Regular maintenance is needed to keep the equipment working well and we have not visited the island since before the eruption."
Gill explains that on-island equipment normally includes seismo-acoustic monitoring stations, GPS, fixed gas-measuring instruments and webcameras.
But real-time seismic data stopped in mid-October 2021, even if there have been some recent glimmers of life.
"Over this past week, some delayed seismic data has been coming through," Gill says.
"In addition, some real-time webcam images from the north crater rim are also coming through."
GNS state they are looking at ways to safely return to Whakaari and perform the necessary maintenance. However, Gill says this would likely take several visits and they are wary of ongoing legal issues.
GNS is one of 13 companies, entities or individuals that have been charged by WorkSafe under the Health and Safety at Work Act 2015 in connection to the deadly 2019 eruption. GNS have pleaded not guilty to the charge.
A court date is set for July 2023.
"In terms of restoration, we are exploring ways in which we may be able to return to the island to restore monitoring equipment," says Gill.
"Our main focus has been to ensure our planning is robust and our people are safe. We are also conscious that we do not want to do anything to complicate an already difficult situation in terms of WorkSafe's prosecution of GNS in relation to the 9 December 2019 eruption.
"A number of trips will likely be required and our priorities for restoration work will depend on the actual state of the monitoring equipment. Once the equipment is restored, we expect regular preventive maintenance trips would be needed every few months."
Gill explains that remote tools remain in use so that they can continue to monitor and advise on Whakaari as a potential geohazard, as is their role under Civil Defence Emergency Management legislation.
"We use real-time monitoring in combination with remote monitoring to provide scientists with the best quality data to determine what is happening in the volcano," says Gill.
This includes the shore-based Whakatāne webcam, regular observation, thermal imagery and gas monitoring flights as well as satellite data from other agencies.
"The webcam provides some visibility of the volcano in real time and the flights usually happen every two to three weeks, weather depending," says Gill.
"Data from the German Space agency allows us to periodically monitor changes in ground deformation while satellite data from the European Space Agency provides information on sulphur dioxide gas emissions."
So whilst real-time on-site monitoring is currently down, Gill makes it clear that GNS is keeping an eye on Whakaari.
"While we have degraded on-island real-time monitoring at Whakaari, we are still using remote tools to observe the volcano's behaviour."
More on SunLive...