Croc's head & mountain herbs seized in crime sting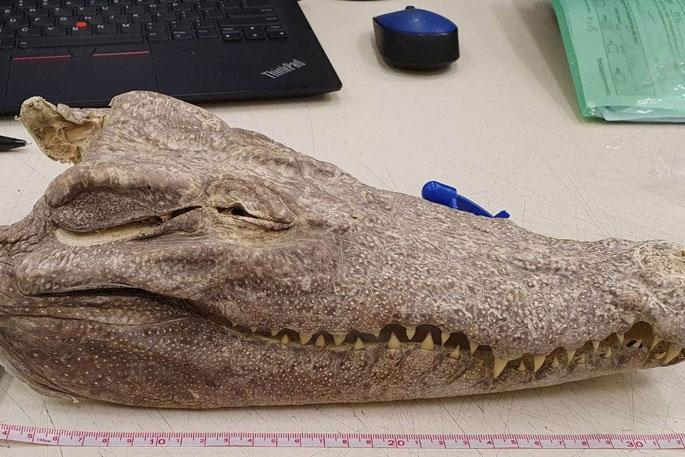 A crocodile skull, among other items, is New Zealand's contribution so far to an Interpol-led global operation involving 118 countries aimed at stamping out the global trade in endangered species.
The month-long operation, named Operation Thunder 2021, involved customs, police, financial intelligence units and wildlife and forestry agencies from across the world and has so far led to more than 1000 seizures and the identification of 300 suspects, triggering hundreds of worldwide arrests.
DOC's principal wildlife crime compliance officer, Dylan Swain, says they have been working with the global law enforcement agency against wildlife crime as part of the 'Thunder series' of operations since 2017.
"Our involvement relates to our role as the regulatory authority for New Zealand's contribution to CITES [The Convention on International Trade in Endangered Species], in particular preventing the illegal of protected and threatened species.
"That covers species brought into and take out of New Zealand, and covered by CITES," he says.
"As well as looking at seizures at the New Zealand border, we are actively sharing information with overseas colleagues via Interpol channels."
Swain says DOC has made a small number of seizures, lower than in previous years due to the Covid border closures, with items including traditional Asian medicines – pills made from protected species, costus​ root [a perennial herb found in the Western Himalayas] - and 115kg of tropical coral.
"We also seized a crocodile skull from Australia, and a set of chairs made from protected rosewood exported from England."
Swain says investigations are still ongoing in New Zealand, "so we can't say more at this point".
Interpol Secretary General Jürgen Stock expects further arrests and prosecutions across the world to follow.
"Organised crime networks are generating billions in illicit profits every year, at significant cost to our environment as well as the associated impacts of fraud, corruption and violence," he says.
"We are seeing a continued globalisation of crime, which means only an international response can be effective, as demonstrated with this latest Operation Thunder.
"Every one of our 195 member countries has a role to play in combating this threat, either directly or in the follow-up investigations."
Interpol says the operation involved searches across the world of thousands of cars, trucks and cargo ships suspected to transporting protected wildlife and timber, with seizures to date including 29 live big cats, 478kg of ivory pieces, 336 reptiles, 531 turtles and tortoises and 171 birds.
More on SunLive...