Vaccine doses for children 5-11 years expected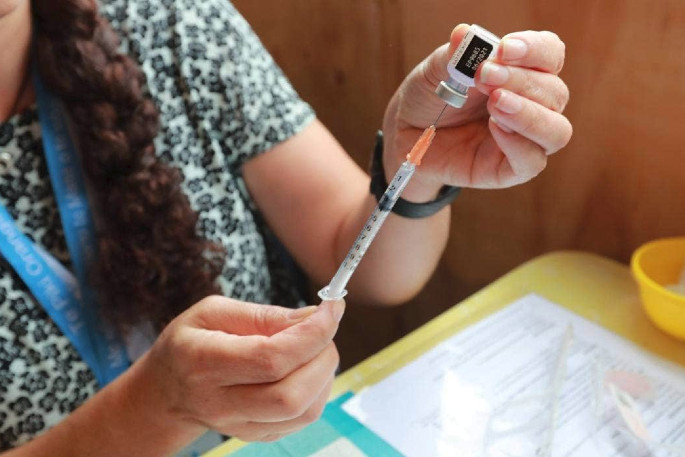 Children aged 5-11 may be able to receive a vaccine dose from the end of January, pending official approval.
Covid-19 Response Minister Chris Hipkins says the Pfizer vaccine will still need MedSafe approval, but they had secured enough doses to begin vaccinating children from early next year.
He says planning for the rollout of vaccines for children was "well advanced", though there was still some detail to work through.
The paediatric version is an adapted version and is about a third of the adult dose. He says Medsafe's advisory committee will be receiving advice by mid-December, and the government expects to start rolling it out before the end of January.
He says the Government will still be taking a whānau-based approach and hoping to vaccinate any others who have not yet got their shot.
He says we are seeing more cases in children, partly because children cannot be vaccinated.
Hipkins says 93 per cent of eligible New Zealanders have had at least one dose.
He says 13,224 people have had a third primary dose for a medical reason and 51,127 people have had boosters which have only been available for a couple of days.
"We expected around 450,000 people to get boosters between now and Christmas so we're well on track," says Hipkins.
He says uptake of the Astrazeneca vaccine had been low.
"It's in the low hundreds of people - about 650 so far delivered."
Traffic light system begins
From Friday, the country will move to the traffic light settings that were set out earlier this week.
Hipkins says the traffic light system is designed to keep us all safe but allow businesses to open.
"The framework is pretty simple and it will feel normal once people are in it and get used to it. The main message is that at every colour setting vaccinated people will be able to operate much more normally whilst taking a few key public health precautions, so getting vaccinated and having a My Vaccine Pass is the key to making the framework work for you."
Fears of an Omicrom future
Hipkins says Omicrom was a cause for concern, but it was not a cause for panic.
"Our readiness and response planning in the event of a new variant of Covid-19 entering in New Zealand remains the same as it has been for previous variants in that we are ready and we have plans in place."
Hipkins earlier said the Omicron variant would inevitably turn up in managed isolation and quarantine facilities, but it is too soon to predict whether the country will revisit the plan to lift some border restrictions from January
He said this afternoon that the variant is still in its infancy and the evidence on it is being monitored closely.
PCR samples from cases at the border are being prioritised for whole-genome sequencing to ensure the variant is identified early if it arrives.
He says vaccine producing companies have been assessing how effective the vaccines are at combating the new variant and the government is also following that closely, but vaccines remained the number one protection against the coronavirus.
The government has said fully vaccinated New Zealanders will be able to travel from Australia without having to quarantine from January 16.
Earlier today, National Party leader Christopher Luxon said risk-based home isolation for double-vaccinated citizens and with negative Covid-19 tests should already be underway.
More on SunLive...