Defibrillator unit set-up at Te Puna Quarry Park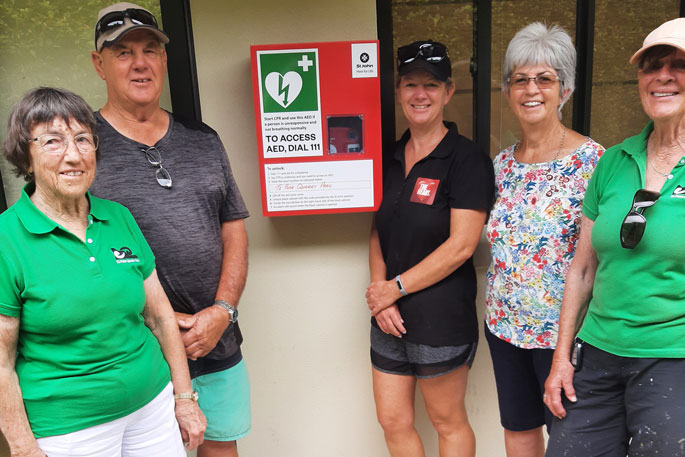 A new lifesaving device is now installed at Te Puna Quarry Park.
With the help of The Heartbox NZ and the generosity of regular avid park user, Murray Wilson, there is now an AED unit onsite and available 24/7.
Located in Te Puna Quarry Road, the park, which was once a disused quarry, was established in 1997 and will celebrate 25 years in February 2022.
The park is run and managed by the Te Puna Quarry Park Society and many volunteers.
It is more and more frequented by people of all ages and having an AED accessible in the park, where crowds of people frequently go, particularly in the summer, means lives can be saved.
Studies by St John have revealed that without the use of CPR and an AED unit, the chance of surviving a cardiac arrest decreases by 10 per cent every minute.
However, the use of an AED can increase the chance of surviving by 44 per cent.
"We saw the need in installing an AED as a safety measure for our park visitors as every minute counts when someone is in cardiac arrest," says Te Puna Quarry Park committee member Shona Purves.
"With the ever-building traffic congestion in the area, this was a concern to all of us on the committee."
Volunteers and members are ecstatic to receive such a kind donation.
They recently held a plant sale to raise funds towards an AED, but with the generous donation, they instead put the funds towards much needed track maintenance.
The plant sale also incorporated CPR and AED demonstrations for those attending to raise awareness on just how easy an AED is to use.
"They literally talk you through each step," says Melisa Wilson from the Heart Box NZ.
The new AED unit is stored in a locked box on the exterior wall of the Gallery at the Park.
Access is obtained by calling 111 who will issue the code to access the AED from the locked box.
Are you a business that is interested in investing in your community?
Talk to The Heart Box NZ Charity on 0800 25 25 00 or email theheartbox@exceed.co.nz
More on SunLive...